John Taglieri | The Very Best Of John Taglieri – The Songs That Should Have Made Me Rich
by Joe Mis
– Senior Columnist —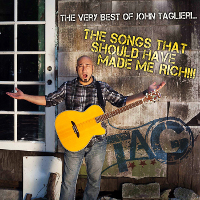 The Very Best Of John Taglieri – The Songs That Should Have Made Me Rich is the tongue-in-cheek title of singer, songwriter John Taglieri's 10th CD release – a twenty track retrospective of his work from 1999 to the present. An active rocker since 1999, John has pulled 2 tracks from each of his previous releases and added two previously unreleased ones in order to give the listener a solid feel for his solo work as well as his work with his band, TAG. Radio-friendly and easy on the ears, this album is a winner.
John Taglieri is a complete musician and talented multi-instrumentalist. He has a good voice, well-suited for the mellow melodic rock he enjoys. At times his music can be compared to Bon Jovi or Firehouse – in other words, good natured and generally upbeat guitar rock. His enunciation is very clean and clear, and he never exceeds his range while always managing to convey emotion and enthusiasm. Taglieri is a full do-it-yourself-er composing, playing, recording, producing and selling his works (and doing a good job of it all). He seems equally comfortable whether fronting a full band or sitting with just guitar and microphone.
Highlights include: the rocking guitars of the upbeat "Leap Of Faith;" the well done acoustics and keys on the slow rocker (with a bit of a Firehouse-groove) "Reason To Believe;" the bittersweet and powerful lyrics of "Stay With Me" – probably Tag's strongest vocal performance on the CD; the whole of the up-tempo rockers "How Will I Know" and "Wide Awake & Dreaming," with the latter simply a pop-rock toe-tapping, hand clapping classic; the bouncy bass line on the almost pop-country "Make A Mistake With Me" which contrasts nicely with the gritty and driving guitars of "After Farewell;" the hints of Simon & Garfunkel in the folksy "Say These Words;" and the solid performances by everyone on the epic power ballad "Fly."
Overall, The Very Best Of John Taglieri is a very good album, and the selections paint a good picture of the evolution of an artist. Well written and emotionally performed, these 20 tracks will more than likely inspire any listener to seek out more of Taglieri's work. There are really no negatives on the album other than sometimes inconsistent engineering, but considering that these tracks were pulled from a collection spanning 12 years differences from track to track are understandable. Thought provoking and rich in simple but effective imagery, Taglieri covers a wide variety of topics and tones without being maudlin or sappy.
Fans of the singer, songwriter and storyteller genre like – Bon Jovi, Firehouse, U2 and perhaps even Springsteen and Clapton – will find plenty to enjoy. Maybe these songs didn't ultimately make John Taglieri rich, but they certainly enriched the music scene. The Very Best Of John Taglieri – The Songs That Should Have Made Me Rich is the epitome of "feel-good" rock, and proves that there is still a place in today's cluttered music scene for the independent and enthusiastic performer.
Try it – you'll like it! Recommended for all fans of modern melodic rock!
Genre: Melodic Rock
Band:
John Taglieri (vocals, guitars, drums, bass, keyboards, percussion)
Guest performers: John Calendrillo (guitars on tracks 3, 5 & 6); Brad Whitley (guitars, backing vocals on tracks 9-16, 19-20); Brian Fechino (guitars on tracks 11, 12, 15, 16); Lee J. Turner (keyboards, strings on tracks 10-16); Sean Faust (keyboards, strings on track 6); Bill Colletti (piano, strings on track 2); Tom Darby (keyboards, backing vocals on tracks 7, 8); Drew Yowell (guitars on tracks 7, 8); Mike Tucillo (bass on tracks 15 & 16); Jeanette Ferguson, Josh Rifkin, and Gina Gerzberg (backing vocals on track 8)
Track Listing:
1. Leap Of Faith
2. Reason To Believe
3. Stay With Me
4. Cross My Heart
5. What It Means
6. How Will I Know
7. Starring Role
8. Wide Awake & Dreaming
9. Everything We Are
10. Living Without You
11. The Lives Of Splattered Flies
12. Make A Mistake With Me
13. After Farewell
14. Say These Words
15. Fly
16. Ghost
17. Losing Me
18. Make Me Believe
19. What I Wanted After All (bonus track)
20. Back To You (bonus track)
Label: Leap Dog Music
Website: http://johntaglieri.com/
Hardrock Haven rating: 8.5/10