by Justin Gaines
– News Editor/Senior Columnist —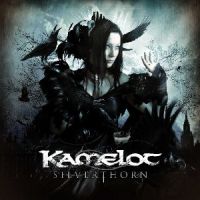 It's been an interesting couple of years in the Kamelot camp. Longtime vocalist and Roy Khan abruptly left Kamelot almost immediately after the progressive/power metal band's 2010 album Poetry for the Poison was released, leaving the band to fulfill its touring obligations with fill-in singers like Fabio Lione (Rhapsody of Fire) and Michael Eriksen (Circus Maximus) before finally deciding on Seventh Wonder singer Tommy Karevik as their new front-man. Considering the role Khan played, not only as the voice of Kamelot, but as a key songwriter and part of their overall image, it's no exaggeration to say that all eyes (and ears) are on the band's latest album – Silverthorn – to see if the Kamelot magic is still there.
The obvious question is how does Karevik measure up, and is he a worthy successor to Khan. It takes maybe half of the first (non-instrumental) song "Sacrimony" to determine the answer, and that's a resounding yes. Seventh Wonder fans already know that Karevik has a great range and is capable of conveying both power and emotion. Honestly, the band may have done him a disservice by having him try to fit Khan's vocal mannerisms here (and apparently his wardrobe). It ought to be a real eye-opener when the band writes an album that takes full advantage of what he has to offer.
Of course this album is about more than just a new vocalist. Poetry for the Poisoned was not very well-received by fans or critics, so there was additional pressure on the band to make an album that would maintain the very high standard set by previous Kamelot releases. Fortunately, Silverthorn measures up quite well, quickly steering away from the darker, more sinister Poetry for the Poisoned sound and back towards the grand and dramatic feel of Ghost Opera and the Black Halo. It's all about the interplay between the powerful melodies, pounding rhythms, sweeping orchestral elements and dramatic, emotional vocal performances, and in every one of those areas the band is in top form. Thomas Youngblood has come up with extremely addictive melodies as well as some very intense solos, and he and keyboardist Oliver Palotai seem to have an uncanny knowledge of just the right time to pass the spotlight back and forth between their two instruments. They each get to showcase their talents and it never once seems needlessly technical or over-indulgent. Through it all bassist Sean Tibbets and drummer Casey Grillo prove why they're one of the genre's best rhythm sections.
As with the previous few Kamelot releases, Silverthorn features some impressive guest performances. This time around the band is joined by singers Elize Ryd (Amaranthe), Alissa White-Gluz (the Agonist) and Amanda Somerville (Trillium), the string quartet Eklipse as well as producers Sascha Paeth and Miro, who contribute guitar and keyboards, respectively. Each guest adds another dimension to the album's overall sound and scope.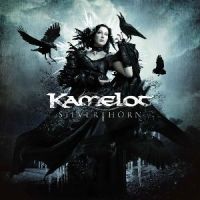 Silverthorn is an extremely cohesive album, with each song maintaining the album's overall story and tone, but it does have some songs that stand out more than others. Chief among them is "Sacrimony," the album's first single, which instantly calls up the classic Kamelot vibe and makes a very effective introduction of the band's new singer. The tranquil "Song for Jolee" is another highlight, thanks to an absolutely gorgeous performance by Karevik that's probably the one moment on Silverthorn that recalls his work in Seventh Wonder. The wickedly catchy melodies and strong vocals make "My Confession" another highlight. The album starts to flag a bit towards the end, but finishes strong with the nearly 9-minute epic "Prodigal Son."
In terms of Kamelot's other releases, Silverthorn is definitely a step above Poetry for the Poisoned and is probably on par with Ghost Opera. It doesn't reach the heights that the Black Halo did, but it's not unreasonable to expect this revitalized band to top that in the years to come. Silverthorn is a very strong progressive/power metal overall, and while it's probably cliché to say it grows on you, that's very much the case. Each time you spin it – and you're going to have this one on repeat for a while – you come to appreciate it even more. For those who might be on the fence about Kamelot without Khan; you can relax. It's still Kamelot; they just have a better vocalist now.
Edition Notes: It's fairly common practice to see "special editions" of new albums that come in a digipack and have a live song or demo tacked on as a bonus track. Kamelot took this to a whole new level with the Deluxe Edition of Silverthorn. Inside the surprisingly hefty box, you'll find the main album (in a thick and gloriously illustrated digibook), a bonus disc with the instrumental version of Silverthorn (in a much less glorious cardboard sleeve), another sturdy digibook with the full Silverthorn story and large photos of the album's guest stars, and finally a nice poster of the band. This set really puts the "deluxe" in Deluxe Edition, and is well worth the extra dollars over the standard version. Even those who have moved on to the MP3 format ought to be impressed by this one.
Genre: Progressive Metal, Power Metal
Band:
Thomas Youngblood (g)
Casey Grillo (d)
Oliver Palotai (k)
Sean Tibbets (b)
Tommy Karevik (v)
Track Listing:
1. Manus Dei
2. Sacrimony (Angel of Afterlife)
3. Ashes to Ashes
4. Torn
5. Song for Jolee
6. Veritas
7. My Confession
8. Silverthorn
9. Falling Like the Fahrenheit
10. Solitaire
11. Prodigal Son
12. Continuum
Label: SPV/Steamhammer
Website: www.kamelot.com
Hardrock Haven rating: 8.5/10 (album), 9.5/10 (deluxe edition)