by Nikiforos Skoumas
– Columnist —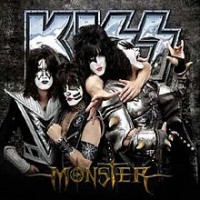 Whether you look at the States, South America, Japan or Europe, Kiss never had a problem selling out arenas; especially now that the European market gets to enjoy a major tour every couple of years by the iconic group, it is hard to counter-argue that Kiss are a global phenomenon in the new millennium.
Never the less, the creative future of Kiss was very much in doubt up until 2008, at which point the quartet decided to move forward with a new, all-original studio album, Sonic Boom. Now it seems you can not stop Kiss from releasing new material, enter the second post-reunion studio album Monster. Monster is also the second album to be recorded by the current Kiss line up of front man Paul Stanley, bassist Gene Simmons, lead guitarist Tommy Thayer and drummer Eric Singer.
In many ways Monster picks up where Sonic Boom left off; once again opting for a late '70s – early '80s style of hard rock only this time capitalizing exclusively on their heavier/more outrageous side. As the promo sticker puts it: "No filler, No Ballads, just full-throttle rock 'n' roll." And that is precisely what they deliver, 12 slices of classic-sounding hard rock. Seasoned fans should remember that the more diverse albums (Destroyer and Dynasty in particular) were the ones that elevated Kiss's career into stardom, still, the purpose of Monster is merely to cement the group's existing reputation as one of the most authentic rock groups of all time.
Sure enough, if you are looking for retro-heavy-hard-rock you certainly got that with Monster. From the exaggerative "Hell or Hallelujah" to the aggressive "Wall of Sound" to the sing-along "Freak" you know Kiss got everything right on this 19th studio effort. Sonic Boom was a huge step in the right direction, as most fans and critics were keen to point out, but Monster is Kiss more confident with the kind of performing edge that was once found on their earliest works.
The interesting thing about Kiss is that the hype that surrounds them is rarely proven wrong, when you hear the quartet has a great album in the works what you get is a great album. They promised it, we've been expecting it, now it's time to enjoy it!
Genre: Rock, Hard Rock
Line Up:
Gene Simmons – bass guitar, vocals
Eric Singer – drums, vocals
Paul Stanley – rhythm guitar, vocals
Tommy Thayer – lead guitar, vocals
Track List:
01. Hell Or Hallelujah
02. Wall Of Sound
03. Freak
04. Back To The Stone Age
05. Shout Mercy
06. Long Way Down
07. Eat Your Heart Out
08. The Devil Is Me
09. Outta This World
10. All For The Love Of Rock & Roll
11. Take Me Down Below
12. Last Chance
Label: UMe
Web: http://www.kissonline.com/
HardrockHaven Rating: 8/10