Knut Erik Østgard of Return
by Alexandra Mrozowska
– Columnist —
Although the main stage for the Scandinavian melodic rock acts has been always Sweden, also Norway has produced a significant number of them. Among them from the municipality of Strange in Hedmark county Norway, the classic rock band Return. Fronted by a charismatic Knut Erik Østgard, this Norwegian group took the country charts by storm in 1987, when their first album To the Top was released. Through the years, the group remained faithful to their '80s-oriented musical style and loyal to their fan base – through "30 years of fun", as Knut Erik himself would put it, telling Hardrock Haven about everything that has happened since a big time dream of a few Norwegian boys started to come true…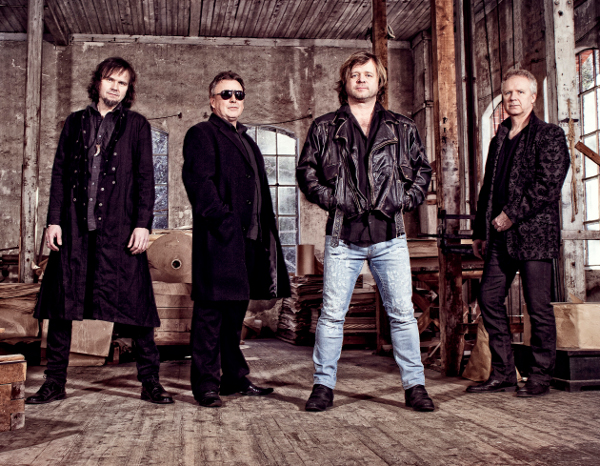 HARDROCK HAVEN: If to look back upon the last 30 years, there is no doubt that it's been a long way for Return until it became one of the best-selling Norwegian bands, considered by many to be one of the classic melodic rock acts! How would you sum up three decades of your career?
KNUT ERIK ØSTGARD: First of all, it's been 30 years of fun for us. We struggled hard from 1980 to 1985, like many other bands we didn't get any gigs, and rehearsing three days a week for five years can really tear a band down. We were at the brink of giving up when we won the Norwegian Championships' for rock acts in '85. From that day it`s been a fantastic journey for us. Our fans have been supportive all the way and still, when we play gigs, people show up that heard us for the first time in the eighties… fantastic. We had a break from music in the nineties. Touring for almost ten years knocked the wind out of the band, and we agreed to take one year off… we stopped for six years, so maybe we needed that break.
HRH: 2012 is also the year which, according to the tour dates on your official website, marks Return's long-awaited comeback to the road. Many years have passed since to play a gig it meant to see the oceans of lighters instead of mobile phones and cameras… How did it change since the 1980's? Is the audience or your personal attitude towards playing any different than it was twenty years ago?
KNUT ERIK: It's pretty much the same I think. The audience is 50 per cent old fans or people that heard the band live before. 50 per cent are people that have never done that. I miss the lighters, yeah… they made the room come alive in a special way. Our approach as a band is the same: we just wanna have fun, and the crowd responds to it today as they did before.
HRH: Talking about playing gigs – are there any plans to expand your concert "invasion" onto the other European countries or anywhere further?
KNUT ERIK: We` re not planning on playing more gigs in the years to come than we did this summer, but if we do got the opportunity to play other countries, then yes, I`m sure we`ll do it!
HRH: What is Return currently up to? Any album in the works, or maybe any plans to make a new record?
KNUT ERIK: The plan is to play some more gigs up to Christmas. Then we`ll meet in my "cave" for some jamming, and we`ll see what comes out of it.
HRH: Now let's look back again a bit… The group's transition from Polish to Return and all that… Could you take us through the ups and downs of the band's early days? How did it start?
KNUT ERIK: It started in 1980. Steinar and Øyvind had played together for some years. Tore and I had played in a different band, and we didn't know each other well at that time. Our only common interest was that we wanted to play rock. No one else did in this area at the time, so people thought we were crazy. We made our own gigs in the early years, and our 15-20 buddies were the only crowd." Jom jom and the Cannibals" and "Polish"(early names) did not attract the people. We played punkrock and ska… In '84 we changed our name to Return, and the music changed more towards hard rock. Success was still just a dream, and when we recorded "Sheila" in '85, it was really just a single that we wanted to show our grandchildren to prove that we once played in a band. The plan was to stop the project after the release of the single. Our manager at the time, Tor Østehagen sent a copy of the single to NRK (Norwegian national radio) and a contest they arranged. 193 bands attended, and we won the final live on national radio. Well… you can say things changed from that day. Two years later we released To the Top and seven years of hard work finally paid off.
HRH: What was the real breakthrough that led to the band's success?
KNUT ERIK: "Sing Me a Song" went to the radio charts in March '87. That`s when the real adventure started.
HRH: Return's uniqueness was to combine catchy, melodic rock anthems such as "To the Top" or "United in a Scream" with breathtaking storytelling ballads of more solemn nature. One of the most moving and notable tracks of your debut album To the Top (1987) is, undoubtedly, "Sing Me a Song" (which debuted in Norwegian Top 10 hits and remained there for over a year). What was the story behind the song?
KNUT ERIK: It's a song written by many. I think Steinar brought the original idea to rehearsals, but we struggled with it at first. Our AOR at the label (Arco Trading) came up with an idea for a verse, and I and Tore put the pieces together one night in my parents' garage. It`s really just a song about grief, but it was used in a campaign in '85 trying to prevent traffic death. I guess that made it important to a lot of people. To this day, there is always someone crying as we play the song. My strongest memory of the song is playing it in Kristoffer Sørli Jørgensen`s funeral – he was a friend of the band and a soldier in Afghanistan, killed by a car bomb in November 2007.
HRH: Is "Bye Bye Johnny" off your next record Attitudes (1988) somewhat a different side to the same story – being told from another lyrical ego's perspective – or rather, a different story altogether?
KNUT ERIK: A totally different story. Original lyrics were about a boy killed by accident… he was standing in line for a night club. Only later on the killer discovered that he put his knife in the wrong man…
HRH: Another moving song of Return's catalog is "Five Minutes" (Straight Down the Line, 1989), which tells a story of a tragic plane crash… Was it inspired by any event in particular, or just written from a general perspective?
KNUT ERIK: I wrote the song five minutes after the news of the crash had been on the news. A plane had crashed in Norwegian mountain "Torghatten" on May the 6th, 1988. In result, all 36 people died.
HRH: Storytelling tradition was being continued on 1992 album V – with songs such as "Life Must Go On" and "Friends Will Be Friends". What was an inspiration behind these songs?
KNUT ERIK: "Life Must Go On" was written by our drummer Øyvind . His first son was born this year. He is alive and well, but the first months were dramatic… "Friends Will Be Friends" is just a song about friendship.
HRH: The last Return studio album, 2005 self-titled release, gained rather mixed reviews – many fans and critics pointed out to the fact of the album's peevish diversity, with the band trying to cover as many bases as possible. What is your comment upon your comeback record?
KNUT ERIK: I`d say the critics and fans are right !! we decided to make an album without thinking…. that`s what we did…
HRH: If having to choose, which of the album off the band's discography you'd pick as the most important or the closest to your heart among all?
KNUT ERIK: Mission impossible… I have different memories from making them all. The first album is always the most important one (of any band that releases more than one album). I`d say our second (Attitudes) was as important though, giving us success in Sweden as well as Norway.
HRH: 2008 was the year of releasing CD + DVD The Best of Both Worlds, an acoustic live recording. From where came an idea of releasing it?
KNUT ERIK: We always played acoustic in our shows. Even before MTV`s unplugged, we always did 2-3 songs with acoustic guitars live. The idea to play a whole concert unplugged had been there for years… we just never had time for it… 'till 2007.
HRH: As comparing the intimate atmosphere and cosiness of the unplugged gigs with the club/arena shows – what way of performing your songs you find more attractive? What are the advantages of playing the acoustic set?
KNUT ERIK: This is the singer answering: the less noise—-the more song. I love playing unplugged, 'cause it gives more room for singing with your heart… I can hear myself breath!… I think I`d be bored though… if we did it each time.
HRH: What is your comment upon the current situation of the music industry? Is there anything you find promising or interesting in music that is popular nowadays?
KNUT ERIK: The music industry is no longer an industry. Large record labels are gone, and there are advantages and downsides to it! I`d say the music belongs to the people now. It`s up to them what they want to listen to… at any time…… But for free? There's the downside. If composers don't get paid for writing – will they keep writing? The best way of listening to music is to be at the concert, and the drop in record sales take a lot of great bands out on the road… Today's music is promising – 'cause it's still music… and it will always be!
HRH: Thank you very much for an interview! Is there anything you'd like to add in the end?
KNUT: Hope to see you soon! Much love!
Official website: http://www.return.no/
Band:
Knut Erik Østgård: vocals and guitar
Steinar Hagen: guitar and chorus
Tore Larsen: bass and chorus
Øyvind Håkonsen: drums
Discography:
To the Top (1987)
Attitudes (1988) CBS
Straight Down the Line (1989) CBS
Fourplay (1990) Sony/Columbia
V (1992) EMI
Return (2005) MTM