LIVE! | Firefest Festival 2012: Day 2 – Gotthard, Mitch Malloy, Robin Beck, XYZ, Work of Art & Johnny Lima
by Marcel "Mars" Groeneveld
– Columnist –
October 20, 2012 At Rock City in Nottingham, UK –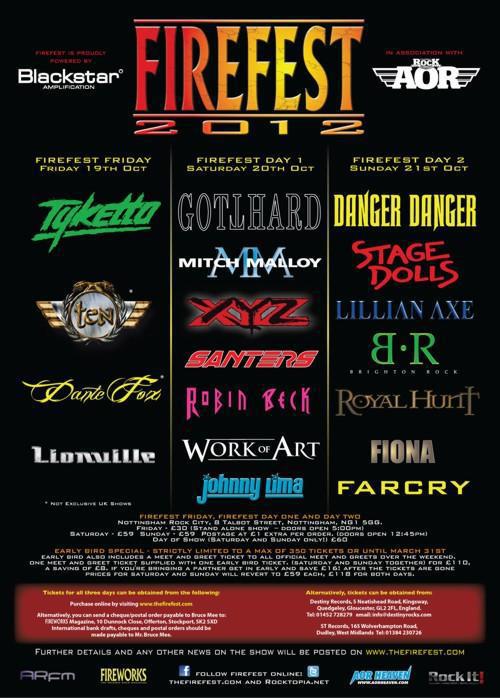 After the great performances last night, getting psyched up for the second day of Firefest isn't hard to do with an amazing lineup once again. In previous additions of Firefest the opening band of the day usually got a bad deal however this year Johnny Lima got a packed Rock City to play for. It could have been that the meet and greet sessions with several bands prior to the show brought people out sooner to the venue or maybe his first appearance on the Gods of A.O.R Festival in 1999 and again 2000.
Having witnessed a lot of excellent musicians on stage, Mister Johnny Lima separate's himself by also being a great performer, who just loves to work the crowd. Opening with "Made in California" from the same titled 2003 release, the flamboyant rocker woke up the crowd with a bang. He was backed up by a Euro-band, as most American artist do nowadays, to keep cost down. Lima looked the part of a rock star straight out of the 80's.
Having to always be compared to sounding like John Bon Jovi, Lima's voice in a live setting has a rougher edge. However with songs like "Hate To Love You" from the latest 2009 release Livin' Out Loud the comparisons were once again made. The crowd though didn't seem to mind as they as the Firefest folks were clapping along.
Kicking into another track from LOL aka Livin' Out Loud, hmm I bet no coincidence there as this is how Lima lives his life, "All I Want" and going in to "Wildflower" the Firefest choir once again joined in. Lima who is in the midst recording his next epic, took the opportunity to throw in a couple of new tracks. The first being an amazing new tune called "My Revolution," which has a groovy keyboard and guitar riff that will not leave your head once you've heard it. Lima has the talent of writing melodic rock songs with catchy chorus lines that stick in your brain. It was the same with the next one, "Blame It On Love," which built up the tension before going into the chorus and was another great song for singing along to. This is promising for the next album for sure. Returning to LOL with '"Caught In The Middle" the crowd was echoing the chorus, "the Oohh noo, let's gooo…," rocking right along with Lima. The last song, "Hard To Say Goodbye," ended on a funny note, as Lima stated, "…goodnight Nottingham…," is an indication that most rock bands are not used to play at one a clock in the afternoon.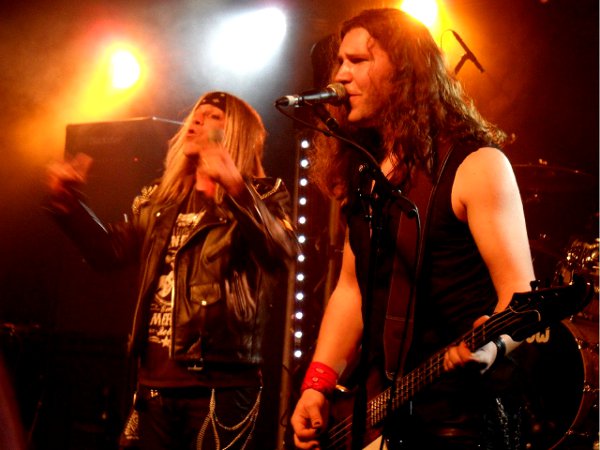 With gratitude an emotional Lima addressed the people during the set, stating sometimes a musician has doubts as to why he is doing what he does but with a crowd like this it is all worth it. This act was nice to wake up to, although not being Lima's band; he carried the act mostly on his own with a little bit of help from his bass player. Hopefully this will be taken care of when he returns next year to tour Europe.
After a long switch finally it was time for Swedish rockers Work Of Art talking about great musicians well these guys are the AOR revelation of their time. Again we see Swedish best kept secret Lars Säfsund on vocals, the opening song came off of their 2011 sophomore album, In Progress. "The Rain" is an up-tempo rock anthem being and was well received by the audience. The bands influences are very clear, bands like Toto, Survivor and on the next song, "Nature Of This Game," had a noticeable Giant influence.
Säfsund crystal clear voice was perfect in the mix, although I was standing to the right of keyboards an at the time they were loud in the mix, overpowering guitarist Robert Säll perfect solo. On the song "Cover Me" from their 2008 debut album Artwork the keyboard solo of Jonas Gröning suffered a bit as the monitors on stage were louder than the PA. Eventually the sound was balanced out, seemed the folks standing a little bit more away from the stage didn't notice this at all. Herman Furin pounding delivered the groove on "Camilea," another song from their debut album which led into the song "Emelie."
While all excellent musicians it was a bit static. Finally with the tune "Never Love Again," Lars Säfsund started jumping up and down gaining a reaction from the audience. Work of Art performed "Headed For The Great Fall" which was also played by W.E.T. at last year's Firefest. The chorus was being chanted by the audience and really got the place rocking. The band kicked in the last song, "Why Do I," and completed a perfect, but way to short set. The response was once again amazing from the Firefest crowd.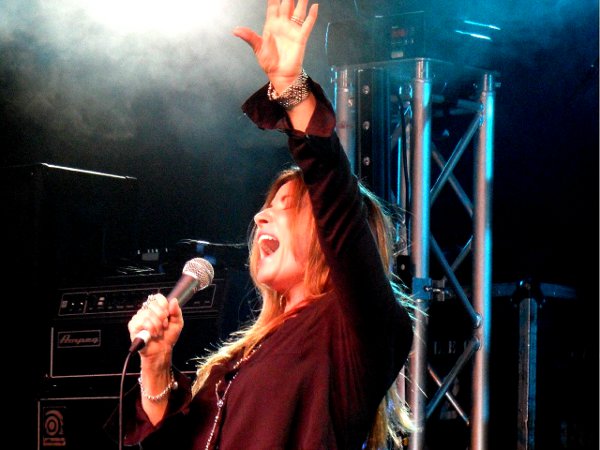 Now the next band I think most people were anxious to see and high expectations were to be met by Robin Beck. With a band consisting of 50 percent of House Of Lords, James Christian on bass and background vocals and B.J. Zampa on drums. Leaving the shredding to one of the best guitar players in this genre mister Tommy Denander and, from Spain, Jorge Salan, most known for his work with Jeff Scott Soto. The melody was provided by Eric Ragno, one of the best keyboard players at the moment who completed the lineup.
Starting off with a Bonnie Tyler cover, "When I was A Man," recorded for the 1989 release Trouble or Nothing, the talent of Tommy Denander 's talent was apparent early on. Another gem from the same album was also the cover song "Don't Lose Any Sleep" (John Waite). This song went over well with the crowd, the joy of each band member is noticeable as these guys and specially girl are born to be on stage.
The relaxed drumming of B.J. Zampa, guitar work of Denander and Salas are a treat. While the new comic duo of Miss Christian and hubby James are hilarious and entertaining. Desmond Child and Alice Cooper songwriting was represented with the song "Hold Back The Night." "Save Up All Your Tears" from Beck's most successful album to date Trouble Or Nothing was played and the comic duo was at it again. They obviously have a great time, fooling around basically Beck telling Christian she wants to get some. With that they went into "That All Depends" from the 2011 The Great Escape.
After "Tears In The Rain" Beck dedicated the next song "The One" to that very special person, Ragno and Denander where looking at each other, pointing to each other, but of course Christian was the one, or was it Bruce Mee one of the organizers? Christian was acting a bit embarrassed (well played Oscar worthy).
The band was humpin stompin and singing along with Paul Stanley's "Hide Your Heart. " After having told everybody the story of the song that basically made her career "First Time" Beck rocked the house with the amazing Tommy Denander doing the solo in his trademark style, ending with everybody cheering for the very first time. Of course the crowd wanted more and they got more a "new" track for the next album and another cover from Glen Burtnick which was a modest hit with back in 1987 "Follow Me." This ended a terrific set and hopefully we will see this band in the near future as they pleased the crowd but definitely themselves, there were plenty of happy faces as they walked off the stage.
Unfortunately Firefest being a marathon I missed Canadian rockers Santers and I guess more people had the same thought of getting some food. I did get some info they played "Winter Freeze," "Mistreatin' Heart," "Time After Time," "Black Magic," "The Rapper," "Dreaming" and a drum solo was added to the set-list continuing with "You Turn Me On," "All Right Now," "Can't Shake You" and ending the set with "Road To Moracco." I heard the people who stayed and knew the Santers were impressed by the band so I'll gladly leave it at that.
The next band took me back down memory lane, as I saw them perform at the Los Angeles Foundation Forum back in 1991 and they kicked some serious ass back then. Having seen Terry Ilous performed some two weeks before with Great White I already knew his vocal cords are still magical and now wanted to see him do it with XYZ. Having had different line-ups over the years it surprised me to see Pat Fontiane back in the band on bass, hoping on JK Northrup on guitar, getting Tony Marcus and on drums Joey Shapiro. A little digging brought me info on Tony who started as guitar tech and filled the shoes in the middle of the Hungry tour for XYZ, he played with Stephen Pearcy in Arcade and Vicious Delite not to mention he was part of the Bullet Boys on and off.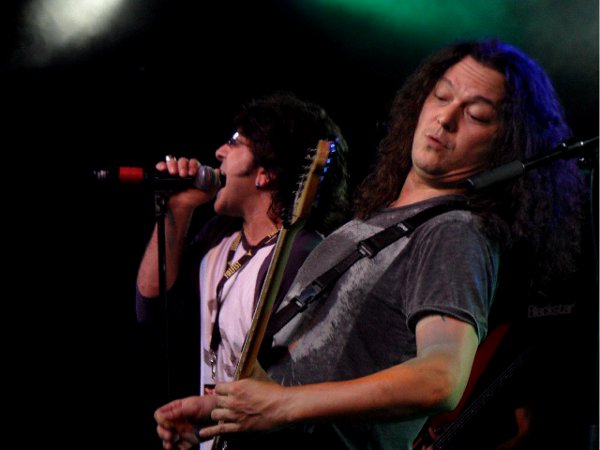 Opening the set with "Come On And Love Me" Terry Ilous proves to have a voice you will always recognize and that makes XYZ sound so unique. Having Tony Marcus shredding on the solo he came through right from the get go, he sounded awesome. With another single "Maggy" of their 1989 Don Dokken produced debut album XYZ blasting through the Rock City you see the experience these LA Rockers have getting the people to sing along, clapping as well. Fontaine was moving around all over the place, while Ilous was front and center and Marcus would come forward take the spotlight for his solos. I have to say they worked the stage better than most Euro-bands so far. With the more groovy "Off To The Sun" coming from the 1991 Hungry the pace is once again set followed by "What Keeps me Loving You." The Southern bluesy, slooowww down… "Follow the Night" mellowed everybody out a bit. This provided the perfect time for Terry Ilous and Tony Marcus to grab a couple of acoustic guitars and play "After The Rain. " Which Ilous dedicated to wife number two, Ilous laughed at this, the moment caused goose bumps and provide a beautiful ballad backed up by the Firefest folks . These guys could do an all-acoustic set if it was up to a lot of people. Ilous asks the audience what the wanted to hear next and settles on "Souvenirs." They should definitely do an acoustic CD. Everybody is loving it so much groupies are coming on to the stage, oh wait a minute, the girls of Firefest are on stage with a birthday cake for Pat Fontaine, yes how cool is that and only on Firefest. "Face Down In The Gutter" was taken a bit to literary and brought a little scare as a lady was lifted out of the front row fainted. Topping it of the set was "Inside Out," because once again the time frame was a problem, they skipped "Don't Say No." I wish they had played for 2 hours, XYZ is a great band who obviously enjoy themselves on stage and love to kick ass.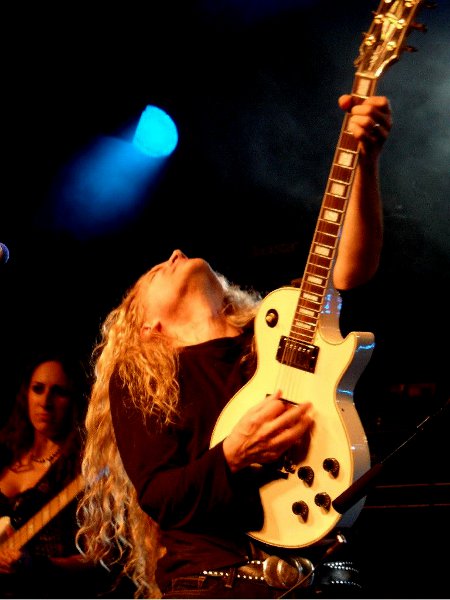 What an amazing day it has been so far and last year it was hard to top Mitch Malloy's set but now he has to at least match XYZ's. Ok here is some math for you, Lionville minus Lars Säfsund now ad Mitch Malloy and yes that is almost the band performing tonight. Opening with "Mission Of Love" was a sure bet followed by "Falling To Pieces" the band was hot again. Mario Percudani shredded like his life depended on it, Anna Portalupi putting laid down the bass grooves, with skin-beater Alessandro Mori, not to be confused with Alessandro del Vecchio on keyboards. del Vecchio proved the importance even more on backing vocals as with the next song "Stranded In The Middle of Nowhere." Malloy's vocals went a little bit over the top and it became clear that he could not match his own performance from 2011 Firefest. It seemed his backup band clicked and had developed chemistry after their performance last year. It looked more like Malloy's backing band, that is a weird development to be noticed.
The performance of "I Still Love You" and "It's All About Love" wasn't bad , it is was good but fans expect sensational. "Our Love Will Never Die" Malloy took a shot at the title, and was getting closer to last year's performance. He left the stage after "Forever" with and received a nice response returning with close friend Buno Ravel of Danger Danger fame on bass to perform "Shine" and of course with his biggest hit "Anything At All" Malloy couldn't lose. Ending with what I call the goodbye song "All My Friends, " Malloy performance was not flawless but respectable. Mitch Malloy is still performance was still topnotch when compared with a lot of other bands but I guess he is a victim of his own brilliance.
Headlining the Saturday night Swiss rockers Gotthard, the first gig with Nic Maeder replacing the Brilliant Steve Lee. We all know what happened, so we are not going in to that. Loud cheers when Gotthard was announced and Leo Leoni founder, guitarist of the band, is the first to be seen on stage, shredding the riff for the track off of Lip Service "Dream On." I could not help after the curtain was dropped to have an awkward feeling, not something I had planned but looking around me I was not the only one. Going straight in to the Domino Effect's "Gone Too Far" was a good thing , leaving no time for thinking, just time for rocking. Maeder has an amazing voice , yes with a likeness to Steve Lee 's voice, which works well and is unbelievable for the fans. Having heard the new release Firebirth and to deliver on CD is one thing but to also perform in the shadow of the legacy of somebody else has to be hard, but after two songs everybody is convinced, Gotthard is alive and well.
The band is as solid as a rock, Freddy Scherer on guitar, as well Hena Habegger on drums and Marc Lynn on bass are a well-oiled rock machine. They brilliantly went in to their new single "Starlight" and the audience provided plenty of singing and clapping. The overall energy was there making the rock concert special. What better way to spend an evening with about a little under 2000 friends right? I would say they are "On Top Of The World " With the song "Remember It's Me" with Nic Maeder playing acoustic guitar, I saw some girls have trouble, oh wait, yes and guys, keep their eyes completely dry, it is a beautiful compliment for a musician to touch people like that.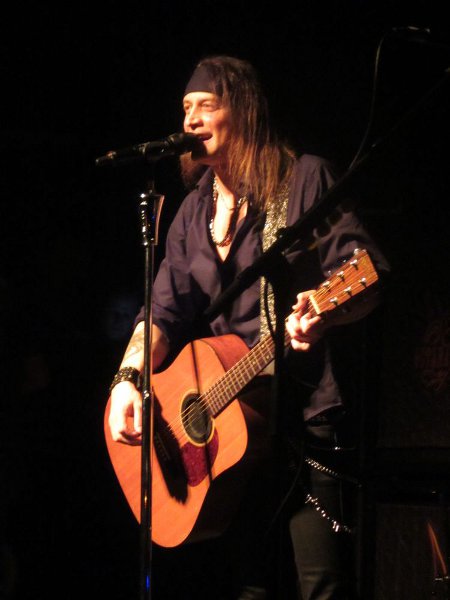 The audience was loving it all and after "Sister Moon" from the G album and a new one "Fight" from Firebirth, they played their first single from the debut Gotthard album. They also played Deep Purple's "Hush" which invigorated the crowd some more. Then it was time for the beautiful "One Life, One Soul," which Maeder dedicated to Steve Lee. Stating that every time he sings this song it feels like the first time all over again, he asked everybody to help him sing this song… for Steve together. Only accompanied by keyboards, this gave me goose bumps all over again, it seemed to be emotional for many, however Rock City was up for that task.
To keep it down a bit the ballad of Firebirth "Shine" was perfect to switch in to the much ballsier "The Story's Over" and "Fist In Your Face" from G of course was all well received and again a new one song, "Give Me Real," with Leon on a double neck guitar going at it, the guys were really enjoying themselves. After announcing the next song "Mountain Mama" off the Dial Hard CD, Leoni was messing around playing some AC/DC, Deep Purple before going in to the song, hmm a gimmick they do at every show , I wonder.
With another new gem "Right On" with Leoni playing the voice box and guitar, the new album got a fair amount of play on the set list tonight. The set ending with "Lift U Up" from Lip Service. Leo Leoni and Freddy Scherer faced each other like being in a Mexican standoff at the beginning of the song, they definitely kick some serious ass and the solo from Freddy Scherer was stunning. With the "whoohooo 's" blasting through The Rock City, people jumping up and down, the roof was on fire and Gotthard blew it right off. The encore wasn't even a questionable one, the band played from Domino Effect the splendid up tempo "Master Of Illusion."
Gotthard finished with the kill shot with "Anytime, Anywhere" from Lip Service. Leoni took center stage with the guitar solo and a perfect performance came to an end. It was not without also some emotional moments on stage. Gotthard, specially Leo Leoni, had some watery eyes himself after hearing the cheering of the Firefest crowd and it also will be a memorial night and highlight for them. Again having to deal with curfew the lights go went on and another perfect night is gone.
[Pictures are courtesy of RockManian Devil Entertainment.]
Firefest Festival 2012 Concert Photo Gallery