LIVE! | Firefest Festival 2012: Day 3 – Danger Danger, Lillian Axe, Stage Dolls, Fiona, Farcry, Brighton Rock, Royal Hunt
by Marcel "Mars" Groeneveld
– Columnist –
October 21, 2012 At Rock City in Nottingham, UK –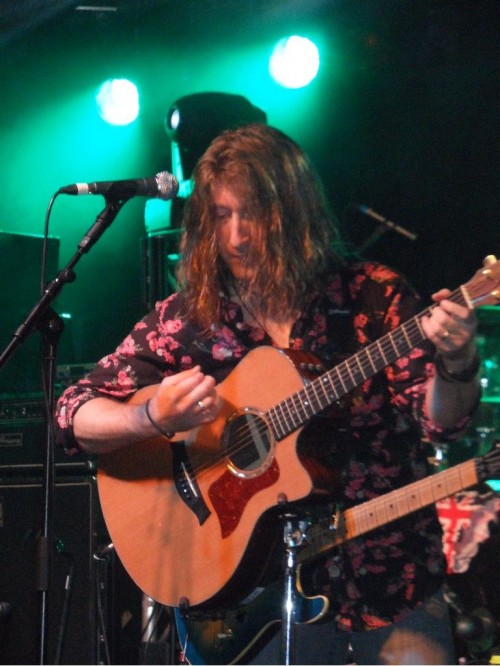 Firefest Sunday is the final day and was received with mixed feelings. Similar to the feeling people have during the last day of their holiday, you still have one day to go but you know it will be over soon.
Having to cancel last years gig due to unforeseen circumstances, many people were happily surprised to see Farcry on this year's bill. The New Jersey rockers, with main man Pete Fry, kicked off super Sunday with "She's Crazy" from their 2008 debut album High Gear. First noticeable thing was Mark Giovi had been replaced by Mike Ledesma on vocals and that is not necessarily a bad thing. I have to say he handled the high parts in "Over and Over (Again!)" better than we heard at last year's Firefest.
Pete Fry the brains and guitarist behind Farcry did come over in 2011 and had the pleasure of performing this song he co-wrote with Steve Newman with Steve's band Newman. The set was evenly divided between 4 songs off the debut and 4 songs off of 2011's Optimisme. "After Nothing You Can Do" the cool ballad "Better Than This" with a nice acoustic guitar intro, Ledesma had to step up to the plate and delivered vocals even a little bit higher than the original. Sometimes Ledesma looked a little lost between the songs, talking about the Olympics and the Beatles wasn't his best move but great vocals that fit Farcry perfectly. Overall an entertaining set again only 40 minutes in which it is hard for a band to win over a crowd but Farcry just did that. Downside Pete Fry is on the lookout for a new acoustic guitar as one of the roadies dropped it on stage, poor guy.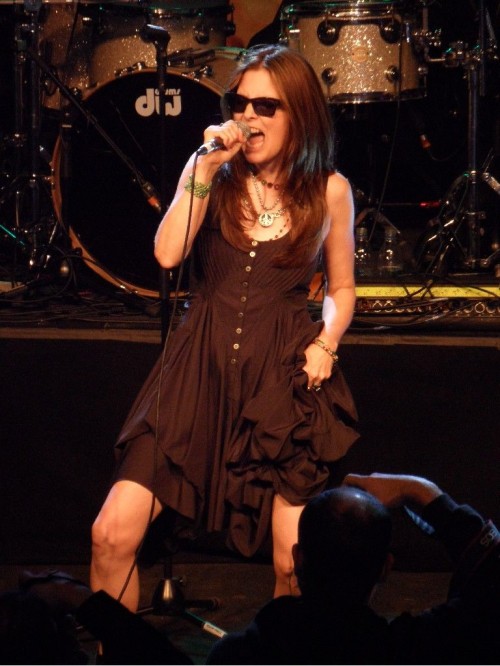 Up next was Fiona and having the same backing band as Robin Beck, people were comparing the two singers with another. Well you can't compare them in my opinion it wouldn't be fair. Although their posters were hanging on many headbangers bedroom walls together with Lita Ford, Doro, Lee Aaron and Vixen, all respected rock babes, they did have that both in common and also still have the looks now. Unfortunately the sound on stage had been a problem as I also was told by other performers but Fiona did not reach her old form from back in the days. The chemistry of James Christian, Tommy Denander, Jorge Salan, Eric Ragno and B.J. Zampa is amazing and definitely ingredients for a new super group to be. Seeing her jump up and down on "Loved Along the Way," the first track of the new 2011 CD Unbroken, Fiona got some decent response and the quality of sound improved with "Treat Me Right." Fiona not having been on stage for like 20 plus years looked a little out of place and reminded me of Jeff Paris last year, who also looked a bit goofy on stage. She did enjoy herself on stage with "Keeper of the Flame," "Hang Your Heart On Me" and "Heart's On Fire" even Fiona was impressed by the guys in the band. With "Shadows of the Night" she tried to get the crowd to wave their hands from side to side which kind of went nowhere, but still the set ended and is a good start for the European Tour with Robin Beck. Things only can get better.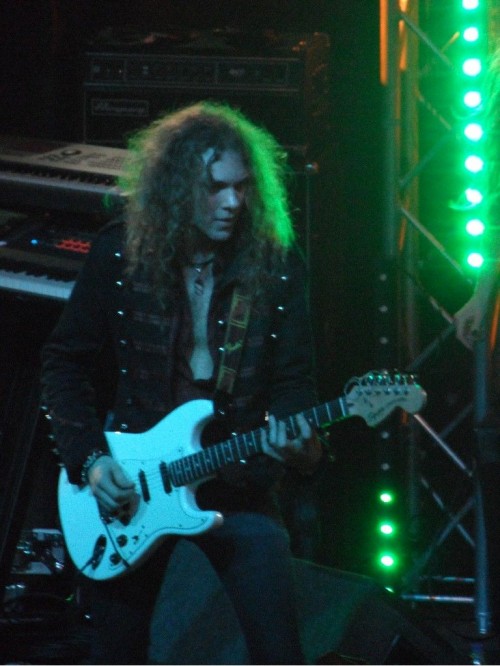 Another band that just recently toured Europe was Royal Hunt and with DC Cooper running around and two beautiful female background singers on stage you can't go wrong. They kicked off with "One More Day" from their 2011 release Show Me How To Live which saw the return of DC Cooper. Andre Andersen is the Yngwie Malmsteen of keyboards and also founder of Royal Hunt. Speaking of Malmsteen guitar player Jonas Larsen could have been his younger brother having a similar look and his melodic style fits the band perfectly as heard on 2001 title song "The Mission". Allan Sorensen's intro on drums followed by Andreas Passmark's bass got the people clapping along with DC Cooper encouraging them. Followed by 2 killer tracks from the 1995 classic Moving Target- "Step By Step" and "Last Goodbye", Cooper made the crowd go wild by jumping of stage and joining the people in the front rows. The interaction between the band members gave away they already played on small stages and it doesn't have to be a problem at all. Again treating the audience to a new track "Half Past Loneliness" from their last CD and with an all-time classic "Stranded" of the 1992 debut album Land Of The Broken Hearts the band run out of time due to the long switch. However having Firefest main man Kieran Dargan as a fan in your corner helps and Royal Hunt was allowed to go out with a bang with "Message To God" from the 1997 Paradox album. It was a pleasure to see this kind of music making it to the Firefest line up and after heard all the opinions everyone agreed, it fitted well!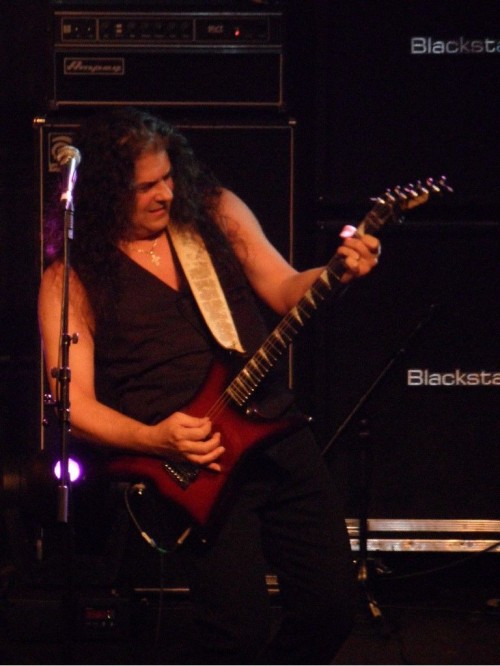 I guess the next band, Canadian Rockers Brighton Rock, was building up the suspense… kicking in "Unleash the Rage" from 1988 Take a Deep Breath. Nothing strange about that but vocalist Gerry McGee was singing back stage for like 45 seconds before actually coming on stage for all to see. That was let say, different, but I was absolutely blown away by the roughness of McGee's vocals. A small insight information McGhee also auditioned in 1992 to replace Vince Neil in Motley Crue, as his guitarist Greg Fraser joined Helix. Now reformed once again the band kicked ass and was the loudest and roughest band so far on Firefest. "Young, Wild And Free" was blasting through the speakers with the guitar level way past 11, but the crowd seem to love it. Followed by "Barricade," both tracks were recorded for the 1985 EP and got them signed to Warner Music and ending up on their debut release Young Wild and Free in 1986. Returning again to their most successful album to date with "Hanging High & Dry," "Outlaw "and "Rebels with A Cause" from Take a Deep Breath which received gold in Canada was received pretty well. It shows the class of Greg Fraser as an axeman while McGhee sometimes sounds like a mix between Ronnie Atkins of Pretty Maids and Brian Johnson of AC/DC. Although with "Hanging High And Dry" after a cool intro from Johnny Rogers on keyboards, McGhee had not enough power to reach above the still way too loud mix and the vocals were a bit lost. The 3rd album 1991 Love Machine was also represented with the up tempo rocker "Hollywood Shuffle" and after "We Came To Rock" some crowd anticipation was involved when the chorus was song on "One More Try." Again Greg Fraser was showing of his moves on Love Machine's "Night Stalker" the rhythm section proves to be pretty tight with Steve Skreebs handling bass and Mark Carvazan on drums. Going into a "Power Overload" the Firefest crowd also cheered on Brighton Rock and to complete the set again an up tempo rocker from Love Machine "Bulletproof" was played. Cool set, a few problems with the mix but an enjoyable show of these veteran Canadian Rockers. (Cool detail for the metal nerds After Take A Deep Breath turned gold the first album Young, Wild and Free also turned gold later that year, MG)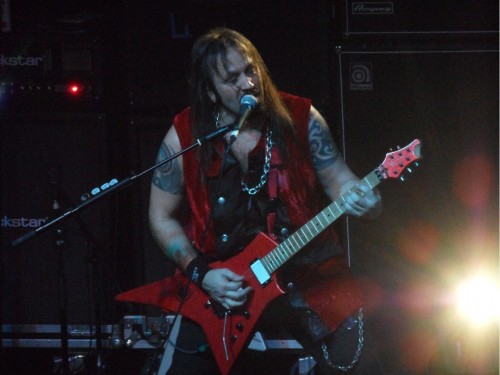 Each year brings a band with high expectations, for me it was the next act on the bill, New Orleans rockers Lillian Axe. It has been 21 years at the Foundation Forum in Los Angeles when I saw them perform live on stage and they made a big impression. After Ron Taylor left the band and being gutted about it, I saw a clip of "Misery Loves Company" song buy a guy called Derrick LeFevre. It cheered me right up as he sounds a lot like Taylor. Again disappointed to hear he left the band and knowing Steve Blaze getting a good guy to step in once again to handle vocal duties I was not worried. After a few changes in comes new singer Brian Jones. So keep in mind I totally was expecting Jones to walk up on stage and much to my surprise, out comes Derrick LeFevre, a "…Helllll Yeahh…" was going through my mind.
I wondered if they would adjust the set but the place got rocking with "Misery Loves Company" from the 1988 self-titled album with the amazing Steve Blaze, this guy shreds like no other. When he first saw daylight exiting the womb he was probably holding a guitar in one hand. Lillian Axe was pickup straight away by the Firefest audience. Very strange all the problems with the sound were gone "Deepfreeze" from 1993 release Psychoschizophrenia with the drum intro sounds was perfect. Ken Koudelka is battering the drums and Eric Morris is pounding his bass and they are tight as can be. With "All's Fair In Love & War" from the classic 1989 album Love + War again bass and drums sounding like a well-oiled machine and with second guitarist Sam Poitevent laying down the melody. The beautiful twin guitar peace in the middle of this song sounds great and LeFevre is sounding amazing as well on vocals. The crowd loves this and the intro to the 1992 Poetic Justice "Mercy" LeFebre gets the people cheering once again.
The set is pretty much a best of Lillian Axe songs from the first four albums era. With "The World Stopped Turning," "Hard Luck" and "True Believer" going in to "Dream Of A Lifetime," Steve Blaze is everywhere on stage acting like the alpha male. A role that fits him perfectly singing second vocals to almost everything and convincing everybody on guitar with his cool melodies and killer solo's he rules. With another killer riff on the new song "Babylon" from the new 2012 album XI: The Days Before Tomorrow he raises his fist to the crowd who joins him and a new chapter has begun for the band. With the hard rocker "Crucified" and the amazing intro of "Ghost of Winter," I cannot stop thinking; "…stupid, stupid, stupid…" I should have gone and seen them on the European tour before when I had the chance. With another new piece that fits in perfect with the set "Death Comes Tomorrow" it is clear this band can put on a show they are playing like veterans. Not only on stage it sounds great but they look a band and although it is fun to see some acts perform who haven't been on stage for years, unfortunately it shows. Especially with a band like Lillian Axe and with "Show A Little Love" I have made up my mind. In my opinion they are this year's best band on the bill who really delivered the goods. Closing down with the Badfinger cover of the Poetic Justice album "No Matter What" the Rock city is once again shaking on its foundation, what a great show. I have to say my respect and complements go out to of course the band but especially Derrick LeFevre. The pressure was all on him stepping in at the last moment but he pulled it off in a big way!!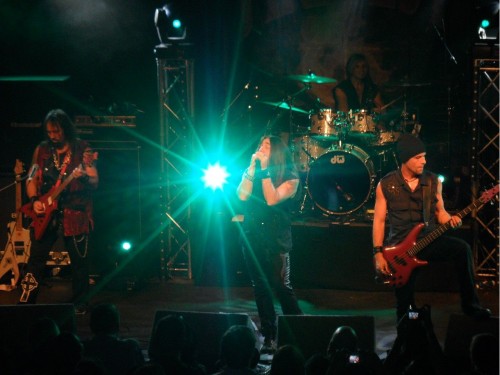 After cooling down a bit the stage was set for Norwegian veteran rockers Stage Dolls, the band that made a huge impression on the 2010 edition of Firefest. Being 3rd on the bill then they moved up a bit and are now on the special guest spot at Firefest Sunday 2012.
The band Stage Dolls "Always" did well in the U.K. and that also happens to be the first song of tonight's show and is well received. The successful 2010 released album Always hit the number 1 position in the Norwegian charts and was rewarded with the Gold status. It is very impressive for a melodic rock band to achieve a gold record these days.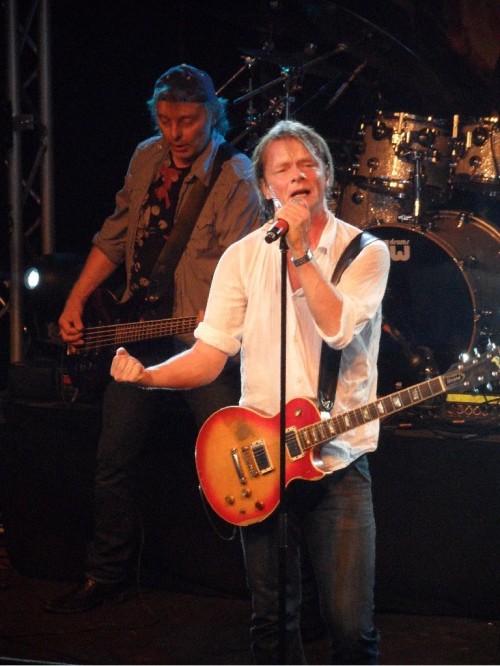 However no surprise here, as the quality of their songs are top notch. Also the next song from their self-titled Stage Dolls 1988 release "Love Cries" is known to the audience and the Firefest choir jumps in on the chorus. Torstein Flakne's voice is easy on the ears and his melodic guitar riffs fit his songwriting. The chemistry between Falkne and his bass player Terje Storli is very noticeable; they fool around on stage, make jokes but deliver first class rock. With the classic track "Left Foot Boogie" of the 1985 Soldiers Gun and re-recorded on 1991 Stripped Morten Skogstad is laying down the pace on drums for this groovy track. From the groove to a ballad, again from Stripped things wind down with a Richard Marx kind of vibe to it on "Love Don't Bother Me". Of course the audience is still good to Stage Dolls and sing and clap along and going in to the "ho ho ho's" on the 1986 released title track "Commandos" and it doesn't stop there. With again slowing things down a bit with "Sorry Is All I Can Say" again from Stripped, the "hey hey hey's" come out on "Wings Of Steel." The organization has done well to get these guys back and with one of their biggest hits 'Still In Love" they hit the bull's-eye just to finish it off with an oldie and also the title song of the 1985 release Soldiers Gun. Saying goodbye to a thankful audience is always nice but all credits go out to these excellent Norwegian rockers.
If the night would end now, it already would have been a perfect day but no diner is complete without some dessert and it has got to be naughty as well. What better way to close down with cult heroes Danger Danger hailing from Queens, New York. Returning after 4 years also hitting the Firefest stage in 2008, last time I saw them perform was in Germany on the United Forces Of Rock festival and they rocked!
What better way to start off with "Rock America" from their debut 1989 golden awarded album Danger Danger. (Difference between Norwegian gold – 50.000 units or American awarded gold – 500.000 units, Danger Danger sold over 1 million units all together, MG.)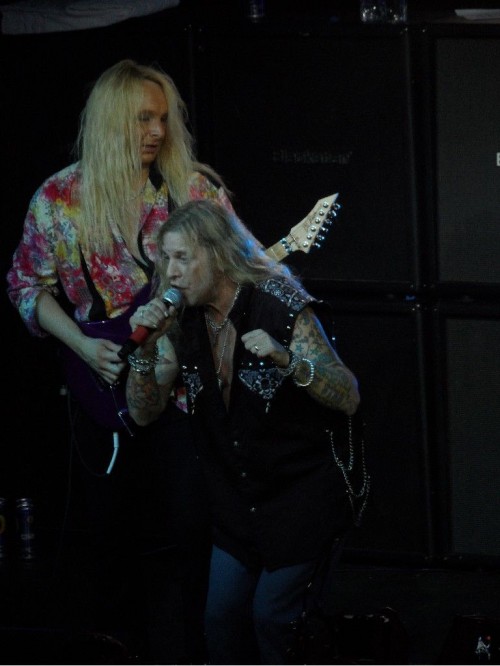 The Firefest party continued with "Beat The Bullet" from the 1992 Screw It album and even the non-believers who went along for the ride could not help but sing along. The next song "Shot Of Love" was recorded originally in 1993 for the album Cockroach but was shelved until Epic released it in 2002. First recording was done with Ted Poley later they replaced Poley with Paul Laine and re-recorded the vocals. Because of problems concerning the rights which almost took 8 years to be solved, Danger Danger saw both recordings finally being released as a double CD in 2002. Mister fast fingers Rob Marcello who is in great form delivers a solid solo on this song, this guy so looks the 80s, he fits the part perfectly. Also the newer stuff is represented, from the 2009 Revolve release with "Killin' Love" which has the signature songwriting of drummer Steve West and bassist Bruno Ravel, melodic but still hard driven powerful songs.
These posers deliver and with "Don't Walk Away" Poley does the unexpected even bandleader bass-player Bruno Ravel is looking around for his front man. The crowd loves the fact Poley jumped of stage and makes his way through the audience singing this great ballad from their debut album. He even goes up the stairways; across the balcony and goes back the same way just to be on time to finish the song on stage again. How cool is that and Ravel looks relieved. After being roused up, the Firefest tonsils are being tested again on Screw It's "Don't Blame It On Love" with the "Whooohoohoo's" and clapping along. Poley also loves to take a sip of water and spit it out in the air and him walking through the moist, hmmm. Old songs, new songs like "Hearts On The Highway," the choir sings along with the chorus of almost every song. The semi ballad "Feels Like Love" and "Bang Bang" also from the first album Poley thanks the audience for singing along and is shooting with live ammunition, his amazing voice! On "I Still Think About You" again great guitar work from Marcello and Poley testing his pipes with a long note on the first part of the song. The crowd responds with cheers, Poley later in song does the wail thing again blowing water in the air and some landing on Ravel as he looks around to see Poley doing his thing and laughs.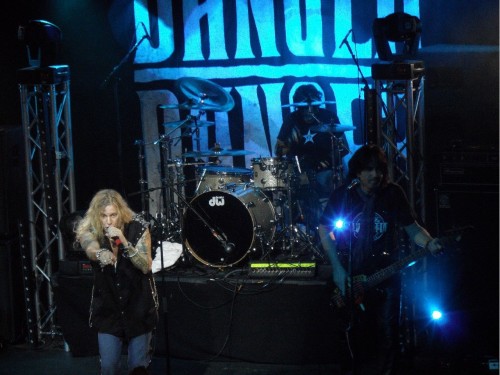 The chemistry on stage looks greats and these guys are having a blast with each other. Another "whohoho" sing along song, the upbeat tempo "Crazy Night" like the previous song also from Screw It goes in like candy and an encore is unquestionable for the Firefesters. They need more and they will get more with "Monkey Business" and Firefest being the festival it is, two monkeys, read grown man in monkey suits, come hoping on stage with bananas. Also friend of the band Mitch Malloy enters the stage and helps sing the song with near 2000 crazed rockers. After goofing around a bit on stage doing some Kiss for a minute the grand finale kicks in with "Naughty Naughty" their greatest hit. It was a cool thing to see first Robin Beck and Terry Ilous join the band on stage, followed by James Christian, Tommy Denander and Firefest's own Tony Marshall. With Poley introducing the band the others disappear off stage and Ravel introduces the man, the myth, the legend, the crutch, the one and only Ted Poley, the crowd roars. Poley ends the show with "Together we are Danger Fucking Danger, stay horny everybody… it was a night to remember thank you everybody." So another Firefest comes to an end but they have announced the 10th anniversary will be even more spectacular than all the precious editions before. Until next year!
[Pictures are courtesy of RockManian Devil Entertainment.]
Firefest Festival 2012 Concert Photo Gallery