by Deb Rao
– Senior Columnist —
October 31, 2012 at The Joint in Las Vegas, NV —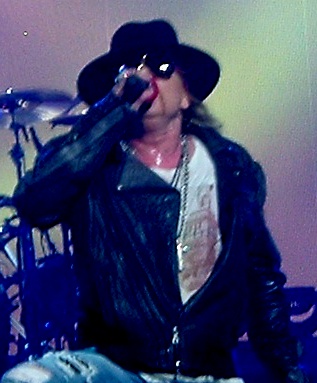 GUNS N' ROSES kicked off their 12 show Las Vegas residency beginning October 31st through November 24th at The Joint in Las Vegas. In honor of the event Paradise Road was renamed Paradise City Road for the month of November. Hardrock Haven was on hand November 2nd for this exclusive review. GUNS N' ROSES hit the stage at 11:45 P.M. for a 3 hour explosive set proving that GNR are still one of the greatest rock bands in metal.
GUNS N' ROSES kicked off the set with "Chinese Democracy" amidst a sea of fog, flash pods, huge video screen and pryo that packed a powerful punch, including guitarist DJ Ashba rising up from the stage on a platform behind the drum kit. Las Vegas may be known for its glamor and glitz and tonight's GUNS N' ROSES show did not skimp on any of the glitter. Although the case of characters may have changed over the years, today's version of GNR is fortified by some of the top musicians in the business that had their opportunity to shine during the 3 hour long set.
Axl Rose was in great voice as he prowled around the stage commanding the audience. Proving he is still one of the greatest showman in the business. Displaying a vast array of hats and blazer jackets, AXL proved he could still deliver the goods. The show was filled with highlights including "Live And Let Die," "Rocket Queen" featuring dancing girls, "Don't Cry," and Axl performing on the piano on "Another Brick In The Wall PT 2."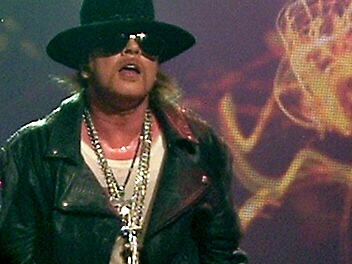 The stage featured two catwalks that gave the performers a chance to connect with the audience in an up close view. Other highlights also featured guitarist DJ Ashba performing his guitar solo "Ballad Of Death." The keyboards of Dizzy Reed gave the band a great full sound.
The momentum of the show never let up, as GUNS N' ROSES unleashed hit after hit that have remained timeless over the years. I had the opportunity to talk with fans that came from Ohio and as far as the UK to see the show. The legacy of the band is relentless. It was awesome to hear the fans sing along to "Don't Cry." The show featured many hard edge moments but also featured the melodic side of Axl that was refreshing on the Neil Young cover "Don't Bring Me Down," the GNR hit "Patience" and the eloquent "November Rain." Axl and his band mates delivered a show that was absolutely flawless.
Be sure to take your vacation to Vegas this month and see one of the greatest rock bands in the world GUNS N' ROSES in their residency at The Joint. It is a must see show.
Set List:
Chinese Democracy
Welcome To The Jungle
It's So Easy
Estranged
Better
Richard Fortus Guitar Solo
Live And Let Die
Rocket Queen
Motivation – Vocals Tommy Stinson
Dizzy Reed Solo
Street Of Dreams
You Could Be Mine
DJ Ashba solo -Ballad Of Death
Sweet Child Of Mine
Another Brick In The Wall Part 2 – Axl on Piano
November Rain
Glad To Be Here – Bumblefoot
Don't Cry
Don't Let It Bring You Down – Neil Young Cover
Knocking On Heaven's Door
Night Train
Patience
Madagascar
Paradise City