LIVE! | Lamb of God with In Flames, HellYeah and Sylosis
by Jonna Ambur
– Photojournalist –
NOVEMBER 23, 2012, OAKDALE THEATER, WALLINGFORD, CT –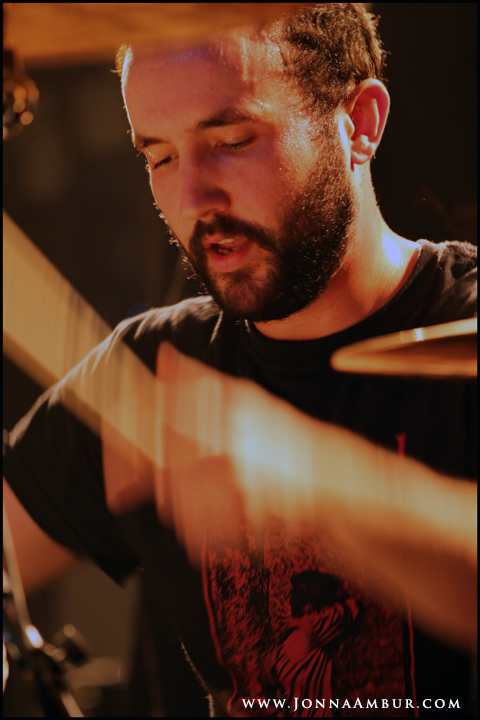 Celebrating their first performance in Connecticut, Sylosis, hailing from England, took the stage about 10 minutes earlier than the ticket showtime stated. A disappointment to the fans who really wanted to catch their entire set, but Sylosis delivered drilling music from beginning to end.
Together since 2008, Sylosis' music is wise beyond its years. Their style of heavy, thrashy, screamin' metal was a great addition to this tour, and the band kicked ass for all who were there early enough to catch their set.
Sylosis comprises Josh Middleton on guitar and vocals, Alex Bailey on second guitar, Carl Parnell on bass and Rob Callard behind the drums. The band released their third album, Monolith — a concept-driven album — in October 2012.
Sylosis setlist:
1. Fear the World
2. Altered States of Consciousness
3. Reflections Through Fire
4. Teras
5. Empyreal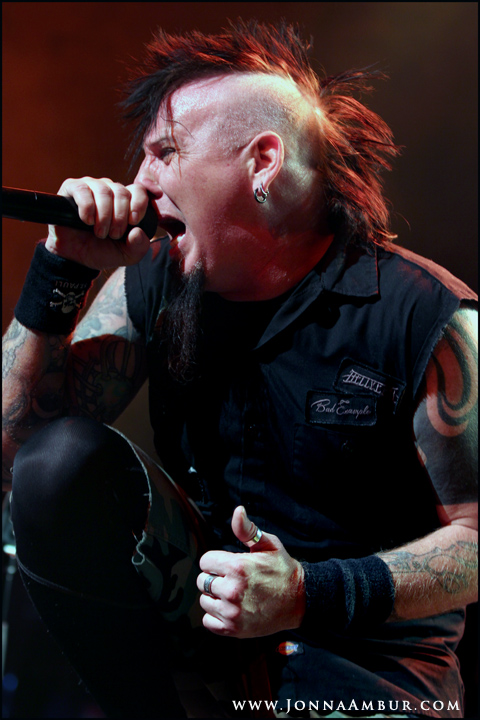 Next up was HellYeah, who released their third album, Band of Brothers, in July 2012. Individually, the members have musical histories that date back to the '80s, but they've been together, as a band, since 2007.
HellYeah is full of names that many people know and follow: Chad Gray (vocals) and Greg Tribbet (guitarist) from Mudvayne, Vinnie Paul (drums) from Pantera and Damage Plan, Tom Maxwell (guitarist) from Nothingface and Bob Zilla (bass/backing vocals) from Damageplan.
HellYeah put on a performance that had the crowd on its feet with metal horns in the air and the mosh pit hot! Down and dirty metal is the best way to describe their music; amazing vocals, pummeling drums, raw guitars and bass. In other words, they friggin' ROCKED!
HellYeah setlist:
1. War In Me
2. Drink Drank Drunk
3. Cowboy Way
4. Matter of Time
5. Stampede
6. Rage/Burn
7. Band of Brothers
8. HellYeah
Swedish band In Flames followed. The band has been in the metal scene since 1994, and this tour supports their 11th album, Sounds of a Playground, released in 2011.
At first glance, some audience members didn't know what to make of the huge taxidermy-like bear on stage, complete with clothing and butterfly wings. But In Flames quickly had the pit ragin', and everyone was up on their feet. "Take This Life" instantly hooked the audience, and the crowd definitely was impressed.
As for the bear, GlennAntonio, he's still looking for an American home, as In Flames returns overseas in mid-December. The band is donating the proceeds of GlennAntonio's sale to Barncancer Foden, a nonprofit Swedish childhood cancer foundation. Of course, this shows that not only is the band hard-core crazy metal, riffs and all, but they have a heart of gold! They gained many new fans that night!
In Flames comprises Anders Fridén on vocals, Björn Gelotte and Niclas Engelin on guitar, Daniel Svensson drums and Peter Iwers on bass.
In Flames Setlist:
1. Sounds of a Playground
2. Where the Dead Ships Dwell
3. Reroute to Remain
4. Embody the Invisible
5. Cloud
6. Fear is the Weakness
7. The Mirror's Truth
8. Deliver Us
9. Take This Life
10. My Sweet Shadow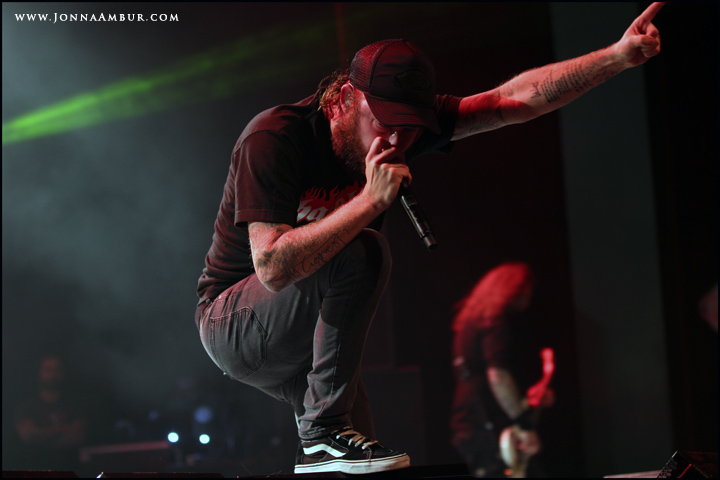 The headliner of the night, Lamb of God, took the stage and no one had their eyes off the stage. After almost a year of personal turmoil for singer Randy Blythe, and at least one postponed date in Connecticut, everyone at the Oakdale Theater was ready. This show was a long time coming, and the fans weren't going to miss a second.
With 15 years of aggressive metal under their belts, they immediately commanded the stage. Their set started with a video and musical intro, with fans chanting "LAMB OF GOD!" "LAMB OF GOD!" and the first of the pit floaters was off.
Their first two songs, "Desolation" and "Ghost Walking," from their 2012 release Resolution, set the stage for a night that soon will not be forgotten. The guttural screams of Blythe brought out the pent-up rage in the fans but in the best way possible.The audience was screaming the songs, and was becoming ONE with Lamb of God. The mosh pit that night is sure to go down as being one of the angriest in metal history.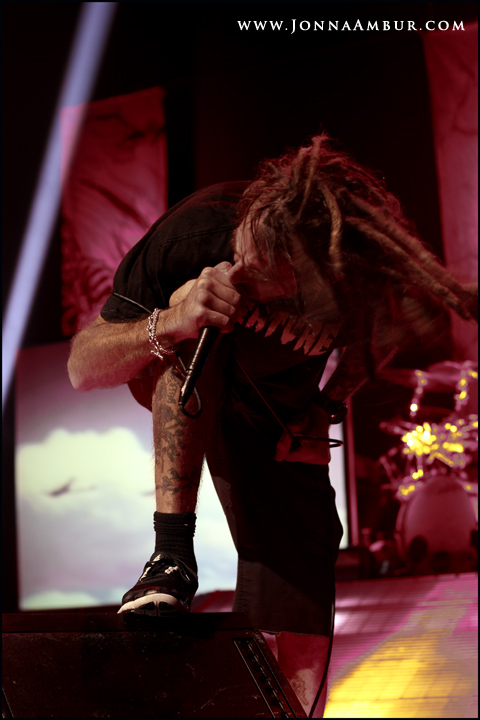 Blythe's sense of humor was on point when he brought out GlennAntonio — pants around his ankles, no less — for a dance across the stage. The set had a fun, upbeat vibe, which was, in part, brought on by drummer Chris Adler's birthday. The audience screamed an enthusiastic, though completely off-key, rendition of "Happy Birthday" to the humbled drummer during the set.
The set took a dramatic pause when Blythe took the time to thank all of the former and current men and women of the U.S. Armed Forces. With a dedication of "Now You've Got Something to Die For," complete with a video tribute of fans that have died for our freedoms, they had everyone on their feet with deafening screams of support.This was followed by a mosh pit of insanity for our brothers and sisters in arms.
The energy didn't let up for a minute. During the pause before the encore, the chants of "LAMB OF GOD!" "LAMB OF GOD!" filled the room. Of course, they didn't disappoint and came back with more metal, including "Redneck," a crowd favorite.
They ended their night with a surprise guest: Wayne Lozinak from Hatebreed. Hatebreed left the tour shortly before the Connecticut date to fulfill some solo dates, so this was awesome for the locals, as this is Hatebreed's home state. In the end, it was a night to remember all around.
In addition to vocalist Blythe and Chris Adler on drums, Lamb of God comprises Mark Morton and Will Adler on guitars, and John Campbell on bass.
Lamb of God Set List:
1. Desolation
2. Ghost Walking
3. Set for Fail
4. Ruin
5. Now You've Got Something to Die For
6. 11th Hour
7. The Undertow
8. Omerta
9. Contractor
10. The Passing
11. In Your Words
12. Laid to Rest
13. Redneck
14. Black Label
Lamb of God with In Flames, HellYeah & Sylosis Concert Photo Gallery