Motorhead | The World is Ours Volume 2: Anyplace Crazy As Anywhere Else
by Cynthia Jo
– Columnist —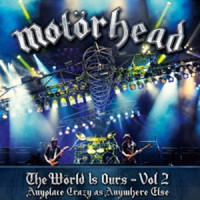 A metal fan can never have enough of Motorhead, especially, live Motorhead. The World is Ours Volume 2: Anyplace Crazy As Anywhere Else is a follow up to 2001's The World Is Ours Volume 1: Everywhere Further Than Everyplace Else and is the 7th live album that Motorhead offers.
Most of the songs are very similar to those in the first volume, because they are the same songs but recorded at a different location and date. Songs were recorded live at Sonisphere Festival in the U.K. and others at the Rock in Rio in Brazil and included in the DVD. The set list includes crowd favorites like "Iron Fist," "Ace of Spades," "Overkill," "In the Name of Tragedy," and "Overkill." This compilation also includes "Metropolis," "The Thousand Names of God," "Get Back in Line, "I Know How to Die," and "Bomber." The recordings are really smooth and easily intriguing.
The trio that consists of Lemmy Kilmister, Phil "Wizzo" Campbell and Mikkey Dee continue to impress their potential as musicians and there is no question why they have been so great for the past 35 years. It would be a bore to those waiting to hear new music from Motorhead but it still fascinating to hear and will really make a fan feel like they right there in the show because this band undoubtedly rocks live. Hopefully, new music will come soon so the next live album will seem fresh.
Genre: heavy metal, speed metal, hard rock
Band:
Ian "Lemmy" Kilmister – lead vocals, bass guitar
Phil "Wizzö" Campbell – guitars, backing vocals
Mikkey Dee – drums
Track Listing:
CD1:
WACKEN OPEN AIR GERMANY, AUGUST 6th, 2011
01 Iron Fist
02 Stay Clean
03 Get Back In Line
04 Metropolis
05 Over the Top
06 One Night Stand
07 Rock Out
08 The Thousand Names of God
09 I Know How To Die
10 The Chase Is Better Than the Catch
11 In the Name of Tragedy
12 Just 'Cos You Got the Power
13 Going to Brazil
14 Killed by Death
15 Bomber
16 Ace of Spades
17 Overkill
CD2:
SONISPHERE FESTIVAL UK, JULY 10th, 2011
01 Iron Fist
02 I Know How To Die
03 In The Name of Tragedy
04 Killed by Death
05 Ace of Spades
06 Overkill
ROCK IN RIO BRAZIL, SEPTEMBER 25th, 2011
01 Stay Clean
02 Over the Top
03 The Chase Is Better Than the Catch
04 Going to Brazil
05 Killed by Death
Label: UDR/EMI
Web: http://www.imotorhead.com/
Hardrock Haven rating: 7.5/10