Stone Sour | House of Gold and Bones Part 1
by Cameron Edney
– Guest Columnist —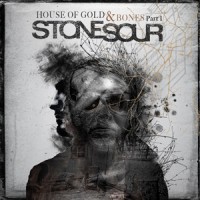 Last month American hard rockers Stone Sour released their forth studio album House of Gold and Bones Part 1. The first half of what is classed as a double concept album is also the bands first to not feature bassist Shawn Econamaki who left the band before recording started. His replacement, on the album any way, was none other than Skid Row's Rachel Bolan, someone highly regarded as a bassist and songwriter and he's done an amazing job on bass duties for the new Stone Sour album!
The album kicks of hard and heavy with "Gone Sovereign" followed up by the headbanging riff fueled "Absolute Zero," which quickly became a favorite track on the album. Featuring eleven tracks of pure aggression, high-energy riffs and thumping production makes this by far Stone Sour's finest work yet!
Corey Taylor sounds more and more amazing as time goes on and this album will certainly help cement his place as one of the greatest rock vocalists of our time. The musicianship between James Root, Josh Rand, Rachel Bolan and Roy Mayorga on this album just shows how far the band has come in recent years. It will be a pleasure to hear the band perform some of these new tracks live during the Australian visit in February.
The album is already being compared to Alice in Chains Dirt, Pink Floyd's The Wall and Soundgarden's Superunknown and for a very good reason, like all those previously mentioned this is certainly a bench mark album for Stone Sour. Rock fans will get a hell of a kick out of House of Gold and Bones Part 1, Look forward to Part 2 which is due out early next year.
Genre: Alternative metal, post-grunge, alternative rock, hard rock
Band:
Corey Taylor − vocals, piano (on "The Travelers, Pt. 2), writer (for House of Gold & Bones short story)
James Root − guitar
Josh Rand − guitar
Roy Mayorga − drums, synthesizer (on "Gone Sovereign", "Absolute Zero", "Taciturn", and "Influence of a Drowsy God")
Guests:
Rachel Bolan – bass
Track Listing:
1. "Gone Sovereign"
2. "Absolute Zero"
3. "A Rumor of Skin"
4. "The Travelers, Pt. 1"
5. "Tired"
6. "RU486"
7. "My Name Is Allen"
8. "Taciturn" 5:26
9. "Influence of a Drowsy God"
10. "The Travelers, Pt. 2"
11. "Last of the Real"
Label: Roadrunner Records
Web:
Hardrock Haven rating: 10/10