by Trevor Portz
– Columnist —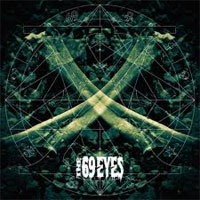 In their 20+ years as a band, Finnish rockers The 69 Eyes have shifted from leather-clad, sleazy glam rock to leather-clad, dark Gothic rock. OK, maybe that isn't a giant leap, but the change did secure their place as a noteworthy entity, rather than just another long-forgotten hair band. X, their latest release, may not see the band breaking too much new ground, but for those that like their Goth n' roll well-crafted and catchy, this is about as good as it gets.
Opening gambit "Love Runs Away" sounds vaguely reminiscent of '80s Billy Idol, but with Gothic overtones. It acts as a template for much of what follows: driving riffs, gloomily quiet verses, and [skeleton gloved] fist-pumping choruses. The 69 Eyes may reside on the darker side of the rock spectrum, but they boast a level of energy many of their peers lack.
Noteworthy tracks include the single "Borderline," with a Johnny Cash that makes one question whether there were ever Scandinavian cowboys; "I Love the Darkness in You," with its bizarrely effective (yet slightly cheesy) keyboard line; and "I'm Ready," an upbeat rocker reminiscent of the 69 Eyes' earlier days, and boasting some Ian Astbury-worthy shouts.
The only downside to X could be in its repetitiveness; there's not a ton of variety overall. But honestly, these guys have found their niche, so it's hard to criticize them for doing what they do best, and in the goth rock world, these guys certainly are one of the best.
If you like your goth slow, morose, mellow, and boring, stay away from the 69 Eyes. But if you like your rock and roll with an air of epic darkness, X is a must have.
Genre: Goth rock
Band:
Jyrki 69 (v)
Timo-Timo (g)
Bazie (g)
Archzie (b)
Jussi 69 (d)
Track Listing:
1. Love Runs Away
2. Tonight
3. Black
4. If You Love Me The Morning After
5. Red
6. I Love The Darkness In You
7. Borderline
8. I'm Ready
9. I Know What You Did Last Summer
10. When A Love Comes To An End
Label: Nuclear Blast
Website: www.69eyes.com
Hardrock Haven rating: 9/10