Triumph | Live at Sweden Rock Festival
by Joe Mis
– Columnist —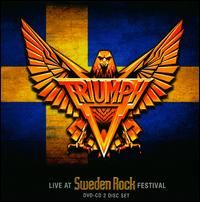 Triumph defined hard rock for many fans in the 1970s and 1980s, and this Canadian trio holds a special place in the minds and hearts of many a rocker. This seminal band reunited after a twenty year break to play Live at Sweden Rock Festival on June 7th, 2008. Their performance was not just a reunion show, it was also a live "greatest hits" show, culling the best material from the band's storied discography. At long last, Frontiers has chosen to release a CD and DVD set of this historic concert.
The groundbreaking Triumph trio of Rik Emmett (vocals, guitars), Mike Levine (bass, keyboards), and Gil Moore (vocals, drums) was joined by guest guitarist Dave Dunlop, and they rocked the house with a non-stop barrage of classic hits including "Lay It On The Line," "Never Surrender," "Blinding Light Show," and "Fight The Good Fight." The album is nicely mixed and surprisingly solid for a live recording – the crowd is part of the show, never dominating the music, and the vocals and instruments are all clean and clear.
From Moore's powerhouse drums and raspy vocals on the opener "When The Lights Go Down" to the soaring vocals and guitars of "Never Surrender," Triumph delivers with technical excellence and enthusiasm. Emmett and Dunlop do a fine job on the delicate guitar passages of "Lay It On The Line," and Emmett's voice is as smooth as ever. The twin guitar attack really kicks into high gear on "Allied Forces," and this rocking track highlight's Mike Levine's excellent bass and Gil Moore's ability to sing and drum simultaneously. Booming bass, passionate vocals, amazing guitars and overall tight musicianship by everyone make "Never Surrender" a great track. "I Live For The Weekend" is simply a strong live version of a kicky and upbeat song.
The mesmerizing "Blinding Light Show / Moon Child" opens the second half of the concert. As always, this is one of Triumph's strongest songs both in terms of intricate technical performance and fascinating lyrics, and it allows Rik Emmett in particular to strut his guitar stuff. Gil Moore pulls out his best blues man voice for the cover of the Joe Walsh anthem "Rocky Mountain Way," while Emmett's vocals soar on the radio hit "Magic Power." The band truly lives up to the title of "Rock & Roll Machine" – which was a kick-ass tune way back then, and can still blow the roof off anyplace now. Rik Emmett's extended solo is a joy to hear – and shows that he hasn't lost a step. A terrific version of the epic "Fight The Good Fight" wraps the show in fine style, proving Emmett, Levine, and Moore to be a true class (and classic) act technically and emotionally.
Live at Sweden Rock Festival is an excellent album for Triumph fans, and shows that the band can still play with the best of them. The chemistry and teamwork is as strong as it was two decades ago. Triumph prove themselves to still be the kings of arena rock! So if you are a fan, then Triumph's Live at Sweden Rock Festival is a must-have.
Please note that this review only covers the audio CD, not the DVD. According to the Triumph web site, the DVD also contains "several bonus features, including the on site Triumph Press Conference, a cool "behind the scenes" at the festival, and a photo gallery. And if that wasn't enough, included will be a full color 18 page booklet, including lyrics, credits, and photos."
Genre: Classic Rock
Band:
Rik Emmett (vocals, guitars)
Mike Levine (bass, keyboards)
Gil Moore (vocals, drums)
Track Listing:
1. When The Lights Go Down
2. Lay It On The Line
3. Allied Forces
4. Never Surrender
5. I Live For The Weekend
6. Blinding Light Show / Moon Child
7. Rocky Mountain Way
8. Magic Power
9. Rock & Roll Machine
10. Fight The Good Fight
Label: Frontiers Records
Website: www.triumphmusic.com
Hardrock Haven rating: 9/10