Ashes You Leave | The Cure for Happiness
by Trevor Portz
– Columnist —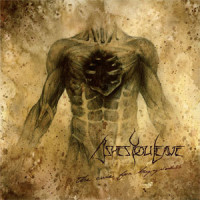 Offering up a solution to something most wouldn't deem a problem, Croatian depressive-metallers Ashes You Leave have apparently discovered The Cure for Happiness.
Certainly bearing some resemblance to now-extinct Finish rockers Sentenced (and the offshoot Poisonblack), Ashes You Leave follow the gloomy trademark of slower songs, depressive lyrics, and the occasional death grunt. Their identity is carved, however, with the inclusion of a female lead vocalist, and the occasional use of a violin (which adds—intentionally or otherwise—a rather folky air to some tracks).
Unfortunately, however, even with a fairly solid (on paper) backbone, The Cure for Happiness falls a bit flat. While this could literally be applied to some of the vocal passages (as vocalist Giada "Jade" Etro feels millimeters away from going off key at any moment), it also applies to the songs themselves. The tracks feel as if they were purposely slowed down, ultimately removing any energy from them. Sure, this is morose music—they even claim to be "addicted to sadness" in the title track—but the darkness ends up sounding more lethargic. Perhaps their collective depression was a motivation killer.
None of the songs stand out, as all fall into a grey area between good and, well, not so good. They just sort of exist, not really generating any true emotion.
While The Cure for Happiness may not actually eradicate all joy in the listener, it is also unlikely to generate any positive feelings which may lead one to, say, invest more time and money in the band. Bemoaning life, or celebrating the darker side of it, doesn't have to be so dull.
Genre: Dark Metal
Band:
• Giada "Jade" Etro (vocals)
• Berislav Poje (guitar, vocals)
• Marta Batinic (violin)
• Matija Rempesic (guitar)
• Luka Petrovic (bass)
• Armando Floricic (drums)
Track Listing:
1. Devil In Disguise
2. Only Ashes You Leave
3. For The Heart, Soul And Mind
4. The Ever-Changing
5. Meant To Stray
6. Summer's End
7. Reality Sad
8. The Cure
9. ….For Happiness
Label: Rock N' Growl Records
Website: ashesyouleave.org
Hardrock Haven rating: 4/10