by Joe Mis
– Senior Columnist —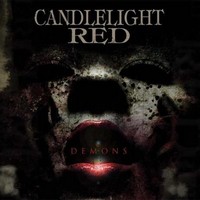 Candlelight Red is a hard rocking quartet hailing from that hotbed of metal – central Pennsylvania. They've just released Demons, a four track follow up EP to their well-received debut album, The Wreckage. These guys are a young band, and have been busy justifying their victory in the 2010 national Guitar Center "Onstage" contest (which earned them an opening gig for KISS at a Pittsburgh show) – and succeeding.
Candlelight Red makes melodic hard rock, loaded with big hooks and memorable riffs. They successfully blend elements of progressive metal, alternative rock, Goth metal and old school hard rock into a powerful and always melodic package. Their unique sound and dynamic performances have earned the band a spot at the Uproar Festival and opening gigs for Sevendust, Lacuna Coil, and Crossfade among others. Their tour with Sevendust was the start of a friendly working relationship with Sevendust's drummer Morgan Rose, who signed on to produce Demons. Their goal was to capture the band's "live" sound.
"Demons" opens the EP with a bit of electronica and booming bass. Jamie Morral plays a dynamic bass that becomes the backbone of Candlelight Red's music, and he coordinates very well with drummer Brian Dugan and guitarist Jeremy Edge. A more somber and brooding rhythm line that fades into a slick quiet passage opens "Cutter," allowing Dugan's drums and Ryan Hoke's vocals to lead for the rest of the track. Hoke can sing cleanly and moments later drop into a full-on bellow while always remaining understandable and expressive. "Lifeless" is a bitter song with a heavy goth influence. It starts out soft and mellow, but quickly becomes an intense tune driven by Hoke's powerful vocals and Edge's sweeping guitars. "Sleeping Awake" is the showpiece of the release, featuring Hoke's finest vocals and strong harmony support from Edge and Moral, and great bottom end rhythms from Dugan and Morral. The music is superb and subtly supports the tone and emotion of the lyrics, and each band member has chance to shine.
Demons is a fine EP and give the listener an insight into Candlelight Red's overall musical psyche. They cover all the bases from intense and dark to subtle and ballad-like, and do it all well. The boys in the band are undoubtedly talented, enthusiastic, and technically proficient. They work well as a team, writing interesting songs with compelling lyrics, and deliver them with enthusiasm. Nicely engineered and easy on the ears, Demons will surely win the band an even greater following.
If you are not familiar with Candlelight Red, you should be – as they are definitely a band to watch.
Recommended!
Genre: Melodic Hard Rock
Band:
Ryan Hoke (vocals)
Jeremy Edge (guitar, vocals)
Jamie Morral (bass, vocals)
Brian Dugan (drums)
Track Listing:
1. Demons
2. Cutter
3. Lifeless
4. Sleeping Awake
Label: Imagen Records
Website: http://www.candlelightred.com
Hardrock Haven rating: 9/10