by Justin Gaines
– News Editor/Senior Columnist —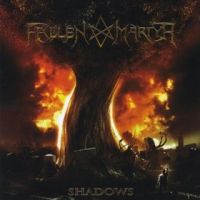 Washington, DC-based metal band Fallen Martyr released their full-length debut (after a pair of prior EPs), titled Shadows, this year on the Siegen label. The band has a sound that's tough to classify, as they can swing from the most intense and furious almost black metal to intricate technical thrashing to somber and atmospheric, often within the span of a single song. However you want to categorize the band, Shadows is an album that's impossible to forget.
Shadows is one of those albums that requires a few spins to really absorb. The first pass through hits like a hammer, leaving you wondering just what it is you've discovered and where the hell these guys came from. Subsequent spins reveal the depth and creativity on display, and that's where three equally strong elements start to really stand out. The first is the vocal performance from J. Ryan Rawlings, who also penned the lyrics to the songs on Shadows. Rawlings alternates between a harsh, Ihsahn-like scream and a clean style that brings to mind Katatonia and even Tool at times. With both styles he conveys an incredible amount of emotion and sheer intensity. The second major component of Fallen Martyr's sound is the twin lead guitar work of Gabriel Luis and Michael Gerlach, who deliver absolutely blistering thrash metal riffs and solos intricate enough to make even the most jaded prog snob take notice. What anchors the whole thing together are the rhythms laid down by bassist Douglas Albers and drummer Jake Ford, who have the ability to bludgeon listeners almost to the point of exhaustion and then change direction almost on a dime. Some well placed keyboards and atmospheric samples complete the picture.
This isn't a concept album per se (though some familiar themes tend to show up in the lyrics), but Shadows works best as a cohesive whole. That's not to say there aren't some standout individual songs though. Album opener "Revelry and Reverence" does an amazing job of grabbing your attention, and in just over seven minutes effectively captures the core Fallen Martyr sound. "Passing Through the Veil of the Exterior World" is another highlight, with its cold atmosphere and sublime guitar work, as is the melodic and intense "Cognitive Dissonance and the Children of Hamelin." The tranquil, almost whispered "Cast Me Out" is perhaps an anticlimactic way to end the album, but by that point maybe a chance to slow down and catch your breath is in order.
Shadows is a flat-out amazing metal album, and is easily one of the year's most innovative, creative and mesmerizing releases. That it's coming from a relatively unknown American band makes it all the more impressive. Much like The Reticent did earlier this year with the equally impressive Le Temps Detruit Tout, Fallen Martyr has proven that the best metal doesn't always come from the biggest names or the biggest labels. If you're a fan of bands like Emperor/Ihsahn, Leprous, Death, Between the Buried and Me and Katatonia – bands on the more extreme end creative end of the spectrum, that defy both conventions and genre labels, Fallen Martyr may just be your new favorite band.
Genre: Progressive Metal
Band:
J. Ryan Rawlings (v)
Gabriel Luis (g)
Michael Gerlach (g)
Douglas Albers (b)
Jake Ford (d)
Track Listing:
1. Revelry and Reverence
2. Wake Up, It's Time
3. Therian Premonition
4. Doubt
5. The Restless King
6. Passing Through the Veil of the Exterior World
7. Body of Light
8. Invocation
9. Cognitive Dissonance and the Children of Hamelin
10. The 8th Circle
11. Soul Left Bare
12. Cast Me Out
Label: Siegen
Website: www.fallenmartyr.com
Hardrock Haven rating: 9.5/10