Jimi Jamison | Never Too Late
by Nikiforos Skoumas
– Columnist —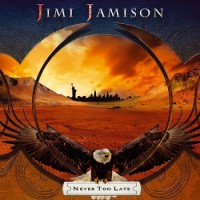 It is nearly impossible to claim that AOR legend Jimi Jamison has been one to neglect his fans and audience in any way: 2011 saw the release of two full-length studio collaborations, the highly acclaimed Kimball – Jamison duet album and the lesser known One Man's Trash where the icon joins forces with rising German guitarist Frederick Zahl. Add to that the release of Jimi's first live DVD Live at Firefest capturing his 2010 performance at the prestigious UK event and there is not much more you could ask for.
Well, perhaps, there are still a couple of things fans are looking forward to, like an all original Survivor album or a brand new solo effort; It has been a good four years since Jimi's previous solo offering which makes the release of Never Too Late all the more fitting. For some reason Jimi chooses to have no, or very little, songwriting input on his solo albums, and Never Too Late proves to be no exception, being composed entirely by Eclipse mastermind Eric Martensson with the help of Magnus Henriksson and Miqael Persson.
Those familiar with Eclipse and the members' side projects should well expect the new album to come out considerably heavier than its predecessor Crossroads which was written by founding Survivor member Jim Peterik. Never Too Late is indeed a guitar-driven album featuring big drums, a fair amount of keyboard melodies and pretty straightforward songwriting. Speaking of songwriting, Never Too Late comes closer to the style of Kimball-Jamison and Empires rather than Survivor. Implying that the new Jamison album owes a lot to the Frontiers 'house-sound.' That is not to say however that Never Too Late does not include a good handful of memorable melodic rockers; going beyond the somewhat predictable title track. There is the opener "Everybody's Got a Broken Heart" which perfectly sets the mood of the entire release, the subtle but also intense adult oriented rocker that is "Not Tonight," the Survivor-esque "Calling the Game," the cleverly-arranged "Bullet in the Gun" and the unsurpassed "Street Survivor" easily one of the best songs and performances in the singer's entire repertoire.
Overall, Jimi Jamison has once again come on top with his latest release, which provides further proof, if any was needed, that he is still The Voice of adult oriented rock. There is no point for one to recommend this release since brand Jamison is an absolute guarantee for quality.
Genre: AOR, melodic rock, melodic hard rock
Line up:
Jimi Jamison – Lead Vocals
Erik Mårtensson – Lead & Rhythm Guitar. Bass, Keyboards & Backing Vocals
Magnus Ulfstedt – Drums
Jonas Öijvall – HammondB3, Piano & Synthesizers
Magnus Henriksson – Lead Guitar
Track List:
Everybody's Got A Broken Heart
The Great Unknown
Never Too Late
I Can't Turn Back
Street Survivor
The Air I Breathe
Not Tonight
Calling The Game
Bullet In The Gun
Heaven Call Your Name
Walk On (Wildest Dreams)
Label: Frontiers Records
Hardrock Haven rating: 8.5/10