by John Kindred
– Publisher —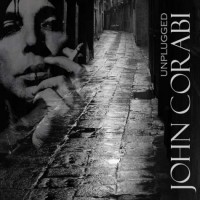 John Corabi's most notable claim to fame was replacing Vince Neil in Motley Crue from 1992 to '96, recording one album with the band, the self-titled Motley Crue. His first exposure to the world came with the band The Scream, which featured guitarist Bruce Bouillet and bassist Juan Alderete from Racer X. Bruce Kulick, of KISS fame, and Corabi, together, recorded two studio albums in the band Union. He was the rhythm guitarist in Ratt and Brides of Destruction and worked again with Kulick in Eric Singer's project ESP. There is a long list of bands and projects in which Corabi has been attached to at one time or another.
Corabi's latest outing is an acoustic studio album simply titled Unplugged. The album comprises five new songs and seven re-recorded songs from his stints with Motley Crue and The Scream. From The Scream debut album, Corabi covers "Father, Mother, Son," "Man In The Moon" and "I Never Loved Her Anyway." "Hooligan's Holiday" and "Loveshine" are pulled from Motley Crue. Union is represented by the songs "Love (I Don't Need It Anymore)" and "Everything's All Right." The rest of the CD is new music.
Corabi is joined by drummers Cheney Brannon (ex-Collective Soul) and Matt Farley, bassist Topher Nolen and guitarist D.A. Karkos. Bruce Kulick also makes an appearance, performing guitar on "Hoolgan's Holiday" and "Man In The Moon."
Corabi's gritty-bluesy voice fits the acoustic format quite well. It certainly takes a couple of listens to hear songs by the Crue, Scream and Union arranged for this setting to adjust to the change. Taking the metallic hammering of distorted guitars from the fold unveils another side to the music. As the songs are built around the blues-rock genre, the overall effect works quite well with the re-recorded songs. The bonus is hearing Corabi's new songs in the same light, which lends consistency and credibility to the presentation of the older songs.
For music fans who never listened to Corabi with The Scream or Union, definitely go find these albums and give them a listen.
Genre: Hard Rock
Band:
John Corabi on vocals and guitar
Cheney Brannon on percussion
Topher Nolen on bass
D.A. Karkos on guitar
Matt Farley on percussion
Track Listing:
1. Love (I Don't Need It Anymore) – Union
2. If I Never Get To Say Goodbye
3. Aare You Waiting?
4. Crash
5. Everything's All Right – Union
6. Father, Mother Son – The Scream
7. Hooligan's Holiday – Motley Crue
8. If I Had A Dime
9. Loveshine – Motley Crue
10. Man In The Moon – The Scream
11. Open Your Eyes
12. I Never Loved Her Anyway – The Scream
13. 2012 Interview (bonus track)
Label: Rat Pak Records
Web: http://ratpakrecordsamerica.com/johncorabi.cfm
Hardrock Haven rating: 8/10