Jukebox Zeroes | In Gratia
by Derric Miller
– Managing Editor —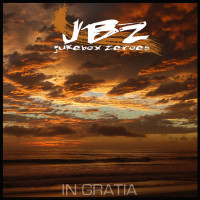 It only took around 11 years, but the most talented band to come out of Sioux Falls, S.D. in over a decade finally released an album of original music — 26 songs to be exact. Well, not all are originals; each band member chose one cover song, so there's 21 originals and five covers. Picking covers was an apropos move by the band, since they started as a cover band all those years ago.
The band is comprised of some of Sioux Falls' heaviest hitters from back in the day. Decades ago, when Sioux Falls actually had a music scene and the legendary Pomp Room to experience live music at, Jukebox Zero members were attached to the best bands in town, like Fall, Closet Monster, Wakefield, The Glory Holes, and Crash Alley, to name a few. Putting all of that talent together with the mind-boggling vocal abilities of Amy Ellsworth, you get a strange animal indeed — one who can write all original music that stands up against today's best and one who can do righteous justice to songs by Heart or Whitesnake. That's called an "anomaly."
The quirky start of the album, "In Gratia," makes you think you may be listening to Epica or Nightwish or some other pompous symphonic metal band. Luckily, it's only over a minute and then you get into the meat of the matter, "Pink Jesus." Once that track hits, razor riffs carve a hole in whatever quietude you experienced from the churchy "In Gratia." This is what Jukebox Zeroes do best; walk the line between Rock and Metal and mesh it so you aren't even sure how to categorize it. And why do you need to? There's a ton of singers classified as "powerhouse singers," from Adele to Lzzy Hale. Yeah … no. They need to hear Ellsworth wail on this song — and the opening screams on a later track, "Betrayal" — and get back to studying.
"Brass Ring" is one of those "everyman" songs. It's about the daily grind, the corporate ladder, or as the lyrics go, "When will I be the one, the victor of the spoils?" The pacing is sort of Classic Rock, maybe akin to a Night Ranger anthem. Jeff Koller's drumming stands out as well, with manic fills and off-the-charts precision.
While they can tear it up with heavy songs, "Sad January" is a ballad, an atmospheric, flowing keyboard-heavy composition. Just focus on the lyrics, "It's a sad January, when your voice is not your own. You scream into the darkness, and still you're all alone." Ellsworth's haunting vocal delivery makes it even more bereft.
If you purchase the CD — and there's two of them (Blue and Red discs) — the last track on Blue is "Rearrange." As Jukebox Zero spans decades in their songwriting, you'll get a hint of Triumph in this song. The guitar riffs are heavy, doomy, and yet groovy. This song is about changing your life for the better, or maybe having a mid-life crisis and throwing everything to the wind. Interpret however you want …
The Red Disc is the band getting less serious, with the covers and of course starting with "Mullet Sandwich." This is an overt homage to '80s metal, to all the bands that made that decade so decadent, like Warrant, Ozzy, Whitesnake, Def Leppard, Great White, Scorpions, Cinderella, Bon Jovi … and all the others. The hilarious opening lets you know what you are in for, and this is the first time on the album you get that while talented, the band also has a hell of a sense of humor.
"Goin' Down" is a stripped down blues song (for about half the song, anyway), a bit out of place when you take in the entirety of the album. If there's anywhere it fits, it has to come after "Mullet Sandwich." They stay slightly off track with the next song too, "Drinkin' Daddy's Whiskey," another bluesy rocker that doesn't pull its weight compared with the other originals.
Things pick up when you get to "Going Through the Motions," a mellow, acoustic led composition that showcases the prowess of the guitarists, Fisher and Gunderson. At a few points in the song, you'll almost hear an acoustic shout out to Jim Croce; yeah, it's that kind of somber, and stellar. When Jukebox Zeroes get deep, it works.
The final original track is "Christian," another acoustic and electric song, this time with Koller on vocals. (He also sang lead on about half of "Goin' Down.") They get earthy, a bit folksy and gritty here; somehow, when you think you have them figured out, they throw this at you. That's Jukebox Zeroes in a nutshell; stop trying to figure them out, and just enjoy the music.
The last five songs, the covers, are total bragging rights. It's the "look what I can do" moment on the album. Can Amy Ellsworth ACTUALLY hold her own against Ann Wilson on Heart's "Barracuda?" Yes, she can. It's maddening how powerful her voice is. Can the guitarists recreate John Sykes' solo on "Crying in the Rain"? Somehow … yes. Is their cover of Triumph's "Fight the Good Fight" even believable? You probably have read the answer twice already …
When you release an album of 26 songs, there's bound to be a few hiccups, and that's been noted. Overall, though, this immense undertaking, writing and recording and producing 21 original songs at this quality, needs to be applauded. Congrats to Jukebox Zeroes for getting their fans some original music to crank; now just don't wait another decade or so before this happens again.
Genre: Hard Rock, Metal
Band:
Eldon Fisher — guitars, vocals
Jason Ellsworth — bass, guitars, vocals
Amy Ellsworth — lead vocals, keys
Geoff Gunderson — guitars, vocals
Jeff Koller — drums, vocals
Track listing:
1. In Gratia
2. Pink Jesus
3. Brass Ring
4. Rose Colored Glasses
5. Sad January
6. Betrayal
7. Song Of Life
8. Disarmed
9. Somewhere In America
10. All Along
11. Forbidden
12. What Might Have Been
13. Rearrange
14. Mullet Sandwich
15. Goin' Down
16. Drinkin' Daddy's Whiskey
17. Get Up
18. Going Through The Motions
19. Someday You'll Remember Me
20. Meant To Be
21. Christian
22. Barracuda
23. Crying In The Rain
24. Fight the Good Fight
25. Hocus Pocus
26. Roller
Label: JBZ Records
Online: www.jukeboxzeroes.com
Hardrock Haven rating: 8.4/10