Mike Tramp of White Lion & Freak of Nature
by Marija Brettle
– Columnist —
At the Musician, Leicester, November 27, 2012
Back in the late 80's, Danish singer and songwriter Mike Tramp, was one of the most recognizable figures in the world of rock music. He was best known for his work with hard rock bands White Lion and later Freak Of Nature, which both made him one of the most well known Danes on earth! With double platinum hits like "Wait," "Tell Me" and "When The Children Cry," Mike Tramp was the voice of a generation.
Although Tramp's most successful period was arguably the initial White Lion era, it's the straight-forward rock 'n' roll of his solo material that seems to be where he is most comfortable these days. Whether he is playing in front of a handful and dedicated fans at a small club or in front of thousands at the arena, one thing remains the same, Tramp delivers rock 'n' roll plain and simple and straight from his heart! With the release of his two most recent solo efforts, The Rock 'n' Roll Circus and Stand Your Ground, Tramp reconnects with his old fans and once again gained the classic rock status.
The legendary voice of White Lion, Mike Tramp is currently on an acoustic tour of Europe. During this 'one man show' tour, I was lucky enough to catch up with Mike, before his show in a small and atmospheric club, the 'Musician' in Leicester. We discussed his new acoustic solo venture, looked back at his 30 years of music with White Lion and Freak of Nature, his relationship with his former band member Vito Bratta, his upcoming album and his future as a solo artist.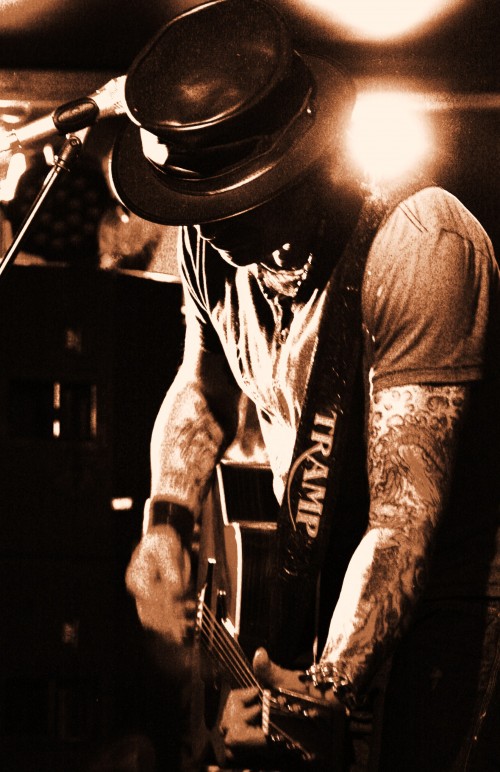 HARDROCK HAVEN: Hi Mike, it s a privilege to have you back in the UK, and thank you for making the time for this interview.
Mike Tramp: Thank you, but really it's my privilege to be here tonight! (Laughs)
HRH: This is your first time venturing across Europe all alone… well with your guitar. How's the tour going so far?
Mike: The tour is almost finished and all I can say so far is that I am one very happy guy. The best part is that I can share my journey with my fans… and at the end of the show I go back to my hotel room feeling complete and fulfilled. It's been an incredible journey for me as an artist, as well as on the personal level. It's one of those things; you don't know what it's gonna be when you go out there, till you're there. I guess this is kind of testing time for me, as it is the first time when I am all by myself… well me and my guitar (Laughs). It took me one or two shows to really understand something that I already knew, but you know, I haven't thought about it before. The songs that I am playing tonight were written the way you will hear them, in their rawest form… very real and very personal. It's just my way of going back to my roots. It's kind of venturing too many different things, but to me it's like coming back to what I know best. You know, in a way it's quite comforting for me to bring all these old songs down to the purest and simple form, like they were when they were written. After all this is what I am. So tonight I will just play the songs and enjoy the songs! (Laughs)
HRH: By reading some of your fans reactions from this tour, it is clearly obvious that people are quite impressed with the way you're handling yourself on a small stage?
Mike: Yeah, I mean this is how I started. I didn't start on a big stage, in leather pants with screaming guitars. I started as a guitar player and singer playing in small clubs. I grew up on Bob Dylan, Neil Young and all that stuff from the late '60s and early '70s. When you see me tonight playing the songs, there is no doubt where my influence comes from. My new album is for the first time, a completely acoustic album. I mean it's more than an acoustic album but is more in the dame of the influences that I am talking about. It's about the loyalty of preserving the classic rock 'n roll. But also you need to live life… To travel that road, to understand life and for some like me, maybe will takes some 30 years of traveling! (Laughs). You know, David Lee Roth once told me, he says; "you've got to live life before you can sing about it." How right he was!
HRH: Before you started with White Lion, you'd already been playing professional rock 'n' roll , back in your native Denmark , but when you step out of Denmark you were new to the outside music business . Tell me more about your experiences?
Mike: Well, most people still know me for one thing, a former front-man of White Lion! (Laughs). I think there are not many people who really know that I have 12 years of experience within music before I joined White Lion and took music more seriously in my heart. I mean, I didn't start singing and playing guitar because I wanted to become a rock star or musician, it was just something that happened in a youth club back in Denmark and something that I did for the love of sound. Then one thing lead to another… you get into the band and then it all becomes a business. I can tell you… it took me a long time till I stopped and asked myself; 'Did I really get on the right train?' (Laughs). I mean everything in my life has been an incredible journey, from Denmark to White Lion, to Freak of Nature, right to my solo career. Everything has been a learning journey along the way, you know the knowledge that I have now in my hands is what really gives me the confidence these days.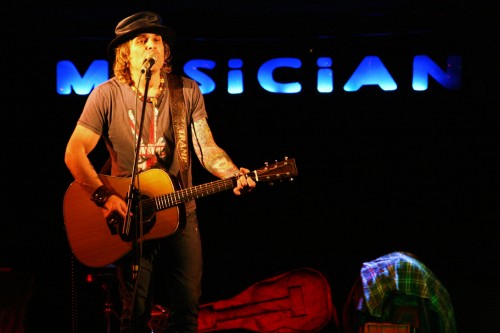 HRH: People actually notice how confident you are while on stage.
Mike: You know, it's just one of those things you are not necessarily aware of yourself while you are up there on stage. In the past, there were times when I thought that more is better, louder is better and for many years you're convinced that you're right. Then one day you find out that less is more! I am not gonna sit here and lie to you, because I don't know if I could be as up front and honest 10 years ago. These days I find my strength in just being me. I don't really own anything in my life. I don't really have much in my life. I have three beautiful children, I got a wife, etc, etc, but what I have now is I know me! I am just the guy I wanna be… happy with who I am and where I am. I've never been in this business for any other reason than my soul. I throw everything into it. That is also why I can be hurt so easily and damaged. I am not in this for the money. It's not all about how many tickets you sell tonight. It's about musical satisfactions. Rock 'n' Roll is not about making money! What really makes me sad is the fact that these days it's all about money and business.
HRH: You said that during this tour, you would like people to get deeper into your music and learn more about you and your life behind the music. Why so close and personal this time round?
Mike: Because it's always been my purpose to become close and personal with my fans. It's about bringing people closer and sharing the stage with my fans. It's something that is hard to do when you are up there with the band. Now when I play in the club and stuff like that, it feels like I'm naked, with just my guitar on (Laughs). It's really the sound of the speaking voice the volume of the room. Everybody is kind of on that talking level. When people go back home tonight, I would want them to go back and say, "It all makes sense to me now". I now know who Mike Tramp really is. I walk in his shoes… That's my true aim with this tour. This time for the first time I give you all I can give in terms of who I really am to the core! It's incredibly rewarding for me when people come so close to me and share with me that intimate special moment. Look, I don't care if there are 5 or 50 people in this club… or how much money I will make tonight. I played Madison Square many times; I have no memories of it! I played big Festivals with thousands people out there and I have no memories of it! But when I come of this stage tonight, this will stay with me for the rest of my life!
HRH: Well… it depends on how many pints of Guinness you'll have tonight. (Laughs)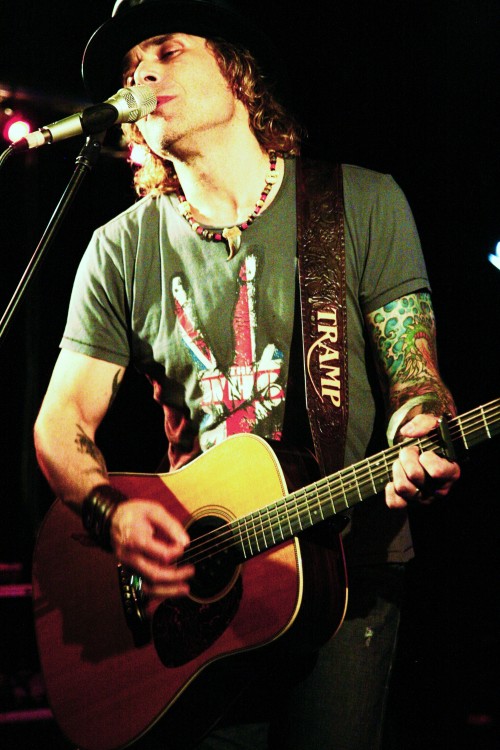 Mike: (Laughs) I'll tell you, people notice that I am in a very happy place right now. My friends, even my ex-members notice that… like 'Oh man, all this feedback from people, you know it just seems like you are on the right track!' Yeah, I wake every day with the smile on my face, no mood swings, nobody to let me down, and nobody to upset me! You know, I searched for a long time to find out what the life balance is for me. What's the Ying and Yang in my life… but I didn't know till I climbed to the top of the mountain. I now know what really makes me happy. I am the person of the street and I feel better when I am out there, doing what I do best, playing my songs!
HRH: In the '80s, when all the other bands were writing and singing about hot girls and fast sports cars and stuff like that, you wrote lyrics that addressed social and political issues. With songs like, "Cry for Freedom," or "When the Children Cry." Was this anything to do with your upbringing, or you maybe wanted to be different?
Mike: When you are raised in Copenhagen, (Denmark) and you grow up with all this awareness about the nuclear power, it comes naturally to you later to write and sing about the more serious issues that matters to you. Writing and singing about hot girls, fast cars and how to score with the girls after the show… that was never me. I started doing songs like, "When The Children Cry," "Little Fighter," "Cry for Freedom," "Broken Home"… a lot of those kind of songs that addressed more deep issues. It was not necessarily rebellious thing, or has any meaning of propaganda, but the songs that came right from the heart. It was all about the person who was more aware about life out there, and doing something that will make a difference in the world in a positive way. With time things became even clearer to me, that I have mission to fulfill.
HRH: When I was reading some of your more recent interviews I noticed you are talking a lot about your age and singing and growing old gracefully…
Mike: (Laughs) Yeah… you know I came up with the new slogan; "Sing Your Age." I know rock 'n' roll keeps your spirit young and that's great, but you don't need to act forever like you are nineteen!
HRH: This sure doesn't apply to people like The Rolling Stones?
Mike: We all know that the Rolling Stones are a one off band who can still deliver every time and they have aged gracefully! Mick Jagger can still sing and sound like he used to in his twenties. Another guy who can hit every high note, even better these days is Robert Plant. I have great respect for people like that. Well, I can't sing like I used to sing with White Lion. You know, a lot of 80s rock bands still wanna hang on to that '80s image, but it's like you try to feet into something that start looking a bit ridiculous.(Laughs). I know how Mike Tramp looks now and in 10 years time. I can actually visualize myself playing on stage as a 65-year old guy, standing on that stage, playing on the acoustic guitar, or maybe on the piano, telling people stories. One thing I know is that I don't wanna try to hang on to my youth forever and act like some 30-year old idiot. Where is the dignity in that!?
HRH: So there is no point of me asking; is there any chance of growing your hair back?
Mike: (Laughs). You don't have to live forever with this image of you the way you were back in 1988… the same hair, same tight trousers. I think it's nice to be able to show to people that you have a journey through life that you actually lived and grown through your own life journey, and grow old gracefully. I mean it's really OK to change. I am just happy now with whom I am where I am and just being alive! (Laughs) I also think that your maturity and knowledge should reflect in your music. Or, you should hold on to your dignity and leave when you feel it's the right time for you to leave… whatever the reason may be.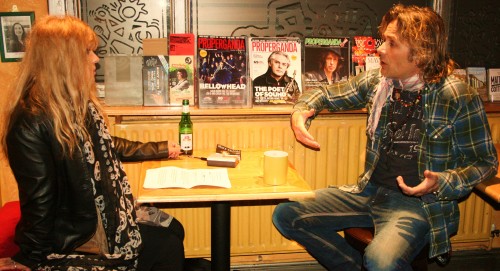 HRH: Like Led Zeppelin did after losing their drummer?
Mike: Exactly! I have so much respect for these guys. Although they were one of the most successful, innovative and influential bands at that time, they stuck to their decision. And you know why? It was lot to do with their confidence. Something that I can't say I always have. They just make it right from the start, while most others, like me, have to try things first, and 30 years later learn from my mistakes. (Laughs)
HRH: On this tour, you choose to play more of the White Lion and Freak of Nature songs than ever before. Was it your way of going back to your old world? Or is something that you chose to do for your old fans?
Mike: I just write a new set list every night… which is another wonderful thing to be able to go and choose whatever you feel is best for the crowd that night. The songs sound the way they sounded in the first place! This is the closest version to where the songs come from. So it's a great joy for me to be able to share that special moment with my fans. It crosses between giving one more thank you to the fans. I can also make my solo songs with White Lion and Freak of Nature fitted all together.
HRH: Back in 1983 when you formed White Lion with Vito Bratta, did you expect your debut Fight to Survive to reach that much success?
Mike: Not really. You know the thing is; only a few people have been told and know the real story behind the "Fight to Survive" release. The album almost got written off completely by Elektra Records, even though Fight to Survive is a classic album, like the first Van Halen album! The thing is, we recorded that album in the beginning of 1984 in Germany and came back to America. The following month, we sign a massive deal with Elektra Records. Two month later the record company decided to drop us. We kept the money, they just hold on to the album. Then after a while our manager got the rights to license the album. The record came out in Japan, and become an import album through Europe. Then we become something like number one underground band. At this point we were very lucky to be recognized and supported mainly in Europe by magazines like Kerrang, writing about us. So the band actually breaks first in Europe, while we lived in New York. Around that time we were playing in America, where the band was known just as a local east coast band. So it was around the 1985 when we have had that underground credibility, which in a way did help the band to build solid foundation. You know, I am just realizing now how dark this album even though it's the 80's album. The lyrics are much deeper… like the song "Fight to Survive," or "All Burn in Heel," "All the Fallen Men," "Kids of 1000 Faces." Those are very deep and dark songs there.
HRH: Your second album Pride reached double platinum selling and around that time, White Lion enjoyed everything that comes with money and success… When you look back, what are you most proud of?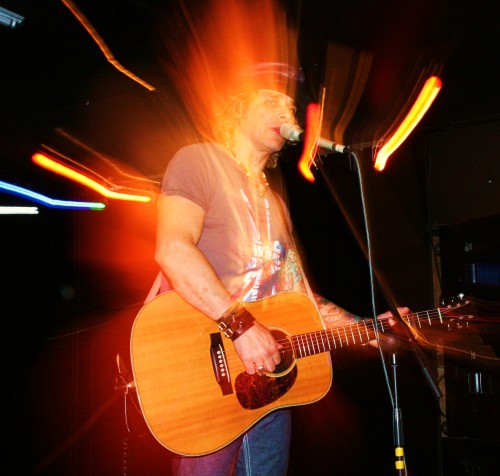 Mike: The Pride album is the time when the band was in its prime! (Laughs) Pride is the ultimate White Lion album… because it's the real sound of the band! So I would say I am proud of everything that we achieved with this record musically. But this was also the time when things start going in the opposite direction within the band. Ironically, this was the time when we were financially most secure, everybody working around us and we're calling the shots. But in reality, things couldn't be worse within the band. Things changed, expectations were raised; everybody was trying to rush a thing that shouldn't have been rushed. So instead of taking a break, we went straight into the studio to write our next album Big Game.
HRH: I guess this is the time when you and Vito started pulling away in different directions?
Mike: Well, when it comes to song writing, Vito and I exited like one person. Besides that, we just have nothing in common! You know, we had nothing to share… we were so separated and there was none of that camaraderie stuff. We never were able to build that brotherhood thing in the band like some other bands. Vito comes from totally different background, so he never really put any emphasis on close friendship, you know. In the end it was one of those things; you go separate ways with nothing left to go back to.
HRH: So all those well-documented stories about you and Vito fighting so much, that you even stop talking to each other are not true?
Mike: Nothing went wrong between Vito and I, the friction between us, didn't brake up the band. What really broke White Lion was really the changing of the business and the direction of our management.
HRH: Well, the sudden rise of Grunge around that time didn't help much, pushing aside many rock bands including the White Lion… Do you agree?
Mike: Yeah, just to a certain extent. It was one of those situations when I felt that nobody really wanted to fight for the band, the management, record company… which in the end contributed to braking up the band. It wasn't me just pulling the plug!
HRH: Around this time you also said, you didn't like the fact that everyone in the band was in it just for themselves?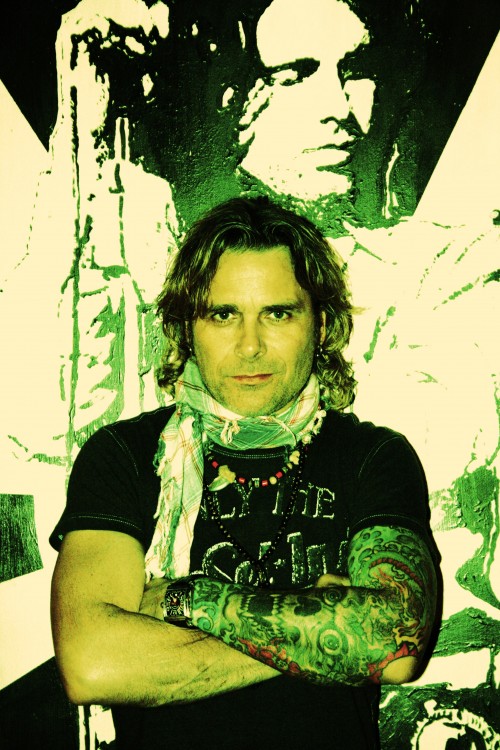 Mike: Yeah… you know those are the kind of things that comes naturally with many bands when you start making big money (Laughs). Then you start separating yourself, you don't wanna be in the same hotel floor or room, because when you are on tour you see so much of each other. You also soon discover that the record company is just a business. They really don't care about you otherwise… and the second they have somebody new, they just move on and you become less and less of their priority. I started feeling that during the Mane Attraction tour. Although the album was received well by the fans, something happened that hit me so hard and made me think again why I am in this band and what my role is. Then I went to Vito and it was like; 'you know what, when we play Boston show next week, it's the final show on this tour, it also will be the end of the band'. He just looked me in a very calm way and said, "OK." There was no questions, no emotions, nothing!? It was like he's been waiting to hear this from me for a while. We never spoke about it ever since. I can tell you, nobody did fight for the band. We never got a call from management, record company or from anybody else. We were still million dollar business and nobody bothered to call us and say like, "what the fuck are you guys doing!? Take a break and we will talk about it later!"
HRH: In one of the earlier interviews Vito said that there never been a question of not returning to White Lion/Mike Tramp, but it was the fact that he hurt his wrist and had family obligations that stopped him from returning to White Lion. So what was his excuse when you tried to get him to join the band during the White Lion reunion?
Mike: (Laughs). That is just the nicest way of him answering the question. You know, it's like the husband leaves his wife and says; "I am gonna go on a journey. I don't know when I will come back, but I will come back… so wait for me." Then 10 years later the wife said, "But I don't have life any more." It was that kind of thing. So when Vito says these kinds of things that are just another cheap way of getting away further from the truth. There are not any serious issues between Vito and me, but when you get to that point when you haven't got much to share, sooner or later you've got to move on and you don't wanna look back. It's just one of those things with many bands. The reality is, it will never happen. Any possibility of a White Lion reunion is ruled out! No, we have past that time now. I don't believe the world needs White Lion. You know, it's important to know that nothing good is gonna come from us being back together. So it's ruled out, now or ever!
HRH: So how did you come up to form your new band Freak Of Nature? Was it something you come up with, in a fit of anger and disappointment with your old management?
Mike: (Laughs). Something like that… the second I broke up with White Lion on the plane going back to Los Angeles, I thought of starting with Freak of Nature. The same day I have a whole concept in my head and started the next day. When I left White Lion I was very hurt, seriously wounded. So Freak of Nature became my sole rescue. For me all the mistakes and all the wrong things we did with White Lion became Freak of Natures foundation of learning. Well, the whole point with the Freak Of Nature was to have the freedom to be you and enjoy the ride without the extra pressure. Also there was this friendship in the band that helps me to enjoy what I was doing and fall in love again with rock 'n' roll, Simple as that! When we rehearsed with White Lion it was more like duty.
HRH: By many Return of the Pride was a good comeback record. Do you think that it reached the expectations of the White Lions earlier releases?
Mike: Not really. Looking back now I sort of regret it all. I thought a lot about it and wanted to do something different. I wasn't trying to reinvent the White Lion sound, especially Vito's guitar sound. I would say it was Mike Tramp's version of the White Lion songs. Still it's a brilliant album, but the band should not be called White Lion in the first place. I understand that… and this is one of my regrets I will learn to live with. Well, I know one thing now; it won't happen again! (Laughs). If I am about to do all this again, it would be a different story.
HRH: How?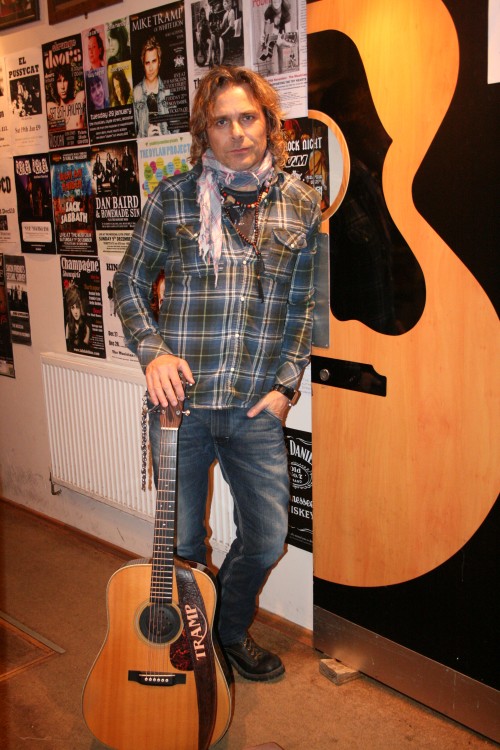 Mike: Well, I am older and wiser now. I am like an old oak tree now that's seen a lot of birds sitting and shitting on me (Laughs). It's just that's the way you learn in this business. So in the end you are just happy that you came out of it and you are still around! And still there are people who come to see you. Regardless of if there are twenty or twenty thousand people… I am a lucky man! (Laughs)
HRH: If I ask you to choose three songs from the whole old White Lion catalog, which ones would you choose?
Mike: Obviously "Lady of the Valley," "When the Children Cry" then "Cry for Freedom," "Little Fighter." Songs that still stands the test of time!
HRH: When you decided to do solo work, did you have in mind what direction you wanted to go?
Mike: When I finished with Freak of Nature I knew that there won't be the third band. It was just me and my songs. There wasn't any question of what direction I was going to go. It was the case of, this is Mike Tramp! It's 100% me… the guy you'll see on stage tonight! It's about going back to my roots, back to Neil Young, Tom Petty and Bob Dylan. It's sort of stuff based on my foundation of that strumming rock 'n' roll. My new album is for the first time, completely acoustic. I mean it's more than an acoustic album, but is more in the domain of the influences that I am talking about.
HRH: Back in '80s MTV helped so many bands; including White Lion. What do you think about the music industry these days?
Mike: Yeah, MTV changed the lives and careers of so many bands, So much that for many bands it became impossible to make it big without it. (Laughs) Now, since 1991 I don't believe that any classic albums released would live longer than couple of years. There are no more Elvis or Zeppelin albums. So when I look at the young generation and the new world where my children are growing, I am appalled and scared. It's nothing to do with the heart anymore; it's all material, machine world.
HRH: Tell me more about your upcoming album?
Mike: The album is called Cobblestone Street. There wasn't any reason for me to do an album and there wasn't any record company waiting for me to do an album. I just had a lot of songs and wanted to hear how they came out in the studio. I went to my friend's studio and I said I have songs if he wants to hear them. It was first time that I was doing an album when I wasn't planning to do an album. We did one song and he just said, OK now try this, add some piano and then we just carry on working. Then in the end, it all falls into place. The album is awesome! It's almost like the soundtrack of my whole personal life. It is a very personal album, very deep… lyrically deep. It feels like opening the doors to my soul. It's just big departure from this Mike Tramp that people know, but to me it's not departure. It's the real Mike Tramp!
HRH: How these records differ from your two more recent albums, Mike Tramp & the Rock 'n' Roll Circuz and Stand Your Ground?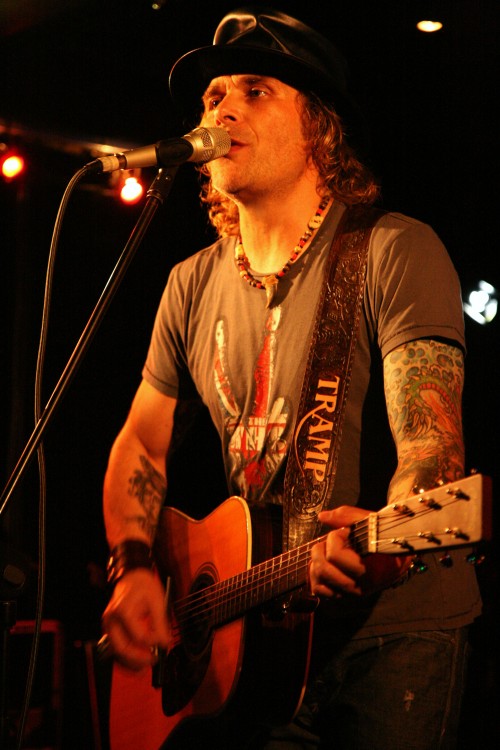 Mike: It really is not much different except from arguing with the bassist and drummer, like can you play this or that a bit differently. It's a lot to do with freedom to choose what to play without any management pressure. It's about not answering to anybody but me. I recorded in Copenhagen. I recorded all my solo albums in Copenhagen except the Capricorn. I may release even two albums in a year all depends of how much fun I have with this and next tour. When I go out and play White Lion or Freak of Nature songs with the custom made band, I would just play the old stuff but as an artist I wanna do something different.
HRH: As a songwriter, you always touch some social or political issues. What kind of songs can we expect on your new album?
Mike: This new album is totally about my life as it is! I will go back on tour in April.
HRH: It is also the first time you are taking the stage in Australia for a solo concert?
Mike: That's because I use to live in Australia and my older son Dylan still lives there. Since I moved from Australia I always visit him in January or February so while I am there it would be great to take this opportunity. I will play in two big clubs, one in Sidney one in Melbourne. I am really looking forward to that and I am really confident that I will give them what they want from Mike Tramp!
HRH: I hear that in June next year, you are planning to go out with different band, playing songs only from White Lion and Freak of Nature? Tell me more about that… what can we expect from these shows?
Mike: Yeah… I will go out in June and July and will play White Lion and Freak of Nature with the new custom band, just for the fans. We will be playing the songs and have a blast for the sake of the good old days! (Laughs). The thing is, White Lion would never look and sound again like White Lion in the late '80s. White Lion is also a band that sort of has a sound and an image of a time period. I don't sing like I did in 1984 and I don't want to sing like I did then. So it's just one of those things. But some bands can still do it. Bands like Rolling Stones. I mean this guys fucking sound like they did almost 50 fucking years ago! Jagger still sings and jumps around on stage like he did 40 years ago! But then Van Halen doesn't sound like Van Halen did in the old days.
HRH: Ok, once again; in the name of all those hopeful White Lion fans out there, would there be any chance of the original White Lion reunion in the near future or ever!?
Mike: You know what, the world moves quite OK without the original White Lion existence. I must clear this with everybody out there; I've asked Vito from time and time if he just wants to write the songs with me or do something on my solo albums… stuff like that. The thing is he doesn't want to do shit! So here is your answer. It's not going to happen, at least not with Vito and myself together in the band! (Laughs).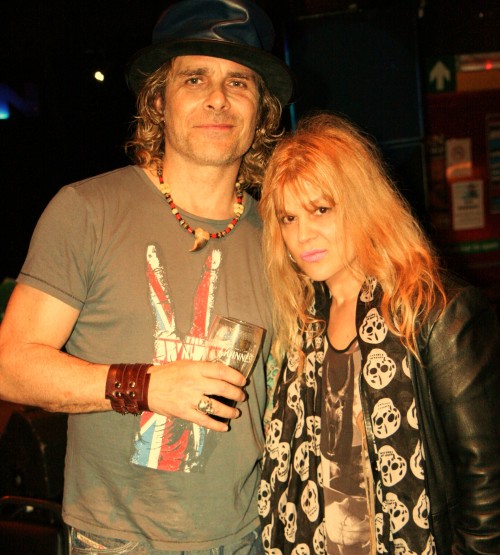 HRH: Being the front-man and legendary voice of White Lion, one of the most popular hard-rock bands in the late '80s, sure is something to be proud of. When you look back to all the good times with this band, what would be the most memorable and proudest moment for you these days?
Mike: I am simply proud of the whole accomplishment I managed to have with this band. I mean I am coming from Denmark that is itself, a great accomplishment! (Laughs). I am proud of all my work with White Lion! I am proud when I think that the quality of the songs I wrote would live on into the classic rock history! But If I have to do all those things all over again, it would be a different story.
HRH: Thank you Mike for taking the time to speak to HARDROCK HAVEN. Good luck with the rest of your UK shows and your new record!
Mike: It's my pleasure! I enjoy it. I hope when you see the show tonight you will understand what I am trying to say. It's not just the talk, it's also the walk!
HRH: Well, it's been great fun catching up with you Mike.
Photos appear courtesy of: Jadranka Jade