Seven Kingdoms | The Fire Is Mine
by Sherry Thomas
– Columnist —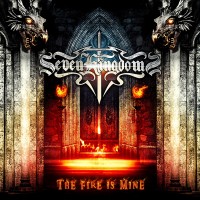 Seven Kingdoms' third offering (the second with powerhouse vocalist Sabrina Valentine), The Fire Is Mine, delivers pure heat from start to finish. The album, which was released on Nightmare Records, shows that the band is going in the right direction. Quite possibly, The Fire Is Mine has ignited something within the band because Seven Kingdoms can play with the heavy hitters in the metal community without any problems and could become "King Of The Hill."
In May 2012, the quintet entered Morrisound Studios with legendary producer Jim Morris (Iced Earth, Jag Panzer, Wicked Maraya, Obituary) at the helm and created the 11-track melodic power thrash opus. The musicianship of Valentine, guitarists Camden Cruz and Kevin Byrd, bassist Aaron Sluss and drummer Keith Byrd clearly has matured.
Although they call sunny, warm Florida home, the first track "Beyond The Wall" emerges the listener into a frozen tundra. The haunting instrumental launches full force into "After The Fall" and maintains their grip with "Forever Brave," "Flame Of Olympus," "Symphony Of Stars" and title track "The Fire Is Mine." Cruz and Byrd prove to be an axe-slinging duo to be reckoned with, teamed up with the powerful rhythm section of Sluss and Byrd. With "Kardia," Seven Kingdoms delivers a beautiful song that showcases Valentine's crystalline vocals, teamed up with guest vocalist Matt Smith of Theocracy.
Seven Kingdoms leaps back into the heaviness with "Fragile Minds Collapse" and "In The Twisted Twilight." "A Debt Paid In Steel" is very reminiscent of dialogue that would come from a "Games Of Thrones" novel. "The King In The North" gives a proper triumphant ending to The Fire Is Mine and is highly recommended for fans of melodic, power metal.
Seven Kingdoms has secured an opening slot on Stratovarius and Amaranthe's 2013 European Tour, which launches March 2013, and they are slated to appear during the three-day Rock Harvest II Festival in November, with the likes of DC4, London, Mitch Malloy, FarCry and many others. They will be opening and headlining many of their own shows within the coming weeks and months.
Seven Kingdoms is a must for your music library and might even supersede bands they have been compared to in the past.
Genre: Power Metal
Band:
Sabrina Valentine- lead vocals
Camden Cruz- guitar, vocals
Kevin Byrd-guitar, vocals
Keith Byrd- drums
Aaron Sluss-bass
Track Listing:
1. Beyond The Wall
2. After The Fall
3. Forever Brave
4. Flame Of Olympus
5. Symphony Of Stars
6. The Fire Is Mine
7. Kardia
8. Fragile Minds Collapse
9. In The Twisted Twilight
10. A Debt Paid In Steel
11. The King In The North
Label: Nightmare Records
Web: www.facebook.com/SevenKingdomsOfficial / www.twitter.com/SevenKingdoms1
Video: "After The Fall" http://youtu.be/Hpa6f6s23PE
Hardrock Haven rating: 9/10