Sonja Perenda | Time Has Come
by Joe Mis
– Senior Columnist —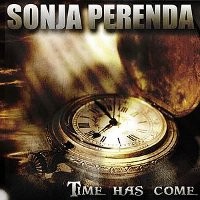 Sonja Perenda probably is not a familiar name to many outside of her native Austria, but this operatic singer is out to change that. Sonja has released her debut album entitled Time Has Come, and it should do wonders. Not purely operatic or symphonic metal, Perenda's music comes across as more traditional rock that is done with some operatic overtones, and thus it should have broad appeal. It blends heavy guitars and catchy rhythms with strong vocals and classical influences to produce something almost operatic but without the "metaphysical" or "mystical" lyrics that tend to be the staples of symphonic metal.
Sonja has not formed an official "band" yet, working with session musicians for this release. This results in a slightly inconsistent sound from track to track, but it serves to highlight her vocal versatility and stylistic range. "Time Has Come" is perhaps one of the most successful attempts at blending traditional hard rock/metal with classical vocal techniques.
The album opens in style, with big booming bass and drums on "Judgment Day." Perenda's powerful voice runs in a great counterpoint to the somber, low-register rhythm line and displays her songwriting prowess. The bridge and guitar solo beautifully fit the tone of the track. Her voice softens greatly on the softer, more conventional rocker of "The Player," a track that highlights Perenda's vocal range and ability to convey emotion. Spectacular guitar work running the gamut from soft acoustic to pure metal highlights the title track "Time Has Come." Perenda's vocals also flow from quiet to operatic. "Victim Of A Miracle" brings in a bit of orchestral metal, while the ballad "Voice of Peace" is a simple and utterly stunning vocal piece with a bit of Disney or Broadway feel.
"Silent Screams" is more operatic metal than the prior tracks, while "Devil In Me" has a bit of a pop-rock radio-friendly feel to it (even with some very impressive vocal self-harmonies). "You Had It All" brings in some well-done keyboards and a great bass line and develops into something that Andrew Llloyd Webber might roll into one of his musicals. "Whole Again" is a straight, up-tempo rocker with Perenda's near-operatic twist to the vocal line – a toe tapper for sure. "Ray Of Hope" wraps the album. This final track is a duet with Omri Lahav, inspired by words written by Nobel Peace Prize winner Shimon Peres.
If you are a fan of operatic rock or strong female vocalists, you owe it to yourself to check out Sonja Perenda's debut. Time Has Come is a solid and interesting album – and in many ways is more accessible to the casual listener than some of the full-on operatic metal that's out there now. It is simply not as vocally extreme as some, while remaining melodic and varied throughout. The clarity of Perenda's vocals and enunciation make her a vocalist to watch. Time Has Come is recommended for fans of the operatic/female-fronted metal genres.
Genre: Operatic Rock
Co-writers:
Svante Lahti – "Judgment Day".
Nazim Chambi – "Time Has Come"
Anders Ringman – "Voice of Peace"
Dave Charles – "Silent Screams"
Guest performer – Omri Lahav (duet vocals on "Ray of Hope")
Track Listing:
1. Judgment Day
2. The Player
3. Time Has Come
4. Victim Of A Miracle
5. Voice of Peace
6. Silent Screams
7. Devil In Me
8. You Had It All
9. Whole Again
10. Ray Of Hope
Label: Independent
Website: www.sonjaperenda.com
Hardrock Haven rating: 8.5/10