Sticky Boys | This Is Rock 'N' Roll
by John Kindred
– Publisher —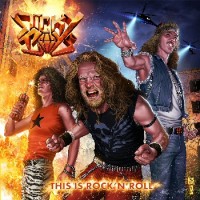 It's a fact that AC/DC won't be around forever, and that means the band's infectious brand of raw rock 'n' roll will live on in the music, but it eventually will be lost to the live venues. Now, it seems that every country has its own version of the die-hard band. Britain has '77, the U.S. has Rhino Bucket (and countless others), Australia has produced their heir to the throne in the guise of Airbourne, and now France has the Sticky Boys.
We might as well say it up front; "The Sticky Boys sound like AC/DC …" There, done. The only major difference is that they do it with three dudes instead of five. Hard core AC/DC fans will reject it; others may want something "newer" that isn't modern-radio-friendly-hard-rock and gravitate to their music. The irony is the lack of originality in the hard rock community. It seems retro continues to be "in," which means either labels only want to "cash in" while they can, or there truly isn't another original riff or style of music out there to be found. Oh well, that's a whole different conversation.
The blues-hard-rock genre is so traditional that there is no way to escape its trappings. And that's OK when you want hear loud guitars, a powerful and heavy rhythm section and a gritty-ballsy singer. Sticky Boys have that swagger, although it can't be said that the music is tight and consistent as say, um, AC/DC. While they may deliver a looser vibe, they certainly have plenty of energy.
This Is Rock 'N' Roll features 11 songs. You have heard these riffs before. Kourelis' voice is more akin to Udo Dirkschneider except not as gravelly. The band has that '70s loud, turned-to-11-Marshall-driven sound. The production of the music is top-notch, thanks to sound engineer Francis Caste. Kourelis has mastered the pentatonic scale and delivers some blistering blues-infused solos and crunchy rhythms. Bullot hammers out the rhythmic beats, while Chesnot bass rumbles along.
Overall This Is Rock 'N' Roll is a party rock album. It won't redefine the genre. Its familiar vibe means that you will give it a complete listen at least once.
Genre: Hard Rock
Band:
Alex Kourelis – rhythm & lead guitars, lead vocals
JB Chesnot – bass, backing vocals
Tom Bullot – drums, backing vocals
Track Listing:
1. This Is Rock'n'Roll (intro)
2. Rock'n'Roll Nation
3. Bang That Head
4. Great Big Dynamite
5. Girls In The City
6. Big Thrill
7. Miss Saturday Night
8. The World Don't Go Round
9. Night Rocker
10. Fat Boy Charlie
11. The Way To Rock'n'Roll
Label: Listenable Records
Web: http://www.stickyboys.eu/

Hardrock Haven rating: 7/10