Tore St Moren | Devilbird
by John Kindred
– Publisher —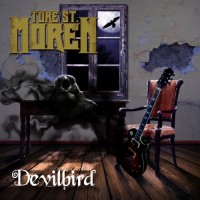 Guitarist Tore St Moren has spent the majority of his professional career as a member of Jorn. Since 1999, he also has worked in other bands, such as Rain, Street Legal, Carnivora and Arctutus. After years of working with the celebrated Jorn Lande, Tore St Moren has stepped out on his own to release his first solo release titled Devilbird.
Devilbird comprises 12 songs; two previously were released as singles on iTunes: "The Journey" and "Benedicte's Song." His partners in crime on his debut solo release include bassist Nic Angileri and drummer John Macaluso. The album, currently available on iTunes, is instrumental hard rock that highlights melodic and bluesy riffs with flashes of shred. Moren, looking to explore music that trends away from dark, brooding songs, takes his years of experience to create a diversified and uplifting album.
With his trusty companion, his tobacco sunburst Epiphone LP Classic, in hand, Moren sends us on a 60-minute journey, packed with emotionally gratifying riffs and melodies. The stage is setup by the title track "Devilbird." The song features a beautiful bluesy guitar solo performed over backing keys and synth sounds. The minute and forty second-interlude leads into the next song, "The Journey," which is heavier, charged with energy and features nice dynamic changes throughout. "Benedicte's Song" follows next, and while it has a slower tempo, the song gravitates toward a rock opus feel that pushes forward to its majestic climatic chorus. It has a pure, positive energy that is built on feeling and passion. "Quattro Formaggi" opens with the guitar, colored with a WAH pedal pushing a driving riff over the percussion. Eventually, the whole band joins in the foray, and the song takes off. The song shifts into a melodic interlude three quarters of the way in and features a nice bluesy solo before shifting back into its energetic high gear.
"K1 & K2" moves back into a ballad-style arrangement, complete with more bluesy solos and a harmonized melodic lead in the chorus. While the song maintains a constant, hypnotizing sound bed, Moren unloads with melodic and flashy solo passages. "Mirage" opens with a Middle Eastern-sounding guitar riff, which is very memorable. The songs momentum builds with passion and energy. Overall, it has a very uplifting vibe, with nice guitar harmonies, brilliant solo; yep, good stuff, indeed! The opening arrangement of "Edel" slowly pulls you in with its use of a harmonic melody, arpeggiated guitar passage and melodic bass, all of which push the song forward until the song opens up into its main melodic phase at about 1:10 in the song. And it just keeps climbing, as the eventual guitar melody is layered into the song; it's another gangbuster! "Dramatique" unwinds with ferocity before settling in with a steady rhythmic pulse.
The third act opens with "Tres Hombres," another song that is driven by a heavy riff and pulsating beat. A very cool laid back riff, what we would call the verse, is backed again by the pulsating beat. This open and airy feel of the guitars make this song sound large and spacious. A lot of shredding guitar runs make this song rock and are balanced with slower bluesy solos. "The Valley of Women" falls back into ballad-land, bringing the pace down a few notches. Moren's solo are superb here, as he is brilliant at delivering tasteful, bluesy riffs. "Between Good Evil" opens with a melodic solo passage and shifts into a heavy deliberate riff. Again, Moren brings dynamics to his music, providing different textures that work well together in his created arrangement. The final song, "Burlesque," has a distinct Michael Schenker influence in the opening harmonized riffs. Once the song gets going, it takes off; it's very melodic with a deliberate rhythmic sense.
Tore St Moren's Devilbird is a combination of straight-up rockers, ballads and some fast and intricate tracks. The music is energetic, passionate and dynamic. The production is flawless, highlighting layered guitar tracks, punchy bass riffs and tight percussion. Moren displays a knack for melody, and he has mastered the fret board, producing elegant bluesy solos and flashy, speedy riffs that he combines with his unique rhythm style.
Genre: Hard Rock, Instrumental
Band:
Tore St Moren on guitars
Nic Angileri (Gotthard, Jorn) on bass
John Macaluso (TNT, Yngwie Malmsteen, Ark) on drums
Special guests:
Bjørn Boge – bass
Terje Jørgensen – tuba
Hasse Ørbjo – clarinet
Lars Lind – lead guitar
Track Listing:
1. Devilbird
2. The Journey
3. Benedicte´s Song
4. Quattro Formaggi
5. K1 & K2
6. Mirage
7. Edel
8. Dramatique
9. Tres Hombres
10. The Valley of Women
11. Between Good and Evil
12. Burlesque
Label: Shredguy Records
Web: http://www.torestmoren.com
Hardrock Haven rating: 9/10