Watchtower | Control and Resistance
by Justin Gaines
– News Editor/Senior Columnist —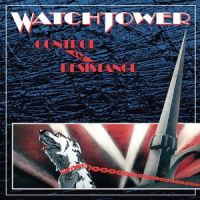 Originally released in 1989, Control and Resistance was the second album from Texas-based Watchtower, one of the true underground legends of the progressive metal genre. The four years between this album and the band's 1985 debut Energetic Disassembly had brought about some significant changes to the band. Original guitarist Billy White and vocalist Jason McMaster left the band, the latter to join Dangerous Toys. They were replaced by ex-SA Slayer guitarist Ron Jarzombek and Hades frontman Alan Tecchio, both of whom had a major impact on Watchtower's sound. The result is an album that changed the face of progressive metal and one that remains a huge influence on the genre to this day.
The term "math metal" may be associated with the djent scene these days, but it's all but impossible to hear Control and Resistance and not think of it as a series of complex equations rather than songs written by mere mortals. The progressive metal scene in America was still in its infancy, and while Queensryche, Fates Warning and Dream Theater were taking the sound in one direction, Watchtower seemed intent on developing the most complex and chaotic musicianship in metal. Drummer Rich Colaluca and bassist Doug Keyser had already demonstrated an unconventional, ever-shifting approach to rhythms, and that only intensified once Jarzombek was added to the fold. His guitar work is so blindingly technical and otherworldly that it almost seems like some labyrinthine series of computer code. And while Tecchio's high pitched scream can take some getting used to, it really is the perfect counterpoint to the intricate musicianship as well as the apocalyptic paranoia of these songs' lyrics. These four unique elements came together brilliantly here, and you can absolutely see what made members of Death, Atheist, Dream Theater and Spiral Architect sit up and take notice. And Control and Resistance's influence has spread even further as the years have passed, even though Watchtower as a band never made it to album three.
So what does Divebomb's 2012 reissue of Control and Resistance have to offer, especially to those of us who already own a copy of the original release? A quick look at the track listing will tell you there are no bonus tracks to be found, but on an album like this those are "nice to have" additions, not the main draw. What is noteworthy is that the album has been newly mastered by Jamie King, whose credits include albums from Between the Buried and Me as well as reissues of Confessor, Deathwish and many other Divebomb releases. King's work is subtle, bringing forward all the nuances of these songs (and there are many) without altering the original feel of the album. As if this weren't enough, the booklet features vintage photos and an enlightening essay by Mean Deviation author Jeff Wagner.
Control and Resistance remains a benchmark of the progressive metal genre, and one of its truly "must have" releases; even more so now that it has been remastered to such brilliant effect. If you make any claim at all to being a fan of progressive metal, your collection is not complete without a copy of Control and Resistance.
Genre: Progressive Metal
Band:
Alan Tecchio (v)
Ron Jarzombek (g)
Doug Keyser (b)
Rick Colaluca (d)
Track Listing:
1. Instruments of Random Murder
2. The Eldritch
3. Mayday in Kiev
4. The Fall of Reason
5. Control and Resistance
6. Hidden Instincts
7. Life Cycles
8. Dangerous Toy
Label: Divebomb
Website: www.watchtowerband.net
Hardrock Haven rating: 9.25/10