Adler | Back From the Dead
by John Kindred
– Publisher —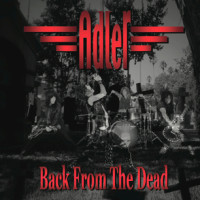 Steven Adler has been battling demons for quite some time, from his brief time in Guns N' Roses to his more recent appearance on Dr. Drew's "Celebrity Rehab." Over the years, drugs have taken their toll but never completely dampened Adler's passion for music. Slash moved on with his own projects, Axl took Guns N' Roses off to another planet, Duff continued on with Slash and his own projects and Izzy released some solo records but eventually faded from the fold. Despite Adler's struggle with his demons, he carried on in Adler's Appetite. The band kept Adler in the news, but the band was basically a Guns N' Roses cover band. At some point though, Steven Adler had to get out from behind the legacy of Appetite for Destruction and become his own man, doing things his way and on his own terms.
Adler's resilience to keep on fighting and to be relevant in the industry has led him to release his first full-length album since he recorded Appetite for Destruction with Guns N' Roses in 1987. Flying under the moniker Adler, he has joined forces with vocalist and guitarist Jacob Bunton, guitarist Lonny Paul and bassist Johnny Martin. The band's debut album titled Back From the Dead features Jeff Pilson of Dokken fame sharing the duties as producer with Adler, and the album was mixed by Jay Ruston.
Back From the Dead features 11 songs, all polished melodic hard rock tunes that are rampant with hooks that are reminiscent of '80s arena-rock bands, with touches of modern metal. All the songs are semi-autobiographical, and they lyrically seem to focus on Adler – the man and his struggles. The majority of the album was written by Bunton and Paul, with Pilson co-writing two songs. While Adler never was a writer per se, he lends his ear as the band's personal A&R guy to hand pick the best songs for the band's debut release.
Speaking of Bunton, who some may know as the lead singer of Lynam, Adler couldn't have picked a better voice and front man for the group. His voice is perfectly suited for the melodic anthems that comprise Back From the Dead. Paul and Bunton deliver crunchy rhythm guitars and confident solos. While Martin is listed as the band bassist, Jeff Pilson actually handled those duties in the studio, as well as providing backing guitar, keys and vocal tracks. Former band-mate and friend, Slash, makes an appearance on the song "Just Don't Ask," providing the guitar solo. Other special guests include John 5, who plays lead guitar for "Good to Be Bad" and Michael Lord on piano for "Waterfall."
Any comparisons to Guns N' Roses are unwarranted and unjustified. Adler's band sounds nothing like his former group. That's a good thing; we don't need another copycat band in that vein of music. Adler gives the listener fist-pumping anthems that don't take themselves too seriously, yet delivers crafty well-written songs and brilliant production, making the album sound huge and full of life. Of the 11 songs on the disc, there are no filler tracks. The musicianship and vocals are superb. Adler and his crew have struck gold.
Genre: Melodic Hard Rock
Band:
Jacob Bunton – vocals, guitar, mandolin and piano
Lonny Paul – guitar and vocals
Johnny Martin – bass and vocals
Steven Adler – drums and percussion
Additional Musicians:
Slash – lead guitar (6)
John 5 – lead guitar (5)
Jeff Pilson – bass, guitar, keyboards and vocals
Michael Lord – piano (8)
Track List:
01. Back From The Dead
02. Own Worst Enemy
03. Another Version Of The Truth
04. The One That You Hated
05. Good To Be Bad
06. Just Don't Ask
07. Blown Away
08. Waterfall
09. Habit
10. Your Diamonds
11. Dead Wrong
Label: New Ocean Media
Web: http://adlerrocks.blogspot.com/ – https://www.facebook.com/adlermusic
Hardrock Haven rating: 9/10
Listen to Hardrock Haven's interview with Jacob Bunton, vocalist for Adler here.