by Sherry Thomas
– Columnist —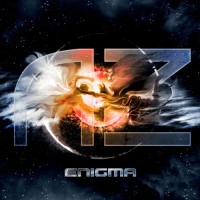 Enigma is Aeon Zen's third offering. The British progressive metal band has two independent releases under their belts.
A Mind's Portrait and The Face of the Unknown are their first two releases, which garnered success among both fans and critics alike. In addition, Aeon Zen secured an opening slot with the Devin Townsend Project for their 12-country European tour in 2011. Four years and two albums later, the band secured a deal with Nightmare Records and released Enigma.
The nine-song release was produced, mixed and mastered by the band's own mastermind Rich Hinks. On Enigma, the listener can hear Aeon Zen's influences which range from Dream Theater to Opeth. But, the band is creating a sound and identity of their own and is quickly becoming a rising force in the UK's Progressive Metal scene.
Initially, Aeon Zen was a project created by Rich Hinks. The band began its formation upon the release of The Face of the Unknown. The quintet consists of Rich Hinks (guitar, bass, vocals), former Seventh Wonder member Andi Kravljaca (vocals), Matt Shepherd (guitar), Shaz (keyboards), and Steve Burton (drums).
Enigma is a powerful concept album which features nine tracks that flow easily from start to finish. In Aeon Zen tradition, the album has guest vocalists via Nate Loosemore of Lost in Thought, Atle Pettersen from Norway's own Above Symmetry and Eumeria vocalist Jonny Tatum.
The album starts off with a melodic instrumental "Enter The Enigma" and easily transitions into "Artificial Soul," a song filled with fantastic vocal harmonies. Next up is "Divinity," the heaviest song on Enigma which blends harsh, growling vocals from Hines with the melodic voice of Kravljaca. The fourth track, "Seven Hills" follows and is a beautiful, piano ballad which leads nicely into "Warning." This particular tune has an ethereal beginning and is joined by vocals that range from melodic to gritty and killer guitar solos accompanied with the keyboard.
Prog rocker "Turned To Ash" showcases the band's cohesiveness and features guest vocals from Lost in Thought's Nate Loosemore. "Still Human" is next and is very reminiscent of Dream Theatre with a meaty bass line. "Eternal Snow" begins with a piano intro and melodic vocals, but goes full throttle by the end that brings heavy guitars chugging fast and Hinks' guttural tones. Finally, "Downfall" ends the album with a sound that combines Rush and Messhugah with saxophone thrown in for good measure.
Enigma will surely gain the attention of many Progressive Metal fans and take them on a journey to places where they haven't been before.
Genre: Progressive Metal
Band:
Rich Hinks – Guitar, Bass, Vocals
Andi Kravljaca – Vocals
Matt Shepherd – Guitar
Shaz – Keyboards
Steve Burton – Drums
Track Listing:
1. Enter The Enigma
2. Artificial Soul
3. Divinity
4. Seven Hills
5. Warning
6. Turned To Ash
7. Still Human
8. Eternal Snow
9. Downfall
10. Survival (Bonus Track)+
11. Time Divine 2.0 (Bonus Track)+
+ Bonus Tracks on Physical CD
Label: Nightmare Records
Web: www.aeonzen.com
Hardrock Haven rating: 8.5/10