Asylum Pyre | Fifty Years Later
by Joe Mis
– Senior Columnist —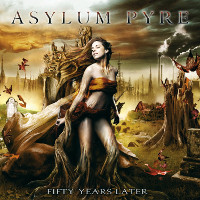 Asylum Pyre is "the place where you burn the fools" according to the band. Heavy and heady stuff HAS to follow such a declaration. The European act is doing their very best to make that a fact. Asylum Pyre may be a new name for fans of female fronted metal, but the band has been around for a number of years, and has just released their second full length album, an eco-fable entitled Fifty Years Later on the Massacre Records label.
Powerful and intense modern metal describes the music of Asylum Pyre. The band does not allow itself to be pigeon-holed into a specific metal genre, as they blend elements of pure heavy metal with progressive, power, and symphonic touches – and a hint of "beauty and the beast" female and male vocals. Musical variety and diversity are the keystones of Fifty Years Later, running the gamut from soft and atmospheric rock to near speed metal. There is a definite "save the Earth" theme as in the band's own words the "…lyrics and the artwork echo the warnings of our world and picture the possible evolution of our planet in the years to come."
Formed back in 2003 by guitarist Johann Cadot and bassist Julien Peuch, Asylum Pyre has been through a number of personnel changes through the years. The current lineup consists of Cadot and Peuch, plus keyboard player Tony Decaillon, guitarist Hervé Schiltz, drummer Vince Kreyder, and the powerhouse vocalist called Chaos Heidi. Asylum Pyre released their first demo, Whispers Of The Power in 2007, and in 2009 a full length album, Natural Instinct, with original vocalist Carole Alcantara. The current lineup entered the studio in late 2011, and officially released Fifty Years Later on 07-December-2012.
The short and sweet vocal-keyboard piece "Will You Believe Me?" opens the album, highlighting the softer side of the band and Chaos Heidi's wonderful vocal delivery. "Dead In Copenhagen" is intense and progressive with pounding drums and sweeping vocal lines, a tone continued into "The Frozen Will." The latter is a bit manic – switching from pounding to soft to pounding again. Both tracks have male vocal contributions from Johann Cadot. "These Trees" is a straight-up conventional metal track with nicely done guitars and a very "green" theme, ruing the destruction of the forests around the world. "The Herd" is a darker rocker with intense rhythms that rips into the herd mentality that seems to have overtaken modern society. Heidi rolls in some operatic style vocals, but they seem forced and as a result end up musically ineffective.
"Fisherman's Day" is an awesome acoustic track with strong duet vocals and mellow guitars – and a strong anti-pollution message. The band changes up and almost goes symphonic on the bass and drum driven "Against The Sand," a track with fine vocals and an effective guitar break. The epic "Any Hypothesis" travels the universe from creation to the end, and the music follows suit by building in intensity and power as the track progresses. The band tries to do a bit too much on this track and the mash up of styles (from acoustic rock to space music to speed metal) is a bit distracting. "Just Before The Silence" is a well done near power metal song with a strong rhythm line and a number of "growled" vocals. "Fifty Years Later" closes out the CD in prog-metal style thanks to a touch of elctronica and strong, heartfelt vocals.
While a solid album all around, Asylum Pyre's Fifty Years Later is fairly ordinary. The band is musically tight, passionate, and deliver a good sound – but there is nothing that truly sets them apart from what is becoming a fairly populous crowd of female-fronted blended-genre metal bands. They have all the tools to be a standout act, but need to decide whether to be symphonic, progressive, melodic, etc. Asylum Pyre does it all well, but there are other acts that are better at doing symphonic metal, prog-metal, or beauty and the beast duets. A greater focus on a single genre would propel Asylum Pyre to the top (and make them sound a little less "preachy").
Genre: Melodic Metal
Band:
Chaos Heïdi (vocals)
Johann Cadot (guitars, vocals)
Hervé Schiltz (guitars)
Julien Peuch (bass)
Tony Decaillon (keyboards)
Vince Kreyder (drums)
Track Listing:
1. Will You Believe Me?
2. Dead In Copenhagen
3. The Frozen Will
4. These Trees
5. The Herd
6. Fisherman's Day
7. Against The Sand
8. Any Hypothesis
9. Just Before The Silence
10. Fifty Years Later
Label: Massacre Records
Website: http://www.asylumpyre.com/en/
Hardrock Haven rating: 7/10