Circle II Circle | Seasons Will Fall
by Sherry Thomas
– Columnist —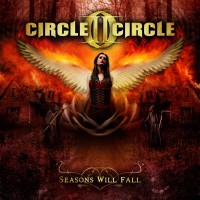 Zak Stevens and Company are back with their sixth studio album, Seasons Will Fall, and it is well worth the wait. The highly anticipated album is set for release on Jan. 25, via earMUSIC/Edel. Seasons Will Fall offers 12 tracks that will please longtime fans and pull in many new followers.
Formed in 2001, Circle II Circle has released five albums to date. The turning point came for the band in 2012 with its monumental performance of the Savatage album The Wake of Magellan, in its entirety, at Wacken Open Air festival, followed by a sold-out European club tour.
Circle II Circle doesn't stray from the hard rock, heavy metal and progressive combination that is anchored by Stevens' powerful, melodic vocals, along with the band's killer guitar riffs from axe-slingers, Bill Hudson and Christian Wentz, and a rhythm section that is solid and driven by Mitch Stewart and Adam Sagan, and Henning Wanner, who is a master at the keyboards. Whether it's a full-on assault, such as "Killing Death" or a graceful ballad, such as "Isolation," Seasons Will Fall is its strongest release to date.
Seasons Will Fall differs from CIIC's prior offerings in the respect that it is not a concept album. Each song gives the listener the capability to connect to the band in his or her own way. While the album boasts 12 great tracks, the standouts are "Without A Sound," "Never Gonna Stop" and "Epiphany."
Circle II Circle is preparing to go on a world tour to support the album, including a stop in Atlanta for Prog Power USA in September 2013 and an appearance on the Wacken Full Metal Cruise.
This is a must-have album your music collection, especially if you are a Circle II Circle or Savatage fan or checking out the progressive metal scene for the first time. Seasons Will Fall most likely will wind up on many "Best of 2013" lists.
Genre: Rock, Heavy Metal, Progressive
Band:
Zak Stevens – Vocals
Mitch Stewart – Bass/Keyboards
Bill Hudson – Guitars
Christian Wentz- Guitars
Henning Wanner – Keyboards
Adam Sagan – Drums
Track Listing:
1. Diamond Blade
2. Without A Sound
3. Killing Death
4. Epiphany
5. End Of Emotion
6. Dreams That Never Die
7. Seasons Will Fall
8. Never Gonna Stop
9. Isolation
10. Sweet Despair
11. Downshot
12. Only Yesterday
Label: EDEL, EarMUSIC Records
Web: www.circle2circle.net / www.facebook.com/CircleIICircle / www.twitter.com/circle2circle
Hardrock Haven rating: 10/10