Dave Meros, Jimmy Keegan & Ted Leonard of Spock's Beard
by Christophe Pauly
– Photojournalist —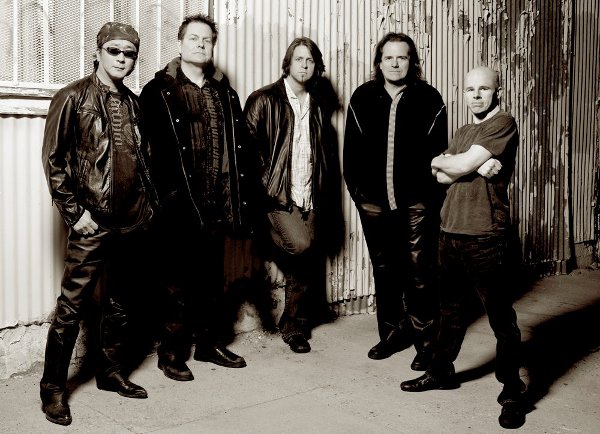 Hardrock Haven's Christophe Pauly sat spoke with Dave Meros, Jimmy Keegan & Ted Leonard of Spock's Beard to talk about the new album, Brief Nocturnes and Dreamless Sleep, line-up changes and more…
Hardrock Haven: Thank you very much for this interview! It´s an honor for me as a fan to promote your new release! First, this is your 11th album (And the first since Nick´s departure)… what was the most challenging part for this one?
Jimmy Keegan: You would think it would have been the new personalities but we were already friends so that was actually easy. Time might be the problem. We had wealth of ideas and many we just didn't have time to flush out.
Hardrock Haven: How did the writing and recording process worked? Do you compose together or does someone bring his own ideas?
Jimmy Keegan: Ted had some songs finished and the band just put their stamp on them. John Boegehold brought material independently and with Dave or Al. Al had a bunch and he wrote a couple with his brother Neal. Tracking was matter of figuring out how each song should sound and locking in arrangements. We actually gathered for a kind of rehearsal which the band had never done previously.
Dave Meros: The same as we have been doing for the last few CDs. We write mostly at home either by ourselves or with another person then sends demos around for approval. Sometimes the songs are recorded as is; sometimes they are rearranged or changed up a bit from the demo version.
Then when we record we usually just concentrate on getting drum tracks first in the studio and all the instruments and vocals are layered on later. Some of it in the studio, some of it at our own home studios.
Hardrock Haven: You asked to your fans to put some money to produce this record. Do you think it´s more difficult these days to live from the music's incomes?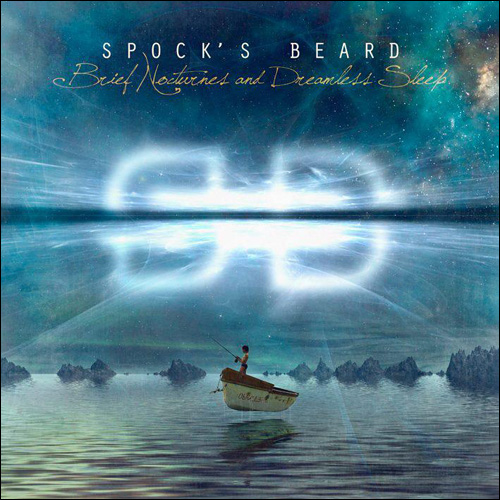 Dave Meros: Absolutely. There is almost no middle class of musician any more. There are the top sellers (the superstars), then a big hole where the middle class used to be, then all the people that never would have made any money anyway. (The middle class of music is where most musicians used to be able to squeak out a modest living, either playing concerts, recording music, playing cover band gigs, doing studio session work, or a combination of the above.)
CD sales are down industry-wide, so record labels aren't giving the amounts of money for bands to record with that they used to. So… we had to get creative and raise our own money so that we could afford to pay for all the studio time that we use. That is the reason we're doing our preorder. We simply could not record a CD unless we did something like that.
Jimmy Keegan: I don't think it's difficult for Katie Perry but for a band like Spock's Beard, you are not living off of it. You have to be a little more creative when there is no big machine working to market you and no million dollar budget to buy radio time.
Hardrock Haven: How did you meet him?
Dave Meros: We did two European tours with his other band Enchant, and I think that's where all of us first met him.
Jimmy Keegan: I met Ted on my first tour with Spock's, 10 years ago. It was the 10th Anniversary of Inside Out Records and Spock's toured with Enchant and The California Guitar Trio. It was a blast.
Hardrock Haven: What was your first impression when you played together?
Jimmy Keegan: Ted's a natural. Everything flows from him. He has a great sense of humor so laughter is common.
Hardrock Haven: Did the audience accept easily that new configuration?
Jimmy Keegan: Well, so far it has just been the two shows but I think those that love Spock's also appreciate Enchant so there is already a great deal of respect. As for the music, we shall soon find out. I love it. I hope everyone will too.
Dave Meros: Yes, they generally accepted him right away.
Hardrock Haven: What was your first impression of this experience? Did you fear at first? Or did you feel comfortable from the beginning?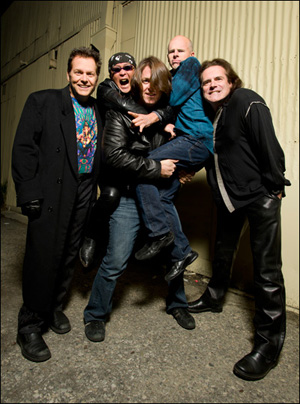 Dave Meros: Well, we've been playing with Jimmy for 10 years now, so that wasn't much of a mystery, and I would have been very, very surprised if Ted didn't do great with us because we all knew him and that he would be very compatible. (In fact, I'm in a cover band with Ted, so I hear him sing a wide range of styles and knew that he would fit in very easily). It was a very natural transition really.
Ted Leonard: I was comfortable with the group because we all knew each from the two tours with Enchant. Musically, I was a little nervous at the first rehearsal. Nick and Neal left some pretty massive shoes to fill, but I also was thinking that I was just filling in temporarily. If it had been an audition I probably would have been way more intimidated.
Hardrock Haven: Were you involved in the writing process?
Dave Meros: Not as much as in the past, but I did write one song on the CD.
Ted Leonard: There are 2 songs that I wrote on the album and 1 that I contributed lyrics on, so yes. On the others, we all bashed around embellishments in the rehearsal studio but the core of the songs had already been written.
Hardrock Haven: I saw you twice in Belgium, and it was a lot of fun and pleasure during those intense concerts (with those great drums duels)! What's your best live experience?
Dave Meros: The Astoria, London, 2001. Best live musical experience of my life. The band, the audience, the sound, everything was perfect that night.
Jimmy Keegan: That is a huge question. I have played great shows in tiny venues and large venues alike. The best is when there is a great bond with an audience and the band is firing with little to no thought. I prefer a show where I don't have to think and can just let the music happen. The best is yet to come.
Hardrock Haven: What would be the best venue you would like to play at? (Somewhere you haven't been yet)…
DM: I don't have an answer for that. For me it's not the venue, it's the feel of the band and audience. That can be great in a huge place, small place, fancy place, horrible little place… you can never tell when those magical gigs will happen. Having said that, it is always preferable to have a nice venue with good facilities where we can be physically comfortable, and lots of venues can fulfill those basic requirements.
Jimmy Keegan: Madison Square Garden, somewhere in Italy. I would love to play one of those big outdoor concerts in Brazil with 100,000 screaming Brazilians.
Hardrock Haven: How do you feel the atmosphere when you play live with Ted?
Jimmy Keegan: I think this question is too early. I love Ted so from the two shows we have done, it was great. But that's all we have done. I have complete faith in him though, and look forward to doing some shows.
Hardrock Haven: You sang on the Neal Morse's Testimony 2 album. (A wonderful part!) How did you feel about this experience? Was it easy to do some new Music with Neal after all these years?
Dave Meros: It was really fun to sing on that song, but to tell the truth, we just sent audio files back and forth over the internet; we were never in the same room together. I got a smile on my face when I heard the mix though, that was the first time I heard us all together and it sounded like Spock's Beard.
Hardrock Haven: Did you thought about reforming SB with him when Nick decided to leave the band?
Jimmy Keegan: It's funny, as I never worked with him aside from the two guest spots, it never crossed my mind. Usually you think to move forward. Neal is great but it's been, now, 5 albums since he left. Time to move on.
Dave Meros: Not really… Neal is very comfortable where he is with his career and life choices, I don't think he'd want to come back in, especially since the band has changed so much since he has left.
Hardrock Haven: I hope to see you soon on tour! Do you plan a European tour to promote this new release?
Dave Meros: Yes, April / May of this year. Check our website for details as they emerge.
Hardrock Haven: What music are you listening to these days?
Dave Meros: None, really. That's the truth. I guess I'm taking a little break. I did see a Bon Iver concert on TV a month or two ago that I really enjoyed.
Jimmy Keegan: I'm always listening to Peter Gabriel in some fashion. On the prog front, Porcupine Tree and Bobby McFerrin has been a common play. Recently I have just been putting my iPod on shuffle and rediscovering great music I already have.
Hardrock Haven: What do you want to say to your fans in Europe?
Jimmy Keegan: Get ready!
Dave Meros: Can't wait to see you guys again!
Hardrock Haven: See you soon on tour!