Hinder | Welcome To The Freakshow
by Deb Rao
– Senior Columnist —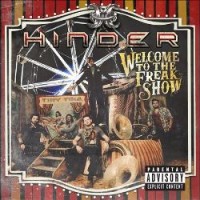 Oklahoma rock band Hinder return to the rock scene with a captivating new release entitled Welcome To The Freakshow on Republic Records. This is Hinder's fourth studio release and the band combines infectious hard rocking songs with haunting ballads.
Opening track and first single "Save Me" sets the tone for album as the band unleashes and exorcizes the demons with hard driving riffs and vocals. Next up, "Ladies Come First" is a great dance song and will have you cranking up the album full blast. "Save Me" is already impacting radio and iTunes.
Perhaps one of the greatest highlights of the album is the slick production of the CD, which is produced by Cody Hanson and Marshall Dutton. Austin Winkler's sultry vocals shine. One of the greatest strengths of the album is the stellar song writing of the ballads and vocals of Austin Winkler on four of the ballads which range from pop to country overtones. First off "Shoulda Known Better" is a great ballad about love gone wrong. Austin has a way of tugging at your heartstrings. Another stellar ballad is "Get Me Away From You." We all get addicted to things that are bad for us right? Well this song says it all. Also a different step in direction for the band is the song "Is It Me" which may remind you of Maroon 5.
Hinder step up the pace on the angry in your face song, "See You In Hell." The album ends with the hard rock song,"Wanna Be Rich."
It is so refreshing to see a band evolve from their early roots and first tour with Aerosmith to Motley Crue. Hinder return with one of their strongest albums to date. Hinder are ready to set the concert scene on fire in 2013 with the release of Welcome To The Freakshow.
Genre: Hard Rock
Band:
Austin Winkler – Vocals
Mark King – Guitar
Joe "Blower" Garvey – Guitar
Mike Rodden – Bass
Cody Hanson – Drums
Track Listing:
1. Save Me
2. Ladies Come First
3. Shoulda Known Better
4. Freakshow
5. Talk To Me
6. Get Me Away From You
7. Is It Just Me
8. I Don't Wanna Believe
9. See You In Hell
10. Anyone But You
11. Wanna Be Rich
Label: Republic Records
Website: http://www.hindermusic.com/
Hardrock Haven Rating: 9/10