by Ron Higgins
– Columnist —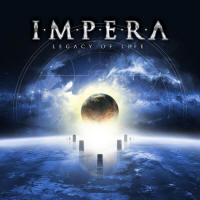 Legacy of Life is the debut album from drummer J.K. Impera's self-titled band. Impera is a no-nonsense, no-keyboard, rock band with an impressive pedigree of musicians who have played with a veritable Who's Who of rock. As would be expected from a group of talented musicians like this, they have cranked out an impressive debut that leaves listeners looking forward to what they come up with next.
In addition to the aforementioned Impera, the band consists of bassist Mats Vassfjord, Swedish vocalist Matti Alfonzetti, and guitarist extraordinaire Tommy Denander. Interestingly, John Corabi was supposed to be the original vocalist but couldn't due to schedule conflicts. Collectively, they've played with members of KISS, Thin Lizzy, Europe, Rainbow, Yngwie Malmsteen, TOTO and many others. Denander alone has played on over 2000 albums and even has his own signature VGS guitar.
Several of the band members have played with KISS alum, Vinnie Vincent and Bruce Kulick. In fact, J.K. states that they all started playing because of KISS and that they're all KISS fans and collectors as well as friends with KISS themselves. As you would expect, they guarantee that their stage shows will be amazing, featuring fireworks, smoke, and fire, like their heroes. Taking the KISS idolatry one step further (and maybe too far), drummer J.K. Impera wears makeup on stage. Fortunately, it's not a demon space cat with a star but his own design. It's not clear exactly what the design is. He's bald and has lines all over his face much like he's trying to be a tree or something. It's definitely unique and a bit bizarre. Why he feels the need to wear it is somewhat of a mystery. At least he's not dressed as a big bird like Sebastian Bach's former guitarist.
The album starts off with the rockin' "Turn My Heart To Stone." It begins with some hard drumming, letting the world know that the drummer and namesake is the leader of this outfit. The rhythm slows down as the song really gets going which is somewhat unfortunate but it's still a good song and a nice way to kick off the album. The vocals are top notch as is the chorus and the whole song has a nice Loverboy feel to it.
The second track "Kiss of Death" is one of the highlights. It has a thunderous drum intro followed by cool riffing and then some excellent lead playing highlighting Tommy Denander's impressive fret skills. There's a nice tempo change about two-thirds of the way through the song that keeps things interesting. It's not as good as Dokken's tune by the same name but it's pretty impressive.
Other highlights include the album's best track "Shoot Me Down" as well as "Sunset Rider," "More Than Meets the Eye," and "Is This Love." "Shoot Me Down" is a hard-hitting, up-tempo, double-bass-pounding standout. It's the one song that you will catch yourself humming long after you finish listening to it. "Sunset Rider" has a hard-driving riff throughout and an excellent lead solo from Tommy. The backing vocals on the chorus are good but they need to be up higher in the mix. You can hardly hear them. Regardless, this is a really cool up-tempo song. "More Than Meets The Eye" is another fast-tempo track that starts with a guitar wail and furious drumming. "Is This Love" has a slower start but some great guitar riffing. It's a mid-tempo rocker with a nice groovy vibe. The vocals are outstanding and this song showcases Matti's impressive voice.
"Break the Law" and "Show Me the Money" are decent tracks but not spectacular. "Break the Law" has a very familiar guitar intro followed by very heavy keyboards ala Richard Marx. Then the guitar kicks in and the chorus is decent. "Show Me the Money" is a funky song with a good chorus but the rest of it is just average.
The two weakest tracks on offer are "Tell Me" and the final track "Deadend Street." "Tell Me" is decent but simple. Nothing real memorable. It's a mid-tempo track that just kind of plods along. "Deadend Street" starts well enough with some pounding drums and a cool guitar riff but then it slows way down with lots of guitar finger plucking. The chorus is weak and it's a poor way to wrap up this nice debut.
Overall, this is a very good release, especially for a debut album. Even the weaker tracks are still pretty good. As a whole, the album flows very well and the production is top-notch. All of the musicians are highlighted throughout the album and given their musical résumé, that' a great thing. The vocals, drumming and guitar work are all impressive. The whole album has a great Mr. Big sound too it, right down to Matti's Eric Martin sounding singing. If you're looking for some high quality new melodic hard rock, look no further than this excellent new release from Impera. Applying makeup beforehand is optional.
Genre: Hard Rock
Band:
Matti Alfonzetti: Vocals
Tommy Denander: Guitars
J.K. Impera: Drums
Mats Vassfjord: Bass
Track Listing:
Turn My Heart To Stone
Kiss Of Death
Break The Law
Shoot Me Down
Sunset Rider
Tell Me
More Than Meets The Eye
Is This Love
Show Me The Money
Deadend Street
Label: Escape Music
Website: http://www.impera.org/
Hardrock Haven Rating: 8.5/10