Ivan Mihaljevic & Side Effects | Counterclockwise
by Joe Mis
– Senior Columnist —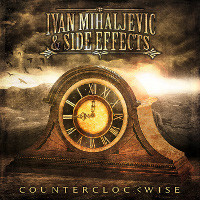 The self-proclaimed "eclectic rock trio" of Ivan Mihaljevic & Side Effects has recently released Counterclockwise, another gem that builds on the strong guitar rock foundation of their prior releases Destination Unknown and Sandcastle. Hailing from Croatia, this trio of talented and experienced musicians is beginning to build momentum in the hard rock world, and rightly so.
Singer, songwriter, guitarist and producer Ivan Mihaljevic, bassist Marko Karacic, and drummer Alen Frljak make up Side Effects. Each has a full musical life outside of this project. Mihaljevic plays for one of Croatia's best known rock acts, Hard Time, and has opened for Les Paul, Paul Gilbert, Richie Kotzen, and Scorpions, to name but a few. Frljak teaches drums at the Modern Rock Institute in Zagreb, and works as a session drummer. He has played with the band Inciter, which has opened for Lamb of God and Parkway Drive. Karacic also plays with the Croatian bands Big Rock, Undercode, and Ivan Speljak Jitz.
Counterclockwise, in the band's own words, is "…a concept album which comments on the current state of mind and consciousness of our society and the world." The well written lyrics cover such broad topics as disappointment, despondency, loss, and greed, but it also highlights hope and resolution. As with all of his solo works, Mihaljevic also sat behind the boards and engineered Counterclockwise, giving the album a warm and intimate tone.
"Too Much Is Not Enough" is a simple 30-second acoustic-vocal intro track that builds in depth to lead into the upbeat old-school rocker "Build Your Destiny." This track would have been quite at home in the early 1980s, but has modern touches that make it work today. The soft bridge leads into a fine guitar solo, and the bass and drum work are incredibly tight. There is a great bluesy bass break that allows both Karacic and Frljak to shine. "What Is Underneath?" continues the old school rock tone, and makes Mihaljevic's solid voice the centerpiece, although the awesome guitar solo tries to steal the glory. This track in particular has such a natural warmth and simplicity to it that it could have almost been recorded line in a single take. The opening phrases of the epic "Driving Force" show that the band has been influenced by Iron Maiden and Dream Theater. Big guitars and bass start slow and build to a progressive metal crunch and allow for numerous well done tempo / tone changes and a smooth vocal line. Great lyrics make this a fine track, and again all three musicians get to show off at different points.
"Gilded Cage" is a moody acoustic track that features strong lyrics and excellent vocals. The simplicity of the rhythm line highlights the harmony vocals of the chorus, making this a complete tonal 180 from the prior track. The equally moody and dramatic opening of "Gift Of Life" sets the tone for a very sad and heartfelt song dealing with the death of a close friend. Driven primarily by bass and drums during the verses, this track allows Mihaljevic to focus fully on his vocals, but the classical, Malmsteen-ish solo demonstrates why many consider Mihaljevic to be one of finest guitar players out there today. The entire band gets to kick things up on the hard rocking instrumental "Time Travel," and then changes gears for the orchestral "Eclipse." This twelve minute long monster is epic in every sense of the word and has to be heard to be believed. Spiraling guitar notes come blasting out over rolling bass and booming drums, slick hooks are laid nicely over solid vocals, bass breaks lead to tempo changes and the drumline varies from manic to galloping. It feels like the band is channeling almost every great guitarist from Satriani to Vai to Malmsteen to Van Halen, and not dropping a note. The track fades and segues neatly into the closing tune – a simple soft rocker, "I Am."
Ivan Mihaljevic and Side Effects is definitely not an ego trip for Ivan. These three amazing musicians all contribute solid performances, and all have moments in the spotlight. Drummer Frljak shares music writing credits with Mihaljevic on all the tracks, and lyrical credits on the final three songs. Despite the musical diversity, no one hogs the spotlight and the band ticks along like the proverbial well-oiled machine whether at full metal boil or acoustic blues. Easily handling genres from old blues-rock to ultra modern progressive metal, these guys rock, and seem comfortable no matter what style they play. The transitions from electric to acoustic and back are seamless and appropriate, never jarring or out of place.
There is no reason NOT to go out and get this one. Counterclockwise is a fine technical album, and while perfect chops abound there is also a good deal of passion and feeling. The band has been moving away from instrumentals and more towards vocal rock as it matures, and considering the strength of Mihaljevic's lyrics and singing skills, it is a good move. Despite many obvious influences, Mihaljevic and company manage to make music that is new, fresh and unique – and deliver it all with with technical excellence and a just the right amount of fire.
The music of Ivan Mihaljevic & Side Effects will appeal to every rocker out there. Very highly recommended!
Genre: Hard Rock
Band:
Ivan Mihaljevic (guitar, vocals)
Marko Karacic (bass, backing vocals)
Alen Frljak (drums, backing vocals)
Guests: Ivan Hunsjak (keyboards on 2, 4, 6, 7, 8, 9), Sandra Tribuson (backing vocals on 3, 4, 6, 8, 9), Zlatko Grijusic (backing vocals on 3), Ivan Zecevic (violins on 8), Jura Herceg (contrabass on 8), Ana Batinica (flute on 8)
Track Listing:
1. Too Much Is Not Enough
2. Build Your Destiny
3. What Is Underneath
4. Driving Force
5. Gilded Cage
6. Gift Of Life
7. Time Travel
8. Eclipse
9. I Am
Label: Zetafactory
Website: http://www.ivanmihaljevic.com/
Hardrock Haven rating: 9.5/10