Juggernaught | Bring The Meat Back
by Sherry Thomas
– Columnist —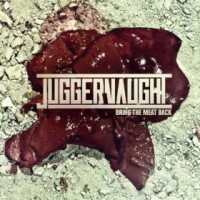 South Africa's Juggernaught has been making a name for themselves since their inception four years ago. Their debut album Act Of Goat was released in 2009 and the first pressing sold out in less than two months. In addition, they played over 300 shows wherever they could to unleash their whiskey-fueled brand of hard rock Juggernaught's fans coined as "MAN-ROCK." The quartet is comprised of Herman le Roux (guitars, vocals, organs, synth), Jovan Tutunovic (guitars, vocals), Angilo "Boobyman" Wijnbergen (bass) and Alexis Schofield (drums, percussion).
On October 26, 2012, Juggernaught released their second album independently titled Bring The Meat Back. The 11 tunes are gritty, dirty and testosterone filled from start to finish. All of the songs are very riff heavy and incorporate elements of Hard Rock, Classic Rock and Stoner Rock.
"Bad Idea" begins Bring The Meat Back with a vengeance. The song can be described as Clutch and Nashville Pussy having an illegitimate love child. "Train" follows and is a bluesy rock tune to have playing in the background of a party. "The Storm" is the most laid back found on the album. Songs like these make it hard to believe that Juggernaught is from South Africa and not Mississippi. "Beef Or Chicken" tells the satirical tale of greedy televangelists.
Next up, "Back Door Woman" is the Southern version of a Steel Panther song that will keep the listener laughing in between headbangs. "Bootycall" is a salacious track going out to their female fans complete with a few select bad pick-up lines. The title track "Bring The Meat Back" brings back the bluesy guitar riffs and gritty vocals. "Follow The Scent Of The Musky Brisket" is a minute and a half sojourn that is fast and furious. "Wors" is the South African rendering of Scatterbrain's "Down With The Ship" complete with cowbell. "One Of Them Days" is another blues number that has a Lynyrd Skynyrd feel. Le Roux's adds organ in the song which gives it a nice touch. "Paint It Brown" is last. No, it is not a take on the Rolling Stones "Paint It Black". It is closer to a song that Black Label Society would release.
So far, 2013 is looking like another busy year for Juggernaught with shows lined up such at RAMfest, South Africa's Ultimate Rock Festival and a nationwide tour in their home country. Hopefully, they will expand their jaunt to other parts of the world in the near future.
Bring The Meat Back is a solid album that should be listened to if you like bands such as Lynyrd Skynyrd, Ram Jam and HELLYEAH. Although it's not the most original sounding album, it is fun and catchy with great hooks and lyrics.
Genre: Hard Rock
Band:
Herman le Roux – guitars, vocals, organs & synth
Jovan Tutunovic – guitars & vocals
Angilo Boobyman Wijnbergen – bass
Alexis Schofield – drums & percussion
Track Listing:
1. Bad Idea
2. Train
3. The Storm
4. Beef Or Chicken
5. Back Door Woman
6. Bootycall
7. Bring The Meat Back
8. Follow The Scent Of The Musky Brisket
9. Wors
10. One Of Them Days
11. Paint It Brown
Label: Independent
Web: http://www.juggernaughtmanrock.co.za/
Hardrock Haven rating: 8/10