by Cameron Edney
– Guest Columnist —
Gallows Drummer Lee Barratt Talks On Tour Craziness, Recording and Soundwave Festivals
Since forming in 2005 British Punk Rockers Gallows have certainly had their share of highs and lows, from being dropped from record labels and member changes to headlining sell-out tours around the world and being featured in some of the world's most prestige rock music magazines. Last year fans were unsure of the bands future when long-time vocalist Frank Carter announced he was departing to form a new band. Within a few weeks the band had announced that Ex-Alexisonfire guitarist Wade MacNeil would be stepping in as the bands new front-man and by September 2012 Gallows released their third and finest album yet. Simply titled Gallows the album is Wade's first with the band and features thirty two minutes of pure aggressive punk rock music! Fans and critics alike praised the album and hardcore fans welcomed Wade into the Gallows family with open arms.
Next month Gallows will be returning to Australia to take part in the Soundwave Festivals alongside The Offspring, Billy Talent, Slayer and Vision of Disorder. Having played on the Soundwave Festival stage before Gallows will certainly put on one hell of a show you won't want to miss! I had the pleasure of catching up with Gallows drummer Lee Barratt recently to discuss the bands return to Australia, playing the Soundwave Festivals, the latest self-titled album and much more. Here is what Lee had to say…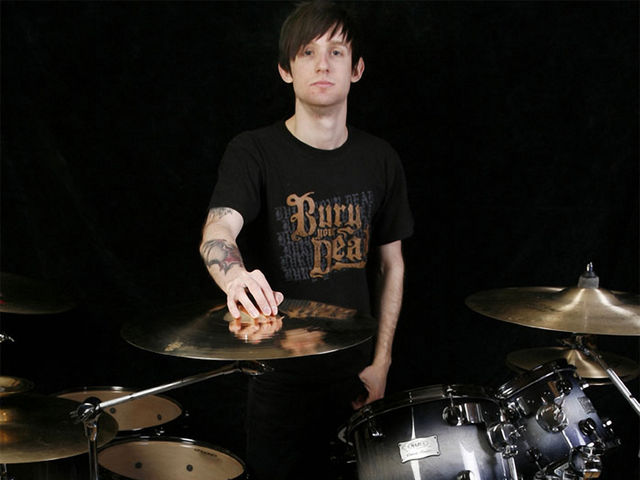 Hardrock Haven: Lee, thanks for your time today and congratulations on the most recent album, I am a huge fan of this one! Obviously the main difference between this and previous albums is the addition to Wade on vocals, that aside what else was different about putting this album together compared to previous releases?
Lee Barratt: There is definitely a logistics problem which was something we'd never had to deal with before. Stu our bass player and I were living in California, Wade was obviously in Canada and Lags and Steph were back in London; so we definitely had more email communications going on this time with everyone sending tracks over that they'd recorded in their home studio. We'd never had that before, I think this time it helped a lot more with the recording process cause when we actually got into the studio we had two weeks to put the album together, and a lot of the songs were already there, we just had to change small sections structurally and added some different vocal parts. That was the main difference this time apart from Wade being around as you mentioned. He was in the studio everyday and it was great to have a singer who would come in everyday and contribute, Frank [Carter] sometimes wouldn't even come to the writing sessions; it was nice to have the whole band there and everyone putting their ideas into the tracks. It felt more relaxed and more like a band than it ever used to!
Hardrock Haven: No doubt as artists you release music that you love to do and once it's out there you hope the fans will dig it to, but I wanted to know in those weeks leading up to releasing something new what runs through your mind… will it be loved, hated how many will actually buy it or just download it etc. How do you deal with all the anxieties and emotions that come with the lead up to releasing new material?
Lee Barratt: Before… we'd never really thought about it, obviously the first one came out on a small label and we were an unknown band. If we had sold one hundred copies we would have been happy but with 'Grey Britain', obviously that was on a major label and there were expectations, and we knew we weren't going to meet those expectations in terms of sales after the record deal they'd given us. With this one there was a big point to prove for the band we were very anxious to get it out and hear what people think. The reaction has been great from everyone that's listened to it.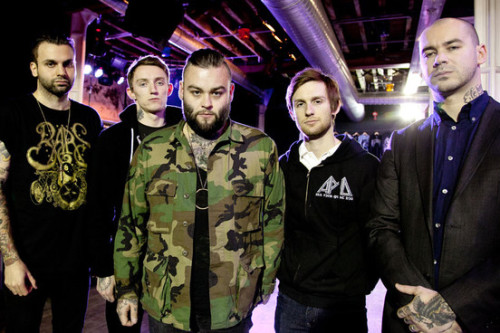 Hardrock Haven: You are back in Australia next month as part of the Sold-out Soundwave Festival bill and no doubt there will be plenty of new songs in the set. What else can the Aussie fans expect when you hit the stage this time around?
Lee Barratt: Like you said there will be a lot more new material in the set and we're going to phase out a lot of the older tracks, not because we dislike them but it is a new era for the band and I think people as much as they love the old stuff they're going to love the new stuff just as much, and it is more exciting for us to play it. In terms of the live show it hasn't changed too much; anybody that has seen us over the summer in Europe will be able to testify to that it's still the same band just with a different singer. Wade's doing his own thing up there and he's totally killing it and nailing it every night! We're not going to have a big production, we never have, we may have some fancy lights for a couple of songs [laughs], punk rock, sweat, blood and people having a good time is really where the Gallows show is at!
Hardrock Haven: You've played in Australia on a few occasions now I caught you a few years back at another Soundwave Festival you played on and that show was insane! What fond memories do you have from previous Australian visits?
Lee Barratt: It's such a good place to come and play. Obviously for us it's so far away so we don't get to do it very often, so coming over there we like to make the most of it. The last time we played Soundwave was probably the best time we've ever had on a tour and not just because it was a great line-up but the fact that Australia is such a beautiful place; the people are so friendly and the atmosphere is great! It's just one of those things that unfortunately Australia is so far away, I'm sure if it wasn't we would spend much more time there, I know that on the back of this record we're going to try and come over again after Soundwave cause we want to get out to the places we love playing even more!
Hardrock Haven: You guys have some hardcore fans and as the drummer you certainly have the best seat in the house to witness all the mayhem and chaos that takes place in the audience as well as occasional onstage mishaps and mayhem. What comes to mind as some of the more chaotic moments you've witnessed whilst playing?
Lee Barratt: There's definitely been some self mutilation going on, on the stage that I couldn't believe. Frank had managed to knock himself out a few times onstage, more recently there was a festival we did in the UK and it was a mud-fest basically, and Wade went off-stage for a minute and we were like "where's he gone, is he not coming back"? And he came back covered head to toe in mud. Things like that makes the show more fun and different, there's always something going on onstage or in the crowd. If it isn't us onstage hitting each other onstage then it's the crowd going crazy in the circle pits!
Hardrock Haven: Lee as you said earlier when the band started it wasn't too long before you found yourself headlining tours rather than working up the ladder. Who have you been surprised to learn was a fan of your work?
Lee Barratt: I think Rage against the Machine would be the one that come to mind. They got us for this one show in Italy; it was like a big festival, a few years ago. I think they had been keeping tabs on us… Tom Morello had come to see us play at South by Southwest a couple of years ago and then they got us to play that show. Then when they did the X-Factor show over here and got there Christmas number one for 'Killing in the Name Of…' they did a big celebration gig in Finsbury Park in London, and they asked us to play that as well. That was a massive show; I think that was one of the biggest things this band has ever achieved! To be playing with probably one of the biggest bands in the world and have their seal of approval I think, for me anyway it's a big honor.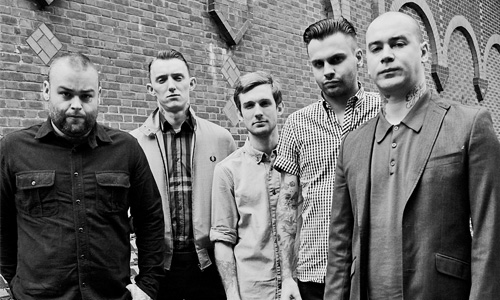 Hardrock Haven: Lee, as time goes on there's no doubt that you learn more and more about this industry whether in the studio, on the road or the all important business side of things. To date what do you feel has been the most important lesson you've learned?
Lee Barratt: I think it's about taking control, which is the most important lesson. In the past we had other people dictate what we should be doing and the best decisions for us and ultimately the band knows what the best decision for us is. More recently we've gone back to how we were when we started the band in terms of making decisions and taking control for what is best for Gallows in the long run. Obviously we're not going to turn down big tours like Soundwave and whoever we may be touring with but the money side and the music business now is hard work for any touring band unless you're Coldplay selling millions of records. You have to be more careful with the decisions you make and I think we've gotten better at that recently and that's the best advice I would give to any band starting up. Take control and do as much of your own stuff as you can!
Hardrock Haven: That is very good advice mate, well Lee unfortunately we're out of time so I want to thank you again for your time and can't wait to see you guys rockin out at Soundwave! Do you have any last words for our readers?
Lee Barratt: Thanks so much for the interview, we can't wait to get back to Australia and play for you all!