by Jonna Ambur
– Photojournalist —
DECEMBER 28, 2012, MOHEGAN SUN/WOLF DEN, UNCASVILLE, CT —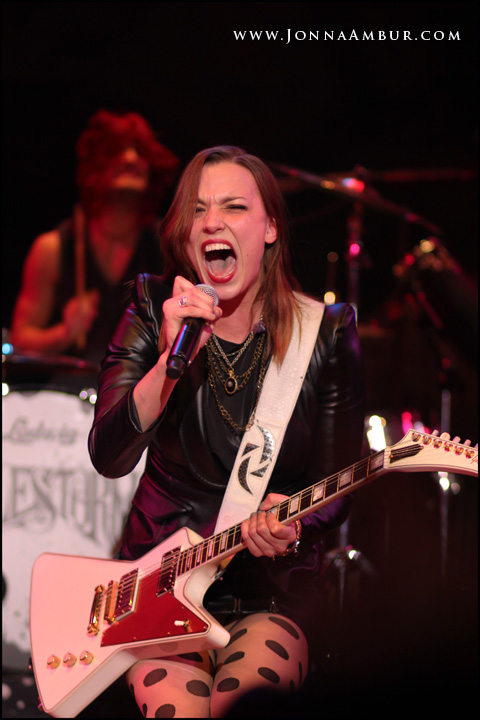 The Wolf Den is the venue inside the Mohegan Sun Casino. It's general admission to a free show, but the club only holds about 300 people. That didn't stop thousands from standing in line for hours in the hopes of catching Halestorm on a Friday night.
Halestorm —a 2013 Grammy nominee for best hard rock/metal performance— took the stage at 8pm to the throng of committed fans in attendance. Arejay Hale was the first on stage sporting a killer skull mask and took his place behind the drums. Following right behind him were guitarist Joe Hottinger, bassist Josh Smith, and the amazing Lzzy Hale on lead vocals and second guitar.
Many people aren't aware that Halestorm now have five recordings under their belt. Their first album was an EP called One and Done. In 2009, they released their hit self-titled album, Halestorm to rave reviews. Following was the CD/DVD, Live in Philly 2010 and ReAnimate, an EP of covers. In April 2012, they released their current hit album, The Strange Case of ….
The first notes of "Mz. Hyde" rang through the room, and all eyes were on the stage, hands were in the air and cheers filled the room. Known for their near non-stop touring schedule, you could tell that the stage is their home away from home. Halestorm love their fans, enjoy interacting with them and—because it was a smaller venue—they took the time to make everyone feel like they were part of their musical family.
They performed songs including "Love Bites," "Rock Show," "You Call Me a Bitch Like It's a Bad Thing," "It's Not You," and "I Get Off," they played for more than an hour and nobody was willing to give up their spot to anyone still waiting to get in the venue.
Ending their set with "Here's to Us" and "I Miss the Misery," Halestorm exited to deafening cheers and screams of approval. It was a show that will keep everyone watching the web for Halestorm's next return to Connecticut.
Halestorm Concert Photo Gallery