M-16 | Locked and Re-Loaded
by Justin Gaines
– News Editor / Senior Columnist —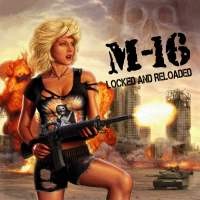 Originally released in 1988, Locked and Loaded was the debut album from New York hard rock/heavy metal band M-16. The band, which was active in the area's scene for most of that decade, had a sound that recalls Dokken, Leatherwolf and White Sister – a killer mix of hard hitting heavy metal and polished melodic rock. In 1988 you wouldn't have thought twice about calling them a metal band (especially with their signature gun toting grim reaper logo), but between the keyboards and focus on melody, M-16 is just as likely to appeal to AOR/melodic rock fans.
Locked and Loaded opens with the album's strongest song, "Much Too Young For Me," which despite being the best jailbait anthem this side of Winger's "Seventeen," is the best song Dokken never recorded. The dramatic guitar work, ethereal vocals (Lenny Thomas hit some great high notes) and painfully earnest lyrical content are recurring themes, and they keep reminding you of what was so much fun about that era's hard rock sound. You have these totally crunching metal riffs and blazing solos, but it's on a song asking "R.U. Hot Tonight." "Shot Down" and the single "Waysted Love" also show off the band's metal chops, while songs like "Guilty of Innocence" and "Tonite (It's You)" have a total Autograph/Black n' Blue feel. Hearing M-16, even if it's for the first time with this reissue, is like a time capsule that instantly takes you back 25 years. Locked and Loaded has that classic metal vibe and then some.
Heaven & Hell's new M-16 reissue, titled Locked and Re-Loaded, marks the first time Locked and Loaded has appeared on CD (legitimately at least, as bootlegs have circulated in the past). The reissue not only puts this long out of print album back in fans' hands, it gives it a nice upgrade. The album has been newly remastered by Jamie King (who remastered Heaven & Hell's Blacksmith and Overlorde SR reissues, among many others). The improvement in sound quality is quite noticeable. Locked and Re-Loaded also features two previously unreleased demos from 1989 – "The Game" and "Play It Loud" – that give fans a glimpse at what a second M-16 album might have sounded like. Factor in a nice booklet with a band history and some vintage photos and you have a very nice reissue overall.
If you're a serious collector of cult hard rock and heavy metal from the '80s, Locked and Re-Loaded should go straight to the top of your buy list. Fans of classic '80s bands on the edge between hard rock and metal in general should check out M-16, and this deluxe reissue is the perfect way to do that.
Genre: Heavy Metal, Melodic Rock
Band:
Glen Oliver (g)
Pete Sivaslian (d)
Steve Vandyke (b)
Lenny Thomas (v) (k)
Kevin Egnor (g)
Track Listing:
1. Much To Young For Me
2. Tonite (It's You)
3. Dreamgirl
4. RU Hot Tonight
5. Shot Down
6. Guilty of Innocence
7. Waysted Love
8. Why
9. The Game ('89 demo)
10. Play It Loud ('89 demo)
Label: Heaven & Hell Records
Website: www.m16rocks.com
Hardrock Haven rating: 8.75/10