by Derric Miller
– Managing Editor —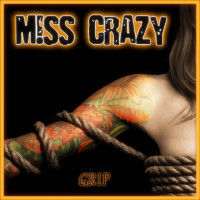 The single greatest chorus in 2012 was written and released at the end of the year, and it's from Miss Crazy's song "Hail Bruce Lee." Even the line before the chorus, "No one tells me what to do — not even me!" is addictive in its testosterone-laden bravado, but when you hear "Don't wanna fuck with me, don't wanna take me on, I'm fucking Bruce Lee … enter the dragon!" you'll be suddenly thinking joining the UFC isn't such a bad idea. It's … awesome.
It's been a few years since the quasi-kabuki makeup-wearing band has released new music, so they may have fallen out of the attention of Hard Rock fans. Well, start paying attention again, because their new release Grip is one raging, pissed off slab of melodic and metallic music.
The songs are short and blunt — most of them are between two to three minutes. This means Miss Crazy doesn't wait to get to the point; every song IS the point. The opener, "Make It Go Away," has a bit of an old school Def Leppard vibe but with Marcus Allen Christopher's vocal-chord shredding type of singing, akin to Tom Kiefer from Cinderella. You can feel the Viagra pulse throughout each note; you will never be able to accuse Miss Crazy of having Low T.
"Nothing Suits Me" is even more manic, this throbbing, razor-riffed composition that screams anger and angst and just being unsatisfied with … everything in the universe. This is one of the heaviest tracks Miss Crazy has ever released, and it's not even close.
They get back to their more melodic roots on "True Blood," a bass-driven rocker that is more Arena Rock than screeching Metal from the first two tracks. If you are an Adam Sandler fan, then when Christopher sings "The night time is the right time," it'll add an extra punch or 12 as well.
The aforementioned "Hail Bruce Lee" is the highlight of the album. It's groovy, bluesy, beginning with a foreboding slower pace that crescendos from verse to bridge to chorus, and just drips with musical venom. It's also one of the more complex songs on the release, with tempo changes and a chorus that sprays napalm. If you just need to hear one song to know what Miss Crazy is all about today, buy this track.
As stated, past releases from the band were not this heavy, and "All About You" has that more candy-coated composition that could have fit on II or their debut. Christopher takes the edge out of his voice and sings cleaner during the verses, albeit he still sounds sleazy … in a good way. The grit is back on the chorus, and the poppy guitar chorus and simple, heartfelt message of "If I make a decision, know that it's all about you," puts this in a close second behind "Hail Bruce Lee."
The rest of the album, "Knowing Me," "Straight Till the End," and "Fear" continue on the trend of massively heavy. The searing guitar solo on "Fear" emits that obsessive anger, and it's one of the best solos the band has ever recorded. Everything just works, even the title "Grip," which could be a metaphor for breaking away from what has us in its grip and is holding us back.
Grip isn't just Miss Crazy saying "we are back" or "we never left." Grip is Miss Crazy releasing some of the best music they've recorded, and stepping it up from both a talent perspective and overall attitude. It's just really damn good.
Genre: Hard, Sleaze Rock
Band:
Marcus Allen Christopher — lead vocals, guitars
Chris Jordan — drums
Craig Launer — guitars
Chris Stringari — bass
Track listing:
1. Make It Go Away
2. Nothing Suits Me
3. True Blood
4. Higher
5. Hail Bruce Lee
6. All About You
7. Knowing Me
8. Straight Till The End
9. Fear
Hardrock Haven rating: 8.8/10