by Joe Mis
– Senior Columnist —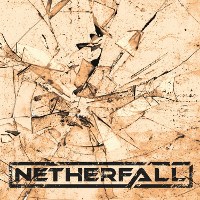 Italy's Netherfall has recently released a self-titled debut album. This Milan-based four piece metal act for some odd reason the band is labeled as "alternative metal," but they are far from it, tending to sound more like straight up hard rock or conventional metal. Whatever one decides to call it, it is awesome!
Netherfall is a six year old act built around three strong Italian musicians and fronted by an American vocalist. Mario Ortiz is a solid vocalist with a voice reminiscent of Shark Island's Richard Black – a bit gritty and slightly limited in range, but always crisp, clear, and expressive. Guitars are provided by Roberto Bottillo, and he can do it all. Bottillo is a very good rhythm player and a fine soloist with a deft touch and good sense of musicality. Bassist Angelo Bufano and drummer Tony Balsamo are a clockwork rhythm section – stepping forward when needed and fading back when appropriate – never dominating but always key to the sound.
The album kicks off with the powerful hard rocking "Break Out," a guitar-driven track rich with slick harmonics and gritty rhythms, and features great vocals along with a very hooky rhythm line. "The Secret" has a more commercial tone to it thanks to the keyboard bells and whistles, but again is kept fully in the metal realm by an intense bass line and a great guitar solo. "Memories" is a bluesy ballad with powerful vocals that are perfectly complemented by bass and drums – and an amazing guitar break – a true old-school power ballad. The band cranks it up again with the darker "Turned To Stone," another track with flowing vocals, big hooks, and driving bass.
"Nonsense Game" is a truly gritty guitar track, while "30 Seconds" has a more progressive feel thanks to varied tempos and a huge sweeping chorus and slick drum work. Bass, drums, guitars and vocals build throughout the track, leading to an awesome break. "Unsaid" brings in more electronica and a bouncing bass line that manage to highlight the vocals, while leaving plenty of room for guitar heroics. "Change" has an almost 80's "Dokken-esque" blues / rock feel to the opening riffs, and features the band at it best overall – layered vocals, catchy hooks and solos, driving bass, and explosive drums.
Netherfall is nicely recorded and well engineered. The arrangements are simple and clear, showcasing the band's good sense of melody and highlighting their veteran teamwork. Their songwriting skills are excellent – they keep things basic and melodic, resulting in a fresh, modern sounding album with many old 80's and 90's overtones. Their music is accessible and radio-friendly – all the makings of a winner.
Almost any hard rock fan will feel right at home with Netherfall's self-titled debut, particularly fans of the 80's and 90's metal scene. Netherfall has released a solid debut that should be on every rocker's playlist, and proves to the world that a band doesn't need any high concepts or political statements to produce a great album. All you need is the desire and passion to make good music, and that desire is evident throughout what is a very solid debut release. Netherfall has huge potential, and after the album ends almost every listener will be wanting more.
Genre: Modern Melodic Metal
Band:
Mario Ortiz (vocals)
Tony Balsamo (drums)
Roberto Bottillo (guitars)
Angelo Bufano (bass)
Track Listing:
1. Break Out
2. The Secret
3. Memories
4. Turned To Stone
5. Nonsense Game
6. 30 Seconds
7. Unsaid
8. Change
Label: Independent
Website: www.netherfall.com
Hardrock Haven rating: 9 / 10