by Deb Rao
– Senior Columnist —
Exclusive Pete Loran of Trixter Discusses Upcoming Vegas Shows with Sin City Sinners
In this exclusive interview for Hardrock Haven, Trixter Frontman Pete Loran discusses his upcoming appearances in Las Vegas with Vegas premiere band The Sin City Sinners on February 8th at Boulder Station and the Hard Rock (Paradise Location) in Las Vegas on February 9th. Pete also discusses in-depth the release of Trixter's album New Audio Machine, his Jersey roots and his Superbowl prediction! Right here at Hardrock Haven. Be sure to get away from the cold and visit Las Vegas for this exciting event with Pete Loran of Trixter and The Sin City Sinners.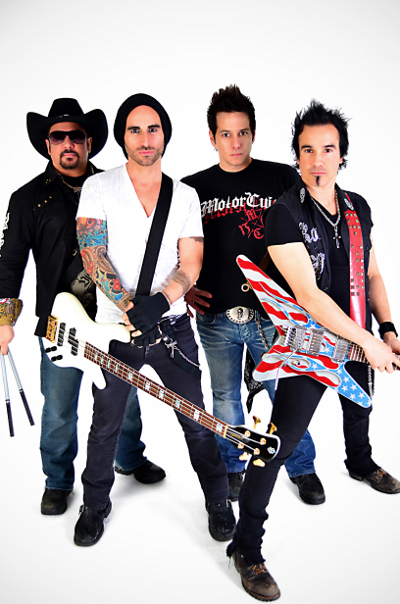 HRH: Pete, Happy New Year. Vegas is gearing up for your special appearances with Las Vegas band The Sin City Sinners on Feb. 8 at Boulder Station and Feb. 9 at the Hardrock in Las Vegas. Vegas is fast becoming the mega music capital for metal. Out beating LA by a landslide. Part of this is due to the fact that Brent Muscat and his band The Sin City Sinners are bringing special guest acts in every weekend to Sin City. The Sin City Sinners are one of the top bands in Vegas comprised of top-notch musicians that are dedicated to their craft. Tell us what the fans can expect to see at your shows in Vegas.
Pete: I remember when they first started the whole concept of the band a while back, they obviously never lost faith in the idea and of course that has paid off for them. Great bunch of guys!
HRH: What is your favorite thing about performing in Vegas?
Pete: For me it's such a nice little get away, I can drive if I want to, so it's not like I'm flying to the North East day of show in the middle of February in a snow storm etc etc…..
plus performing with the Sinners is such a pleasure, it's first class all the way.
HRH: In 2012, Trixter released one of their finest albums to date, New Audio Machine. The band managed to capture all the magic of the early heyday of metal with a New Jersey vibe. What are you most proud of regarding the release of this album?
Pete: Well the thing I'm most proud of is the maturity of the band and being able to showcase that in the present. I personally feel I have become much better at my craft and I'm glad people are able to hear that and not remember me by those records forever ago.
HRH: There are so many great songs in the CD. Including, "Walk With The Stranger." This song was co-written with Skid Row members Snake Sabo and
Rachel Bolan. It really unleashes the roots of your band. Tell us what it was like working with your Jersey peers.
Pete: Thank you, You know we really didn't all sit down and hash this one out. It was written a long long time ago (by Snake and Rachel) and we used to cover it back in the club days in NY and NJ.
We do gig with those guys from time to time and they are always great to hang with.
HRH: The bands from the Jersey shore such as Trixter and Skid Row help mold the metal scene. Are you proud being from Jersey and help inspiring music that has survived the test of time?
Pete: I am proud of the fact that we are mentioned in that scenario for sure…. those were such different times. I remember Steve and I being at the guitar store where Snake and Scotti worked and we were all together talking about gigs we were doing and about hoping to get a record deal in the near future. It happened literally within the next year or less. But we had paid our dues for years prior, those days of chasing a record deal and getting a label that wants to sign you or sink money into developing you if needed is dead and gone. So I feel proud to be a part of that era so to speak.
HRH: Do you have any favorite tracks off of New Audio Machine? Also, how did you come up with the title of the album?
Pete: I do, "Machine," Coolest thing… The name honestly was thrown out at me via email and I gave my thumbs up. ha ha!
HRH: After three decades in the music business, how do you think Trixter has evolved with your latest release New Audio Machine?
Pete: I think we have evolved in the fact that we are better than we used to be, we perform better both on the stage and in the studio. We didn't get worse and we didn't just stay the same.
HRH: Are you looking forward to performing at M3 on May 4th?
Pete: I'm sure it will be a lot of fun, was the last time we did it.
HRH: What's on tap for Trixter in 2013?
Pete: We will be out there doing more shows of course!
HRH: Are you looking forward to the Superbowl? Who is your favorite team to win?
Pete: Football is by far my favorite sport so of course I am. I think on paper the Niners look better, they are a smash you in the mouth type of team. The Ravens are riding on the Ray Lewis last game ever vibe, and he can definitely get you motivated, so there is something to be said about that.
Visit Trixter online:
www.facebook.com/trixterrocks /
www.facebook.com/sincitysinners