Pinnick Gales Pridgen | Pinnick Gales Pridgen
by Sherry Thomas
– Columnist —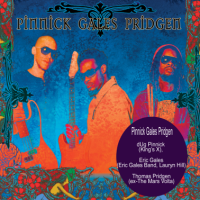 When some people hear the term "supergroup," they assume it's just a group of well-known musicians who are looking to make a quick buck. However, that is not the case with the power trio of dUg Pinnick (King's X), Eric Gales (Eric Gales Band) and Thomas Pridgen (ex-Mars Volta). Their debut album, Pinnick Gales Pridgen, is set for release on Feb. 12 via Magna Carta.
Pinnick Gales Pridgen blends hard rock, blues and progressive soul. This combination makes each of the 13 songs a unique listening experience that will appeal to fans of artists, such as Jimi Hendrix, Stevie Wonder and Living Colour.
The album, produced by Mike Varney, begins with the powerful rocker "Collateral Damage." Next up is "Angels And Aliens," a tune that showcases Eric Gales' superb technical skills. The instrumental "For Jasmine" follows. It is a sweet minute. "Hang On Big Brother" is a track that infuses progressive soul and blues that puts a spotlight on the talent of ambidextrous drummer Thomas Pridgen. The fifth track, "Wishing Well," sounds the closest to King's X and proves that dUg Pinnick is one of the best vocalists in the business. "Hate Crime" is a well-crafted song that has a gritty rock feel.
"Lascivious" is the heaviest offering of Pinnick Gales Pridgen. It pulls you in and keeps you in its spell. "Black Jeans" is a meaty song that clearly shows how cohesive the group is. The threesome next shares one of their influences with their tuned-down version of Cream's "Sunshine Of Your Love," and they deliver it well. "Been So High (The Only Place To Go Is Down)" is a 10-minute blues-soaked opus that makes you feel like you are at a club, listening to a band wail, while drinks are flowing. The 11th song, "Me And You," also is very reminiscent of King's X. The majority of the track is raw, but it ends on tender notes. "The Greatest Love" starts with a catchy groove and has a progressive rock/jazz styling. Finally, "Frightening" properly ends Pinnick Gales Pridgen with a song that has cohesiveness written all over it.
Although 2013 has just begun, it may be difficult to top Pinnick Gales Pridgen. This album is a must for listeners who love King's X and Eric Gales or someone who just loves music period.
Genre: Rock, Progressive Soul, Hard Rock
Band:
dUg Pinnick- Bass, Vocals
Eric Gales- Guitar, Vocals
Thomas Pridgen- Drums
Track Listing:
1. Collateral Damage
2. Angels And Aliens
3. For Jasmine
4. Hang On, Big Brother
5. Wishing Well
6. Hate Crime
7. Lascivious
8. Black Jeans
9. Sunshine Of Your Love
10. Been So High (The Only Place To Go Is Down)
11. Me And You
12. The Greatest Love
13. Frightening
Label: Magna Carta Records
Web: www.magnacarta.net/pinnickgalespridgen
Hardrock Haven rating: 9.5/10