by Justin Gaines
– News Editor / Senior Columnist —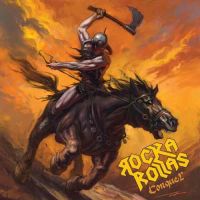 Swedish traditional metal warriors Rocka Rollas returned late last year with a new EP titled Conquer. The 4-song offering is intended as a preview of what's in store on the band's upcoming full-length Metal Strikes Back. If you caught the Rocka Rollas debut The War of Steel Has Begun, you probably already know that what's in store is metal and lots of it.
Rocka Rollas is all about the old school heavy metal sound. Their very name is an obvious nod to Judas Priest, but you can tell Accept, Iron Maiden and Grim Reaper are other influences. You hear it in the rapid-fire riffs, killer solos and pounding rhythms of "Bloodbath" and the title track especially, and the ultra-melodic, ultra cheesy (in the best possible way) "Riding the Metal Storm" sounds like vintage Helloween. The vocals are powerful and dynamic, but not as high-pitched as on the debut, which is a plus. The absolutely blistering 2-minute instrumental "Steelwheeler" closes the EP in style, and when it's done you're absolutely left wanting more.
With just four tracks, it's hard to get too excited about this EP, but Conquer does accomplish what it set out to do – namely, get you interested in Metal Strikes Back. Whether you're a fan of the new wave of traditional metal bands like Air Raid, 3 Inches of Blood and Enforcer or the classic heavy metal bands that inspired those bands in the first place, Rocka Rollas is a band that's well worth hearing, and Conquer is a good snapshot of the band's sound.
Genre: Heavy Metal
Band:
Cederick Forsberg (g) (b) (d) (v)
Joe Liszt (v)
Track Listing:
1. Bloodbath
2. Conquer
3. Living the Metal Storm
4. Steelwheeler
Label: Stormspell
Website: www.myspace.com/rockarollas
Hardrock Haven rating: 8.25/10