Royal Hunt | 20th Anniversary – Special Edition
by Justin Gaines
– News Editor / Senior Columnist —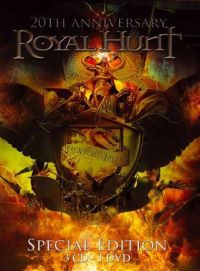 To celebrate their 20th anniversary, Danish melodic progressive metal band Royal Hunt has released a massive 4-disc retrospective titled 20th Anniversary – Special Edition. This set features 34 songs spread across three CDs plus a DVD that includes all of the band's promotional videos. In the band's two decades, they've gone from a relatively straightforward melodic rock/metal band to one of the more interesting progressive metal bands around, all the while maintaining a heavily keyboard oriented sound (thanks to chief songwriter and keyboardist Andre Anderssen). Along the way the band has featured some first rate vocalists in their ranks, including John West (ex-Artension), Mark Boals (ex-Yngwie Malmsteen) and of course DC Cooper (ex-Silent Force).
After last year's very disappointing Heart of the City collection, it's great to see a Royal Hunt retrospective like this one that truly covers the band's long career. The first two CDs in this set cover the band's eleven studio albums (with the occasional live track). They treat each album equally though, which was a failing of Heart of the City as well. For a number of Royal Hunt fans, the two original albums with DC Cooper on vocals – 1995's Moving Target and 1997's Paradox – are the band's best albums, so it would have been nice to see them represented more heavily than some of the band's more recent output. Still, there are some gems from the John West and Mark Boals albums, and this set does a good job capturing them. It's good to hear all of these songs, especially the early Henrik Brockmann tracks, cleaned up sonically for this set. The first 4-5 Royal Hunt albums are overdue for a good remastering.
20th Anniversary – Special Edition's third CD is what most long time Royal Hunt fans are going to be interested in, since it features all of the new material. The disc leads off with "Save Me," a new studio song featuring DC Cooper. Even as keyboard drenched as it is, it's got a great bluesy guitar sound and of course DC Cooper shines. There are also three new acoustic recordings of older Royal Hunt songs – "One By One," "Bodyguard" and "Restless" – that are really fun additions. The disc closes out with five b-sides/rarities that were originally only available on imports and rare EPs, which is something collectors will no doubt appreciate.
All told, 20th Anniversary – Special Edition is a pretty terrific Royal Hunt anthology. It's got enough goodies to make it a worthwhile purchase for die-hard Royal Hunt fans, and is comprehensive enough to make a great introduction to the band for newcomers.
NOTE – This review is based on the digital version of 20th Anniversary – Special Edition, so it does not cover the quality of the DVD. It's probably fine, but then again we saw what happened with the shoddy audio and video on the Future's Coming From the Past DVD. Hopefully steps were taken to clean up the video footage.
Genre: Melodic Metal, Progressive Metal Metal
Track Listing:
1. Flight
2. Kingdom Dark
3. Stranded
4. Clown in the Mirror
5. Wasted Time
6. Epilogue
7. Time
8. Far Away
9. 1348
10. River of Pain
11. Tearing Down the World
12. Cold City Lights
13. Message to God
14. Follow Me
15. Surrender
16. The Mission
17. Can't Let Go
18. Paper Blood
19. Season's Change
20. The First Rock
21. Tears of the Sun
22. The Well
23. Shadowman
24. Hard Rain's Coming
25. Half Past Loneliness
26. Save Me (new song)
27. One by One (acoustic, new recording)
28. Bodyguard (acoustic, new recording)
29. Restless (acoustic, new recording)
30. Bad Luck
31. Double Conversion
32. U-Turn
33. Sixth Sense
34. Day is Dawning
Label: Frontiers Records
Website: www.royalhunt.com
Hardrock Haven rating: 8.5/10