by Sherry Thomas
– Columnist —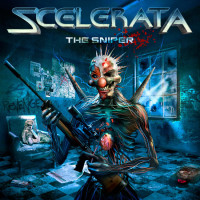 Scelerata is a Heavy Metal band that formed in Brazil more than 10 years ago. The band had a great history, including many shows, major tours and two albums released worldwide. However, the band is a relative newcomer to the North American Heavy Metal scene. The Sniper is the quintet's third full-length album with new vocalist Fabio Juan, along with the blazing guitar duo of Magnus Wichmann and Renato Osorio, bassist Gustavo Strapazon and drummer Francis Cassol.
The Sniper was produced by Charlie Bauerfeind (Helloween, Motörhead, Halford) and the band's guitarist Renato Osorio and was recorded at Twilight Hall Studio in Germany, which is owned by Blind Guardian. The Sniper was released in June 2012 to the Asian market, arrived in Brazil in July 2012 and Nov. 16, 2012, to the rest of us via Nightmare Records. Scelerata delivers a heavier and more aggressive sound, mixed with the prog and melodic elements they are known for and are found in the band's previous albums Darkness & Light and Skeletons Domination. The 11-track album is more mature, with lyrics that address a sad issue most countries have to deal with: Corruption in politics. The album also features better production and musicianship.
To top it all off, The Sniper features Andi Deris (Helloween) and Paul Di'Anno (Iron Maiden) as special-guest vocalists and co-writers on several tracks. In late 2008, Scelerata was chosen by Di'Anno to be his backing band during his Brazilian tours in 2009 and 2010.
"Rising Sun" and "In My Blood" lead off Scelerata's metal assault, featuring Di'Anno as guest vocalist on both tracks. The Sniper continues to showcase the band's progressive edge and the huge new vocal talent found in Fabio Juan with the powerful "Road Of Death" and "Breaking The Chains," a song that pays a glimmer of familiarity in the beginning and ending with the Dokken tune of the same name. "Unmasking Lies" features the amazing technical workings of Wichmann and Osorio. "Must Be Dreaming" (featuring Andi Deris) follows, and it shows off the band's progressive edge. "Drowned in Madness," "Welcome Home," "Til The Day We Die," "Money Painted Red" continue Scelerata's power metal fury. The final song on The Sniper is the title track, a nine-minute opus that keeps you wanting more.
It is safe to say that Scelerata will be turning heads in 2013 and beyond if the band keeps the momentum going. If you are a fan of Edguy or Angra, The Sniper is an absolute must.
Genre: Heavy Metal
Band:
Fabio Juan – Vocals
Magnus Wichmann – Guitars
Renato Osorio – Guitars
Gustavo Strapazon – Bass
Francis Cassol – Drums
Track Listing:
1. Rising Sun (featuring Paul Di'Anno)
2. In My Blood (featuring Paul Di'Anno)
3. Road Of Death
4. Breaking The Chains
5. Unmasking Lies
6. Must Be Dreaming (featuring Andi Deris)
7. Drowned in Madness
8. Welcome Home
9. 'Til The Day We Die
10. Money Painted Red
11. The Sniper
Label: Nightmare Records
Web: www.scelerata.com / www.facebook.com/ScelerataOfficial / www.twitter.com/scelerata
Video:
"Rising Sun"
Hardrock Haven rating: 9/10