Sean Long of While She Sleeps
by Cameron Edney
– Guest Columnist —
The Plague of a New Age: While She Sleeps guitarist Sean Long Talks Soundwave, 'This is the Six' and Awards!
Having formed in Sheffield in 2006 while she sleeps quickly gained a large following and by 2010 the band were playing UK's Sonisphere Festival and signed an album deal in the USA. That same year the band recorded their EP The North Stands for Nothing and began to build a fan-base around the world. By late 2011 the band were headlining shows in the UK and Europe and had started to create interest among Australian Hardcore fans. Over the past twelve months While She Sleeps has cemented themselves as a touring machine, playing a number of European festivals, UK's Download Festival and their first ever Australia tour as a direct support to House Vs' Hurricane.
The band also worked hard in the studio putting together an intense, powerful and impressive debut album This is the Six which was released in August. Featuring twelve blistering tracks, the band received worldwide praise from critics and fans and featured a guest spot from Comeback Kid vocalist Andrew Neufeld. The band also went on to with Kerrang Magazines Best Brit Newcomer award and Metal Hammer's Breakthrough Artist awards.
Australian hardcore fans are about to get their second taste of brutality when While She Sleeps returns to our shores next month taking part in the Soundwave Festivals which also includes Anthrax, Gallows, Blink 182 and Sick of it All to name a few. I had the pleasure of recently catching up with guitarist Sean Long to talk about the bands return to Australia for the Soundwave Festival appearances, their killer new album This is the Six and having Slipknot's Corey Taylor present them with Kerrang's "Best Brit Newcomer" award. Here is what Sean had to say…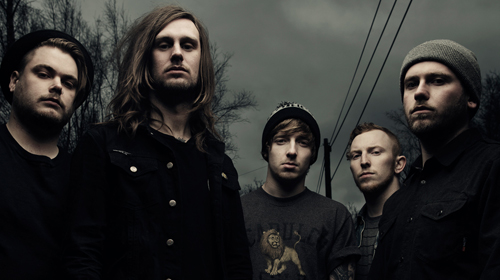 Hardrock Haven: Sean, it's great to be chatting with you mate, i wanted to talk first about the upcoming Soundwave Festivals! The line-up has the who's who of Punk and Metal on this year's bill, no doubt some bands you've been influenced by at some point! Who are you looking forward to checking out the most on the bill?
Sean Long: I want to say Linkin Park, they're so good, I've never seen them and I think they're amazing. Blink 182 is amazing too; I can't wait to see them again!
Hardrock Haven: You were in Australia last year for a tour with House Vs' Hurricane, how did you find the Aussie response to While She Sleeps?
Sean Long: Oh, it was cool man; it was amazing. We didn't think that we'd have any fans there, but we did at most of the shows. We had some really good shows over there, it was cool!
Hardrock Haven: You were fortunate to see more of the countryside more than what most artists see when touring here, what did you get up to in the downtime?
Sean Long: We got smashed [laughs]! One of the days off we went go carting with everyone, which was cool. On some of the long drives, we would just pull over and chill out a bit.
Hardrock Haven: For music lovers who missed your last tour, what can be expected when you take to the stage at Soundwave in February?
Sean Long: A bigger and better set!
Hardrock Haven: Sean since we are talking about touring… what is the best advice you've got from your peers whilst on the road?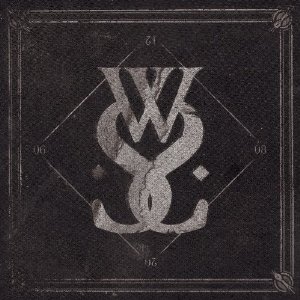 Sean Long: I don't know about advice… we've met a lot of good people along the way that's made me want to stay in a band a lot longer [laughs].
Hardrock Haven: [Laughs] At times it can become quite frustrating sharing a bus/hotel room for weeks, sometimes moths at a time with other members and crew. As times gone on how have you found is the best way to deal with each other on the road especially when it comes to those harder / not so pleasant times?
Sean Long: Every now and then, we will have a fight and a bicker; we are pretty bad for that. We know when we will have a little argument, give it a couple of hours then we're all alright, it's bound to happen isn't it? When you're spending that amount of time with five other guys…
Hardrock Haven: Mate, moving away from touring i wanted to also talk about the most recent album 'This Is the Six'. That is some seriously kick ass music! You guys must have been really happy with the outcome?
Sean Long: Yeah, thank you man, we surprised ourselves [laughs].
Hardrock Haven: Now that the album has been released and you've had time to digest it, looking back over the writing and recording process is there anything you wish you'd done differently?
Sean Long: Not at all, not one bit… we hadn't finished everything before we got into the studio, some of the stuff was written there and then. It came out fresh under the pressure and that bought out some of the best tracks on the album, I wouldn't have changed any of it! When you're under pressure you'll know then and there if it's any good cause you have to have it right, right there.
Hardrock Haven: How much time did you end up spending in the studio?
Sean Long: I think about two and half months… but we'd been working on the album for about a year before that; we're always writing in general!
Hardrock Haven: Andrew from Comeback Kid has a guest spot on the album how did he become involved?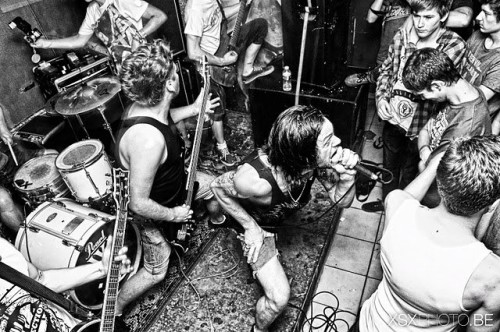 Sean Long: Our booking agent back here knows him, and through her we got to know Andrew. We're all big fans of his band and his voice so we thought fuck it, should we just ask him; see if he wants to do it? and he agreed!
Hardrock Haven: That's pretty cool man! This is the Six has twelve tracks, tell us about the song-writing aspects for the album… where did you draw inspiration from?
Sean Long: I don't know… I don't get inspiration from one certain thing. I think it comes collectively from things I listen to throughout the year, and then subconsciously the inspiration will come through what we've been doing and what we listen to. We just write stuff that sounds good and makes us feel good!
Hardrock Haven: Sean it's safe to say that most musicians walk away from working on an album session having learned something new, or adapting something new to their style or outlook musically. What did you walk away from these sessions having adapted?
Sean Long: We [still] don't really know our own sound, but I guess we've worked out a little bit of that doing this album! If it sounds good we're gonna use it regardless if it's going to be put into any sub-genre. We didn't… think this one's a bit too light or this one's a little too Nu-Metal; we just used it when it sounded good. I think that's going to be our way of thinking from now on! A lot of bands just class themselves as a straight up Hardcore bands which is fine but then you restrict yourself from being able to do anything outside of that box. We just don't want to put ourselves into any boxes; we just want to be able to do anything and people to like it if it's good music.
Hardrock Haven: Mate, we've hit the part of the interview where our readers find out more about the real you, growing up and the band… what was the first concert you ever attended?
Sean Long: My first show was Blink 182, so to now share the stage with them is incredible!
Hardrock Haven: Did you always envision yourself as someone that would be playing in a band, touring the world and recording albums or growing up were your goals different?
Sean Long: We've been in the band for so long that this is just what we do, but I guess we never actually thought that it would work out, we're so happy with it!
Hardrock Haven: Last year Corey Taylor presented While She Sleeps with Kerrang Magazine's award for the "Best Brit Newcomer". Take us back to that night what went through your minds when you won?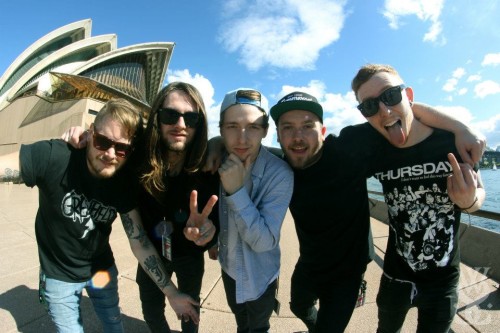 Sean Long: I can't even explain it! It was one of the best nights that I've ever had in my life. We didn't even think that we were going to win it. We had heard off someone else that another band had won it, so we walked into the awards pretty bummed out. When Corey Taylor [Slipknot/Stone Sour] announced us as the winners we went insane, it was a really good night!
Hardrock Haven: Sean, let's go right back to when the band first formed… the dream of recording an album, getting on a great tour, getting billed for festivals etc. When you look back on the early formation of the band what comes to mind?
Sean Long: It's so hard to think about it, being in it! To be honest it doesn't even seem like it was that long ago; it feels like it was two minutes ago! It's all been one fun experience!
Hardrock Haven: The band formed in 2006 and in that time you've been able to achieve many great things, what do you feel have been your finest achievements to date?
Sean Long: My finest achievement is this album; we have surprised ourselves so much. We haven't stopped listening to it since we got the mix back. I've been listening to it again today, I am so proud of it!
Hardrock Haven: And you should be mate it rocks! Sean as we wrap it up i thank you again for your time mate and look forward to seeing you at the Soundwave Festival's next month! Do you have any last words for our readers?
Sean Long: Yeah can't wait to play for you all, go and buy This is the Six you'll love it!