Stray Cats | Live At Montreux 1981
by John Kindred
– Publisher —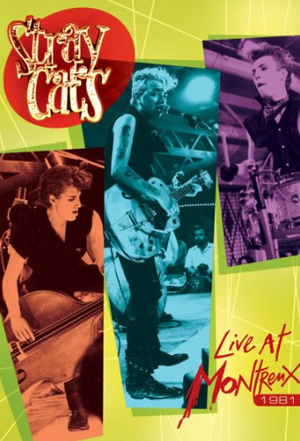 As Eagle Rock Entertainment wrapped up 2012 and moves forward into 2013, it continues to drop classic concerts on DVD and Blu-ray. This time around, the nostalgic Stray Cats get some time in the spotlight with the release of Live At Montreux 1981. Guitarist and vocalist Brian Setzer, drummer Slim Jim Phantom and bassist Lee Rocker find themselves on stage, performing much of their debut album to a packed house of Swiss fans.
Formed in 1980, the band relocated from New York to London in that same year. With a sound that recalled the music of the '50s and '60s, the Stray Cats went up against the angst of punk and corporate rock and created their own niche in the music business. Over the course of their career, they have released 10 albums since their debut Stray Cats hit the shelves in 1981.
Live at Montreux 1981 has been restored in DTS Surround Sound and Dolby Digital Stereo. The DVD features 15 songs, with a majority of music coming from their debut album, including "Rock This Town" and "Stray Cat Strut." The other tracks are B-sides and EP tracks. The set comprises their own compositions and vintage rockabilly classics from 1956 to '61, including songs originally done by Gene Vincent, Warren Smith and Johnny Burnette's Rock 'n' Roll Trio.
Live at Montreux 1981 showcases the Stray Cats in their prime. Young and hungry, their minimalistic stage show put the performers up front and at the edge of the stage, almost making themselves part of the audience. While Lee Rocker hammered away on his stand-up bass, Setzer crooned and spewed forth riffs and solos from days gone, by while Slim Jim Phantom pounded out the beat and provided vocal support.
Live at Montreux 1981 gives fans a nice visual and audio time capsule to visit and enjoy. For music history, it highlights the industry in a continued transition, as bands tried to escape the trends of the time.
Genre: Rockabilly
Band:
Brian Setzer – guitar, vocals
Slim Jim Phantom – drummer
Lee Rocker – bassist
Track Listing:
01. Sweet Love On My Mind
02. Double Talking Baby
03. Rumble In Brighton
04. My One Desire
05. Ubangi Stomp
06. Drink That Bottle Down
07. Storm The Embassy
08. Stray Cut Strut
09. Fishnet Stockings
10. Important Words
11. Rock This Town
12. Runaway Boys
13. Be Bop A Lula
14. Somethin' Else
15. Pretty Pretty Baby
Label: Eagle Rock Entertainment ltd.
Hardrock Haven rating: n/a