Tellus Requiem | Invictus (The 11th Hour)
by Sherry Thomas
– Columnist —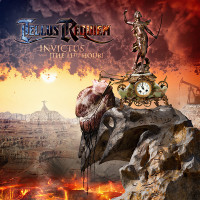 Tellus Requiem is the name of an upcoming band in Progressive music. The Norwegian band was formed in 2007 by guitarist Stig Nergård. In 2010, Tellus Requiem released their self-titled album digitally. This caught the attention of many and procured them a supporting act slot for the likes of Pagan's Mind, Edenbridge and several others. The band has undergone some personnel changes since its inception, but the current lineup is the most ambitious and musically diverse. Tellus Requiem is comprised of Ben Rodgers (vocals), Vidar Lehmann (drums), Stig Nergård (guitars), Ivar Hagen Bøe (bass) and Anders Sundbø (keyboards).
Invictus (The 11th Hour), released by Nightmare Records, can easily be described as the love-child of Symphony X and Richard Wagner. The main theme of Invictus (The 11th Hour) touches upon worlds shattering to pieces, either personally or globally. The band's biography states Tellus Requiem means the earth's death mass. Tellus meaning Latin for Earth and Requiem being the final piece of a composer writes before they pass away. The 10 tracks are mainly Progressive Metal with hints of classical, film and Eastern Folk music. Invictus (The 11th Hour) was mixed and mastered by Tommy Hansen (TNT, Helloween) and features cover art from Thomas Ewerhard (Tango Down, Circle II Circle).
Tellus Requiem takes the listener on a musical journey from start to finish with their unique style that takes Progressive Metal to a new level. The first track, "Ab Aeterno," is the shortest in length on the album, but it's also one of the strongest. The instrumental leads into the vocally powerful "Red Horizon" and "Eden Burns." Up next is the eight minute epic "Reflections Remain." The song combines everything from a classical piano introduction to dark lyrics that foreshadow the ending.
"Twilight Hour" and "Sands Of Gold" follow suit with melodic vocals, hard driving guitars by way of Nergård and the intricate keyboard playing from Sundbø. The seventh track, "Tranquility" is a beautiful masterpiece and showcases the band's fluidity. Next up is "Redemption" which has a bit of jazz influence before it assaults you with powerful guitar riffs and solid rhythm work via Lehmann and Bøe. "Invictus" starts out with a drawn out melody, but finds its way back to becoming an epic song at the two minute mark. Finally, "Dies Irae" ties everything up into a piece that is dark, melodic and somber in a way. It captures the meaning of the album without stuffing it down your throat.
All in all, Invictus (The 11th Hour) is well worth your time if you enjoy the likes of Dream Theater and Symphony X. Tellus Requiem adds their own spin, which will provide them the opportunity to gain respect among progressive metal fans and community.
Genre: Progressive Metal
Band:
Ben Rodgers – Vocals
Vidar Lehmann – Drums
Stig Nergård – Guitars
Ivar Hagen Bøe – Bass
Anders Sundbø – Keyboards
Track Listing:
1. Ab Aeterno
2. Red Horizon
3. Eden Burns
4. Reflections Remain
5. Twilight Hour
6. Sands Of Gold
7. Tranquility
8. Redemption
9. Invictus
10. Dies Irae
Label: Nightmare Records
Web: http://www.tellusrequiem.com
Hardrock Haven Rating: 8.5/10