The Loyalties | 'Til the Death of Rock & Roll
by Trevor Portz
– Senior Columnist —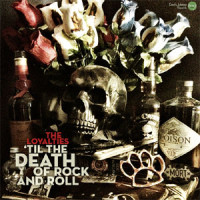 As the title of the new Loyalties album alludes, perhaps the rumors of rock and roll's demise are greatly exaggerated. Hard as it may be to believe, especially given the current state of popular music, maybe there is a little life left in rock after all. But whether in its golden years, or just a midlife crisis, the Loyalties seem hell-bent on proving that rock's dirty old heart is still beating.
Picking up where So Much for Soho left off, 'Til the Death of Rock & Roll fully embraces all of the greatest tenets of rock, seemingly ignoring the fads and trends that threaten it. From the opening title track (following a brief "Funeral March" intro), to the closing bars of "Rock & Roll Over (and Die)," you can expect heartfelt melodies; unforgiving, anthemic choruses; witty lyrics; multilayered harmonies; and guitar riffs that channel Eddie Cochran, Joe Strummer, and Johnny Ramone. There's even a cowbell on "Meat in the City" worthy of Will Farrell's percussive might. Is there any better formula for a killer record?
Standout tracks here include "The Will to Kill," a duet with Nella Johnson from the Barker Band; a re-recorded "I'm the Blues," previously found on a split single with Duff McKagan's Loaded; the punked-up "Pheromone Jones;" and "Ashtray's Empty," which could easily be a long-lost track from Tom Spencer's Big Boy Tomato days.
The production and performances here are great, and more importantly, honest. Those seeking a million-times overdubbed, auto-tuned piece of plastic best look elsewhere. This is real music played by real people, and though that may not sit well with label execs, it much more palatable to music purists.
The Loyalties may not be doing anything particularly groundbreaking, but they do what they do with enough passion and vigor that, frankly, it doesn't really matter. Better still, they're devoted to doing so until the great beast that is rock and roll is truly extinct. Let's hope that's not for a very, very long time.
Genre: Rock and Roll
Band Members:
Tom Spencer (v,b)
Rich Jones (g,v)
Lee Jonez (g)
Simon Maxwell (d)
Rich Rags (g,v)
Track Listing:
1. Intro/Funeral March
2. 'Til the Death of Rock & Roll
3. Meat in the City
4. The Will to Kill
5. Death Girl
6. I'm the Blues
7. Whiskey Under the Bridge
8. Killer Radio
9. To the Flame
10. Ashtray's Empty
11. Pheromone Jones
12. One Reason
13. Whole Lotta Hate
14. Carry Me Home
15. Rock & Roll Over (and Die)/Epilogue
Label: Heavy Hearts/Devil's Jukebox
Website: theloyalties.bandcamp.com
Hardrock Haven rating: 9.3/10