Vamp | The Rich Don't Rock (Deluxe Edition)
by Justin Gaines
– News Editor/Senior Columnist —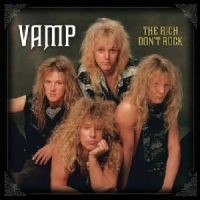 How's this for a recipe for success in 1989? Take an up-and-coming European melodic rock band, match them with a producer (Tony Platt) who had previously worked with AC/DC and Foreigner, sign them to a major label (Atlantic) contract, and then… do nothing at all to promote the band or the album. Of all the "should have been huge" stories of the 1980s (and there were several), the story of German hard rockers Vamp is one that still leaves fans baffled. This is a band whose sound would have gone over huge in 1989 with even the slightest push from the label. Instead Vamp died almost as soon as they started, and only the dedicated followers of the '80s melodic rock and hair metal scenes knew of their existence.
Vamp may not have had a chance to set the world on fire, but they did deliver an absolute gem to melodic rock fans with their 1989 debut The Rich Don't Rock. It was an album that hit that perfect mix of European melodic rock and the popular American hair metal sound. Think Bonfire meets Hurricane (or maybe Europe meets Britny Fox), with huge guitar hooks, catchy choruses, and a strong, dynamic vocal performance, plus that uniquely European sense of melody. There's a bit of a metal edge to these songs as well. More so than the average Poison or Danger Danger album, that's for sure. Songs like "Heartbreak, Heartache," "Lonely Nights" and "Renegade" are great examples of Vamp's powerful arena rocking sound, but the whole album is just a really well written and well executed collection of melodic rock.
Divebomb's new reissue of The Rich Don't Rock puts this long out of print album back in fans' hands, and gives it a true "Deluxe Edition" upgrade as well. It's a two-disc set that's loaded with extras. The first disc features the original The Rich Don't Rock album, newly mastered by guitarist Ricolf Cross, as well as 12" EP versions of "The Rich Don't Rock," "Why" and "Shout" as bonus tracks. The remastered audio is a major improvement over the original, and would be reason enough to pick up this reissue. There's also a second disc though, and that's where we get a lot of new surprises. It has eight professionally recorded demos from the planned, but never released, follow-up album One Smack Killer as well as seven demos from The Rich Don't Rock. The One Smack Killer demos are a real eye opener, as they show a band in a much heavier frame of mind not unlike Skid Row, and The Rich Don't Rock demos have a slicker, more AOR vibe than what eventually ended up on the album. Top it off with a nice booklet featuring original cover artwork (both versions), lyrics, vintage photos and a full band interview and you've got a first class reissue in every possible way.
If you are one of the lucky few that already knew about Vamp, then the Deluxe Edition of The Rich Don't Rock is a mandatory upgrade. If you're a fan of the '80s melodic rock sound, particularly European bands like Bonfire and Treat, and you didn't catch this album the first time around (or couldn't track down a copy), this is the perfect way to discover one of the best kept secrets in melodic rock.
Genre: Melodic Rock
Band:
Dicki Filszer (d)
Tom Bellini (v)
Ricolf Cross (g)
Oliver Scholz (b)
Track Listing:
Disc 1
1. Heartbreak, Heartache
2. Like I Want
3. The Rich Don't Rock
4. Love Games
5. Renegade
6. All Nite
7. Lonely Nights
8. Stand By Me
9. Bleeding
10. Talk Is Cheap
11. Shout
12. Why
13. The Rich Don't Rock (12" EP version)
14. Why (12" EP version)
15. Shout (12" EP version)
Disc 2
1. Little Bit
2. Love Starved Woman
3. Dead in the Backseat
4. Junkyard D.O.G. (Dirty Old Geezer)
5. One Smack Killer
6. Gimme Some Lovin'
7. I Don't Know
8. The Big Mess
9. Lonely Nights
10. What About Love
11. Down and Dirty
12. Waste of Time
13. Love Games
14. Don't Bite
15. Talk Is Cheap
Label: Divebomb Records
Website: www.vamp-rock.com
Hardrock Haven rating: 9.25/10