by Justin Gaines
– News Editor/Senior Columnist —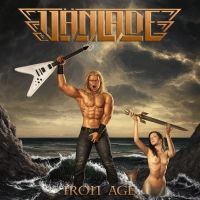 They say you should never judge a book (or in this case, album) by its cover, but man is that hard not to do when you've got a cover like the one adorning Iron Age, the debut full-length from Kansas City traditional metallers Vanlade. Let's see, we've got a buff metal dude raising a Flying V (and grabbing his crotch), a subservient (and buck naked) mermaid wench offering what one can only assume is a magic sword, and ominous storm clouds in the background. It's a cover that might make the guys in Manowar blush, and sure enough it tells you exactly what kind of metal you're getting with this one!
In case the message hadn't quite sunk in, the brief introductory track warns listeners that there be metal ahead, and once the anthemic title track kicks in you know it for sure. Vanlade plays old school traditional heavy metal like it's 1984 all over again. Vanlade obviously takes their inspiration from bands like Manowar, early Helloween, Helstar and Grim Reaper. There's an uncanny resemblance to cult Canadian metal act Witchkiller, and at times you get a 3 Inches of Blood vibe. High-speed riffs, high-pitched vocals, heavy crunching rhythms and lyrics straight from sci-fi and fantasy are in abundance here, as are traces of thrash and power metal. The title track is an obvious highlight, as is the blistering metal assault of "Wings of Fire," and closing track "Life By the Blade" offers a hidden surprise after the song ends. The only downside is that the production seems off, with the guitars and vocals sounding a bit thin at times.
Vanlade is traveling down a well-worn path here, but they do it well. Besides, if you're into traditional heavy metal you probably aren't looking for innovation. You're looking for songs to bang your head to (and maybe to slay a dragon in the name of metal), and you'll definitely get your share on Iron Age. Vanlade is a welcome addition to the growing worldwide revival of traditional heavy metal bands.
Genre: Heavy Metal
Band:
Cody Campbell (d)
Brett Scott (v)
Zach Coffey (g) (v)
Nick Poffenbarger (b)
Track Listing:
1. Intro
2. Iron Age
3. Evil's Bane
4. Blood Eagle
5. Hypernova
6. Wings of Fire
7. Bound by Fate (the Rising Dragon)
8. Life by the Blade
Label: Stormspell
Website: www.facebook.com/vanlade
Hardrock Haven rating: 8/10