Air Raid | Night of the Axe
by Justin Gaines
– News Editor / Senior Columnist —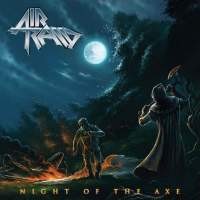 After giving traditional heavy metal fans a taste of their high octane metal assault earlier in the year with their Danger Ahead EP, Sweden's Air Raid returned late in 2012 with their debut full-length, titled Night of the Axe. Air Raid, like Enforcer and Wolf before them, are part of a growing worldwide movement that has been dubbed the New Wave of Traditional Metal, and they're one of the best new bands in that scene.
All of the promise Air Raid showed on Danger Ahead is fully realized on Night of the Axe. Air Raid wears their influences – Iron Maiden, Judas Priest, Accept and the NWOBHM bands – on their sleeve (or rather their denim vests), so what you get on Night of the Axe is the kind of metal you might have heard in 1984, but with a modern energy and edge and of course that Swedish sense of melody. Between the twin axe attack, the almost thrash metal rhythms, the melodies and of course Michael Rinakakis's soaring and powerful vocals, there's more than enough here to get you banging your head and raising your fist. Highlights (once you clear the brief instrumental intro) are the blistering title track, "Highway Legion," "Raiders of Hell" and the very Grim Reaper closing track "A Blade in the Dark." Honestly, aside from the two instrumental tracks, every song on Night of the Axe is a kickass heavy metal anthem. There's such an incredible energy on this album that the old school approach seems totally vital instead of gimmicky, which is where a lot of bands struggle. The members of Air Raid seem born to play this kind of metal.
For traditional heavy metal fans, this is the most exciting era since the early 1980s, and it's thanks in large part to young bands like Air Raid. Whether you're a faithful follower of the classic bands or newer bands like Skull Fist, Widow, White Wizzard and the like (or better yet, both), you have to check out Air Raid. Night of the Axe is a definite must have, and if you missed Danger Ahead, you really need to grab that one too.
Genre: Heavy Metal, Traditional Metal
Band:
Johnny Nightshredder (g)
Andy Stormchild (g)
Rob Thunderbolt (b)
Dave Destructor (d)
Michael Rinakakis (v)
Track Listing:
1. Treason
2. Night of the Axe
3. The Lost City
4. Highway Legion
5. Dying Man
6. Raiders of Hell
7. Call of the Warlock
8. Reminiscence
9. Riding Out
10. A Blade in the Dark
Label: StormSpell Records
Website: http://www.facebook.com/AirRaidOfficial
Hardrock Haven rating: 9/10